We All Need Encouragement Regularly!
Please contact us if you have any questions, comments, or encouragement.
There are times when we all need encouragement. These times fluctuate, but they are always in the middle of our lives to some degree. Think for a moment how good it feels to get a compliment or simply a kind they say. Why do bad things happen to "good people?" With that statement, I need to admit that none of us are "good" because we are all sinners, and some of us are saved by God's grace.
I know that I have my share of bad times, yet on the other hand, I know I have been blessed by God in my great ways! But I also have learned that when I try to encourage someone else, it gives me an extraordinary sense of goodness and love when I do so, which is natural in God's economy. When we do an act of kindness to someone, it is like putting perfume on someone, and you can not help but get a little on yourself! Sometimes we need to receive, and other times we need to give and serve others. Where are you at today in your life today? ~ Bill Greguska 
1 Thessalonians 5:11  Therefore encourage one another and build each other up, just as you are doing.
---
Would You Like Some More Encouragement Today?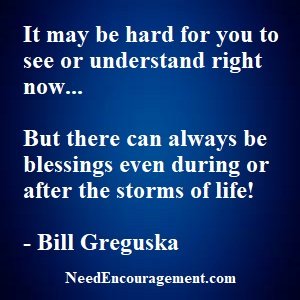 When you and I need some encouragement, it is because things have gotten a little bit overwhelming. Sometimes it is because of other people in your life, other times it is our problems. Sometimes the issues are due to sin, and other times it is just life! (It is what it is). One thing to consider is to practice your faith during these times. Too many issues happen simultaneously, and there is often a deadline to meet to answer your situation. In general, you must figure out how to calm yourself to think clearly. Prayer is a beautiful way of finding comfort by talking with God about whatever you are going through.
The ironic thing is that the thing I needed encouragement in the past either worked itself out independently. There have been times I worried myself sick years ago, not letting things go when I worried myself sick years ago, and not letting things go when I worried myself sick years ago, not letting things go when I knew I worried myself sick years ago, not letting things go when I knew pretty well what I needed to do. Life lessons can be precious at times like that. Realizing that worrying is like rocking in a chair, we might feel we are getting somewhere, but we are not in reality. Often, things have gotten a little off balance or out of focus when we need encouragement. We encourage you to find a better balance and a more precise emphasis on life's essential elements, such as God, family and friends, health, and inspiring others. Find some good ways to be encouraged here! ~ Bill Greguska
---
There are two answers to every question – God's answer and everybody else's –
and everybody else is wrong when disagreeing. ~ Tony Evans
---
More Encouraging Links!
---
Get Answers To Questions In Your Life: (Learn More)
Basic Principles When You Need Encouragement
---
Do You Need More Help?
---
Learn How You Can Get Right With God! (View)
Abraham wasn't perfect. He failed and made mistakes. But, he would go back, get right with God, and keep moving forward. He didn't quit when things got hard. He just kept on going. And everywhere he went, God was there. God was with him. ~ Anne Graham Lotz
Romans 10:9  If you declare with your mouth, "Jesus is Lord," and believe in your heart that God raised him from the dead, you will be saved.
Discover Encouragement To Fight Your Battles! (View)
You must expect spiritual warfare whenever you stand up for righteousness or call attention to fundamental values. It's just a matter of light battling the darkness. But the light wins every time. You can't throw enough darkness on light to put it out. ~ Thomas Kinkade
Ephesians 6:12  For our struggle is not against flesh and blood, but against the rulers, against the authorities, against the powers of this dark world, and against the spiritual forces of evil in the heavenly realms.
Encouragement To Find Solutions For Life's Problems!
Proverbs 3:5-6 (NIV)  Trust in the Lord with all your heart and lean not on your own understanding; in all your ways, submit to him, and he will make your paths straight.
First, I'd like to point out how to overcome the root of your problems and find solutions on this website, no matter what you are going through today.
Second of all, learn how you can find the specific encouragement that will personally benefit you! Your life does not need to fall apart.
Last but not least, encourage someone today! You will not only be supporting them, but you will be helping yourself too. Prayer is a perfume you cannot pour on others without getting a few drops on yourself! Find support from prayers, kind words, actions, hugs, phone calls, emails, etc.
---
Here Are Some Helpful Links:
---
How To Eat An Elephant?

Try thinking of it this way whenever I encounter a small challenge or a big problem in any part of my life, no matter what.  I try to think of the problem as if I were eating an elephant. Then instead of thinking about how I will eat the whole elephant (tackle the entire issue), I have learned that the best way to accomplish my goal is to take just one bite at a time. Before I know it, the elephant will be gone! And so will the problem. Otherwise, I would be spinning my wheels, getting nowhere, and trying to tackle the whole (elephant) problem all at once.
---
Some Specific Scriptures To Encourage You:
Isaiah 41:10 ESV
Fear not, for I am with you; be not dismayed, for I am your God; I will strengthen you, I will help you, I will uphold you with my righteous right hand.
Deuteronomy 31:6 ESV 
Be strong and courageous. Do not fear or be in dread of them, for it is the Lord your God who goes with you. He will not leave you or forsake you."
John 16:33 ESV 
I have said these things to you, that in me you may have peace. In the world you will have tribulation. But take heart; I have overcome the world."
1 Peter 5:7 ESV 
Casting all your anxieties on him, because he cares for you.
Philippians 4:6 ESV 
Do not be anxious about anything, but in everything by prayer and supplication with thanksgiving let your requests be made known to God.
Romans 15:4 ESV 
For whatever was written in former days was written for our instruction, that through endurance and through the encouragement of the Scriptures we might have hope.
Psalm 55:22 ESV
Cast your burden on the Lord, and he will sustain you; he will never permit the righteous to be moved.
2 Timothy 1:7 ESV 
For God gave us a spirit not of fear but of power and love and self-control.
1 Thessalonians 5:11 ESV 
Therefore encourage one another and build one another up, just as you are doing.
Philippians 4:13 ESV
I can do all things through him who strengthens me.
1 Corinthians 10:13 ESV 
No temptation has overtaken you that is not common to man. God is faithful, and he will not let you be tempted beyond your ability, but with the temptation he will also provide the way of escape, that you may be able to endure it.
Romans 8:28 ESV
And we know that for those who love God all things work together for good, for those who are called according to his purpose.
John 14:27 ESV
Peace I leave with you; my peace I give to you. Not as the world gives do I give to you. Let not your hearts be troubled, neither let them be afraid.
Jeremiah 29:11 ESV 
For I know the plans I have for you, declares the Lord, plans for welfare and not for evil, to give you a future and a hope.
Isaiah 40:31 ESV 
But they who wait for the Lord shall renew their strength; they shall mount up with wings like eagles; they shall run and not be weary; they shall walk and not faint.
Proverbs 3:5-6 ESV 
Trust in the Lord with all your heart, and do not lean on your own understanding. In all your ways acknowledge him, and he will make straight your paths.
---
---
For Encouragement, Call 800-633-3446 or Chat
---