Self Encouragement Through Prayer!
Please contact us if you have any questions or comments or would just like some encouragement?
In life, we all need self-encouragement. Others can not always encourage us, but remember, we can go to God with our concerns because He cares! Many times giving yourself a pep talk through self-encouragement based on God's promises is just what we need. The problem comes in when we think we can do it all on our own without the help of God! If you have any unconfessed sin in your life, confess it to God before you do anything else. 1 John 1:9  If we confess our sins, he is faithful and just and will forgive us our sins and purify us from all unrighteousness. ~ Bill Greguska
1 Peter 5:7  Cast all your anxiety on him because he cares for you.
Self Encouragement Starts With God!
---
Ways Self Encouragement Can Help You!
Find satisfaction in who you are

because of who God made you, whether because of a small accomplishment or just the little things you do or say in your daily life. You need to not only believe in God, but you also need to believe in yourself.

If you do not know Jesus Christ

as your Lord and Savior, then make it your goal today to get to know Jesus. If you know Jesus Christ as your Lord and Savior, keep on that path and grow closer to Him every moment of your life.
Second, only to God, consider yourself your own best friend. Think about the things you would say to a good friend when they are down and needs encouragement. Say those things to yourself.  Often friends can leave us for whatever reason, but you will always have yourself to be with the rest of your life.

If you don't like yourself, your life will be an uphill battle. Sometimes we need to be our own best friend."
---
Find Self Encouragement By Discovering Your Purpose And Goals?
Physically
Get exercise each week.
Eat 

healthy foods.

Make sure you get enough sleep.
Spiritually
Reading the

Bible each day.

Spending Time With

Others Who Build You Up.
Emotionally
Dealing with

anger

 before it gets to that point.
Deal with

depression

, 

knowing things will get better.
By dealing with

stress

 

by H.A.L.T. = don't get too Hungry, Angry, Lonely, or Tired. 
---
God Knows How You Feel. He Is Fully God And Fully Human!
Do You Know How You Feel?
Use This Feelings Circle To Understand Better!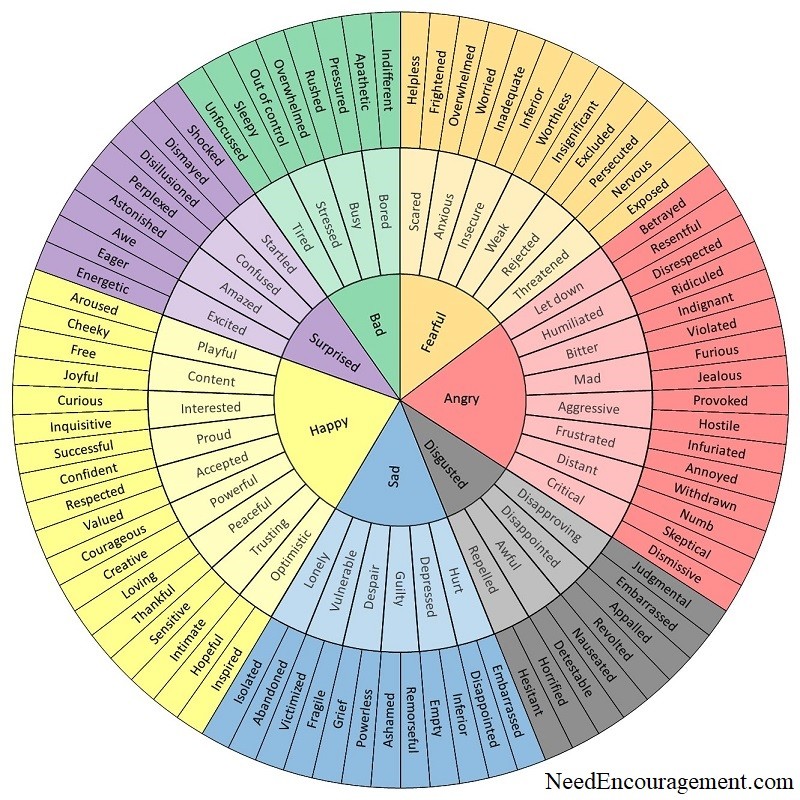 ---
Self Confidence Takes Some Trust And Effort!
I have learned in my life that when I am confident and comfortable, things go so much better for me.
When I find my confidence in knowing and following the Holy Spirit's promptings in my life, that is when I am on top of my game.
I find comfort in understanding that God is in control and I am not.
If you want to discover some self-encouragement in your life, start by praying for it, then get into your Bible (if you are new to reading the Bible, I would suggest starting in 1 John 1-5).
You will need to seek after the wisdom found in the Bible, also having a church and Bible study to participate in with other believers to encourage you is very important. ~ Bill Greguska
Ephesians 4:22-24  You were taught, concerning your former way of life, to put off your old self, which is being corrupted by its deceitful desires; to be made new in the attitude of your minds;  and to put on the new self, created to be like God in true righteousness and holiness.
---
---
For Encouragement Call 1-800-633-3446 or Chat
---