Self Encouragement = How Do You Talk To Yourself?
Please contact us if you have questions or if you need some encouragement.
Self encouragement is a crucial element in life. It's the little push we give ourselves when things seem to be falling apart, and we are on the brink of giving up. The good news is that God created us with an innate ability to encourage ourselves even when others cannot. Through prayer, we can always turn our concerns over to Him because He cares for us and loves us unconditionally. It's essential to cultivate positive thoughts while talking positively with others, but most importantly, it's imperative to listen carefully for the fourth voice we hear every day – God's voice! His voice speaks truth into our lives that guides us towards self-encouragement based on His promises.
Remember, There are four different voices that we hear on a given day, the first voice is that of others speaking to us, the second voice we hear is our own thoughts, the third voice we hear unfortunately comes from Satan, the fourth voice, fortunately, comes from God which is the most important voice of them all. He is the one who can give you the self encouragement that you need every day; however, this voice is the only one will uplift your spirit and motivate you towards success – God! So whenever you feel down or discouraged in life, seek Him first because He has all the answers you need. It is essential to try to talk positively with others and have positive thoughts in your mind. ~ Bill Greguska
1 Peter 5:7  Cast all your anxiety on him because he cares for you.
---
Self Encouragement Starts With God!
---
Ways Self Encouragement Can Help You!
Find satisfaction in who you are

because of who God made you, whether because of a small accomplishment or just the little things you do or say in your daily life. You need to not only believe in God, but you also need to believe in yourself.

If you do not know Jesus Christ

as your Lord and Savior, then make it your goal today to get to know Jesus. If you know Jesus Christ as your Lord and Savior, keep on that path and grow closer to Him every moment of your life.
Second, only to God, consider yourself your own best friend. Think about the things you would say to a good friend when they are down and needs encouragement. Say those things to yourself.  Often friends can leave us for whatever reason, but you will always have yourself to be with the rest of your life.

If you don't like yourself, your life will be an uphill battle. Sometimes we need to be our own best friend."
---
---
Self Encouragement Comes From Putting Jesus First!
---
God Knows How You Feel. He Is Fully God And Fully Human!
Do You Know How You Feel?
Use This Feelings Circle To Understand Better!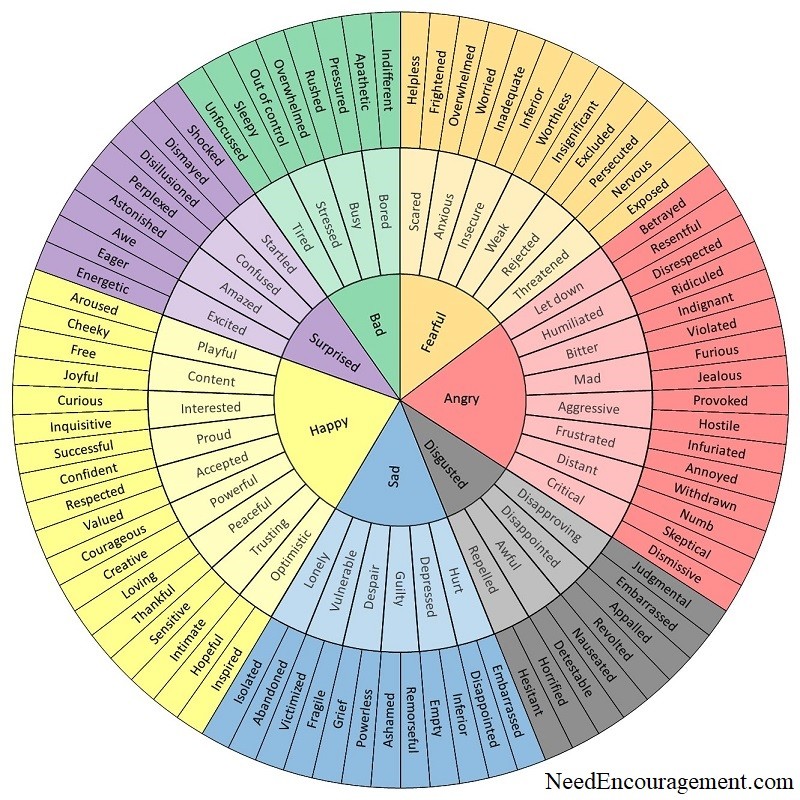 ---
Self Confidence Takes Some Trust And Effort!
I have learned in my life that when I am confident and comfortable, things go so much better for me.
When I find my confidence in knowing and following the Holy Spirit's promptings in my life, that is when I am on top of my game.
I find comfort in understanding that God is in control and I am not.
If you want to discover some self-encouragement in your life, start by praying for it, then get into your Bible (if you are new to reading the Bible, I would suggest starting in 1 John 1-5).
You will need to seek after the wisdom found in the Bible. Also, h, having a church and Bible study to participate in with other believers to encourage you is very important. ~ Bill Greguska
Ephesians 4:22-24  You were taught, concerning your former way of life, to put off your old self, which is being corrupted by its deceitful desires; to be made new in the attitude of your minds;  and to put on the new self, created to be like God in true righteousness and holiness.
---
Some Specific Scriptures To Encourage You:
2 Timothy 1:7 ESV 
For God gave us a spirit not of fear but of power and love and self-control.
Romans 12:3 ESV 
For by the grace given to me, I say to everyone among you not to think of himself more highly than he ought to think, but to think with sober judgment, each according to the measure of faith that God has assigned.
Philippians 4:13 ESV
I can do all things through him who strengthens me.
Philippians 2:3 ESV 
Do nothing from selfish ambition or conceit but in humility count others more significant than yourselves.
John 3:30 ESV
He must increase, but I must decrease."
Luke 6:31 ESV 
And as you wish that others would do to you, do so to them.
Galatians 5:22-23 ESV 
But the fruit of the Spirit is love, joy, peace, patience, kindness, goodness, faithfulness, gentleness, self-control; against such things, there is no law.
Proverbs 25:28 ESV 
A man without self-control is like a city broken into and left without walls.
Galatians 2:20 ESV 
I have been crucified with Christ. It is no longer I who live, but Christ who lives in me. And the life I now live in the flesh, I live by faith in the Son of God, who loved me and gave himself for me.
2 Corinthians 5:17 ESV
Therefore, if anyone is in Christ, he is a new creation. The old has passed away; behold, the new has come.
Mark 12:31 ESV 
The second is this: 'You shall love your neighbor as yourself.' There is no other commandment greater than these."
Matthew 16:24 ESV 
Then Jesus told his disciples, "If anyone would come after me, let him deny himself and take up his cross and follow me.
---
---
For Encouragement, Call 800-633-3446 or Chat
---