You Realize Worrying Is A Big Waste Of Your Time!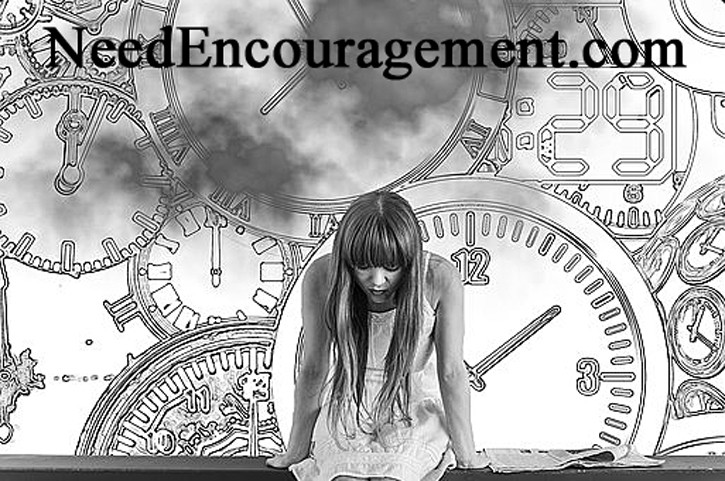 Please contact us if you have any questions or comments or would just like some encouragement?
Worrying is like being in a rocking chair going back and forth, you might think you are getting something accomplished, but you are going nowhere fast! Worrying is merely a waste of time and indicates a lack of faith or trust in God. When you and I worry, at that moment, we are behaving like non-believers by not trusting in God's promises.  You can not control what has happened in the past, you can not control what is going to happen in the future, so I encourage you to be content by living your life today the best way you can, as you ask God for direction and to guard your heart and mind.
I challenge you to think back to the past year and figure out how many things that you worried about actually happened and caused problems in your life. If you are honest, you will be able to say that there were many, many things that we worried about for no reason at all. It is interesting to me that us believers can trust God for our eternal salvation, yet we doubt God when it come to things like how are we going to pass a test in school, or who we are going to marry, or how we are going to afford rent.  Remember we need to trust God rather than the feelings in our stomachs.  ~ Bill Greguska
Philippians 4:6  Do not be anxious about anything, but in every situation, by prayer and petition, with thanksgiving, present your requests to God.
---
Is Worrying Affecting Your Faith?
---
Worrying Gets You Nowhere!
Worrying does not help, but putting your trust in God does! Do you know that worrying and anxiety come naturally to most of us to some degree? Even though I worry at times, when I do catch myself worrying, it makes me stop and think. 
Wasting your time by worrying when looked at closer is foolishness. Why do we spend our time when all it does is make us lose sleep, become anxious, depressed, and physically sick.
Worrying is like rocking in a rocking chair, you might think you are doing something, but you are getting nowhere in reality!
Worrying will not make your problem go away; it just saps you of the energy you need to live your life each day! Trust God, for He will not leave you or forsake you. Keep praying! When I trust God to let things rest on His shoulders, I can regain the peace I have temporarily lost because of my senseless worrying. ~ Bill Greguska
---
How Can You Overcome Worry?
1.  Acknowledge What You Fear! 
Pray to God and tell him your fears. 1 Peter 5:7. Get clear about what distresses you. Is this a real situation or a "what if" case? Is the problem solvable or unsolvable? What about this situation do you have control over, and what don't you control? Get all of this out on the table with God through prayer.

Use a prayer journal. As we write our fears on paper, we gain perspective: record insights God reveals and actions you can take. Patterns will emerge, and solutions will appear. Your journal will prove a useful tool as you constructively work through your stressful situations.

Put aside a limited amount of time to bring your anxious thoughts to God if you worry a lot. Plan one or two times a daytime for you and God to reflect on your problems together. When the feeling comes upon other occasions, re-schedule them until your designated appointment.
2.  Change Your Attitude To One Of Gratitude!
Gratitude shifts our focus. When we worry, we focus on everything that is or could be wrong. When we are thankful, we turn our attention to everything that is or could be right. What about your situation? Can you be grateful for that? If nothing else, I can thank God he works through all circumstances for my good. Romans 8:28

Review examples of God's faithfulness and provision. Recalling God's demonstrations of his faithfulness and sovereignty reassures us. As you pray, thank God for all he has provided now and in the past, whatever is true, noble, right, pure, lovely, admirable—if anything is excellent or praiseworthy—think about such things. Philippians 4:8
3.  Brainstorm Some Possible Solutions!
Make a list. If the problem is solvable, think of what you can do to solve it? 

Stay with the things you can control.

Keep in mind that you can control your behavior, attitude, and thinking.

You can't control others' actions, feelings, or choices. Then systematically work through the list.
---
Do Not Borrow Trouble From Tomorrow!
---
There Are No Benefits In Worrying!
What Good Comes From Worrying?
Matthew 6:34  Therefore, do not worry about tomorrow, for tomorrow will worry about itself. Each day has enough trouble of its own.
Planning for tomorrow is time well spent; worrying about tomorrow is time wasted.  Sometimes it's difficult to tell the difference.  Careful planning is thinking ahead about goals, steps, and schedules and trusting in God's guidance. 
When done well, planning can help alleviate worry.  Worriers, by contrast, are consumed by fear and find it difficult to trust God.  They let their plans interfere with their relationship with God. 
Don't let worries about tomorrow affect your relationship with God today. Put your faith in trust in the hands of the Holy Spirit, and He will guide you throughout your every day. ~ Mike Hayden
---
When I Notice Myself Worrying!
I Can Ask Myself Six Questions To Help Get Myself Back On Track!
I am sure your answer is to one or more of the above questions!
---
Try To Do A H.A.L.T. Inventory, Ask Yourself =
Ask Yourself, Am I too

H

ungry,

A

ngry,

L

onely, or

T

ired?
---
Worrying Has No Place In Your Life Any Longer!
---
4.  Accept Your Limitations 
If you worry about something that you have little to no control over or which may not have a solution, change the way you look at it, and begin to practice effective coping methods.

Acknowledge real limitations. Do not attempt to control what you can not control. It is almost that simple.

Accept uncertainty. God is all-knowing and all-powerful. We are not. Thus, we will have changes in our lives. Surrender everything to God and trust that his grace will be sufficient, and his power will be made perfect in your weakness. 2 Corinthians 12:9

Understand your feelings. Sometimes we busy ourselves with worry to distract ourselves. Emotions are God-given aspects of our humanity. We learn to cope with these uncomfortable sensations when we allow ourselves to feel our feelings. Whatever you have learned or received or heard from me, or seen in me, put it into practice. Philippians 4:9a
5.  Find An Accountability Partner!
The first thing to do before talking with anyone is to speak with God about your situation. Too often, we only go to God with emergencies, but we need to learn to go to God first before thing or anyone!

Matthew 26:41

"Watch and pray so that you will not fall into temptation. The spirit is willing, but the flesh is weak."

Get at least one accountability partner. Paul encouraged the believers to put into practice what they had learned from him. A friend or mentor who appropriately manages their worries benefits us as well. They can model skills and strategies, help us put those into practice, and hold us lovingly accountable when we don't.

Avoid pity-party people. I know it feels right at the moment to sit with other people that worry and rehash negative things. But don't! That only makes it worse. It would be more beneficial to be with those who handle stress and uncertainty well. A counselor can help you gain perspective and cope with your anxiety in more efficient ways.

Seek professional help if you need it. The assistance and guidance of a Christian counselor benefited me very much over the years. There is nothing wrong with getting help from competent professional advice.
---
Seven Reasons Worrying Is Wrong
(Matthew 6:25-34)
The same God who created life in you can be trusted with the details of your life.  That includes relieving you of strife.  Matthew 6:25

Worrying about the future hampers your efforts for today.  Remember, God is the potter, and you are the clay.  Matthew 6:26

Worrying is more harmful than helpful. It can be very stressful!  Matthew 6:27

God does not ignore those who depend on him.  He won't leave you alone out on a limb. Matthew 6:28-30

Worry shows a lack of faith in the understanding of God.  Picture God as a tripod.  God the Father, God the Son, and God the Holy Spirit.  Matthew 6:31-32

There are real challenges God wants us to pursue, and Satan keeps us from following through.  Matthew 6:33

Living one day at a time prevents us from being consumed with worry.  Don't get caught in the trap of being in a hurry.  Matthew 6:34.
---
Here Are Some Helpful Links:
---
Some Specific Scriptures To Encourage You:
Matthew 6:25-29 ESV 
Therefore I tell you, do not be anxious about your life, what you will eat or what you will drink, nor about your body, what you will put on. Is not life more than food, and the body more than clothing? Look at the birds of the air: they neither sow nor reap nor gather into barns, and yet your heavenly Father feeds them. Are you not of more value than they? And which of you by being anxious can add a single hour to his span of life? And why are you anxious about clothing? Consider the lilies of the field, how they grow: they neither toil nor spin, yet I tell you, even Solomon in all his glory was not arrayed like one of these. 
Philippians 4:6-7 ESV 
Do not be anxious about anything, but in everything by prayer and supplication with thanksgiving let your requests be made known to God. And the peace of God, which surpasses all understanding, will guard your hearts and your minds in Christ Jesus.
1 Peter 5:7 ESV 
Casting all your anxieties on him, because he cares for you.
Matthew 6:25 ESV
"Therefore I tell you, do not be anxious about your life, what you will eat or what you will drink, nor about your body, what you will put on. Is not life more than food, and the body more than clothing?
Isaiah 41:10 ESV 
Fear not, for I am with you; be not dismayed, for I am your God; I will strengthen you, I will help you, I will uphold you with my righteous right hand.
Matthew 6:27 ESV 
And which of you by being anxious can add a single hour to his span of life?
John 14:27 ESV 
Peace I leave with you; my peace I give to you. Not as the world gives do I give to you. Let not your hearts be troubled, neither let them be afraid.
Philippians 4:6 ESV
Do not be anxious about anything, but in everything by prayer and supplication with thanksgiving let your requests be made known to God.
Matthew 6:34 ESV 
"Therefore do not be anxious about tomorrow, for tomorrow will be anxious for itself. Sufficient for the day is its own trouble.
John 14:1 ESV
"Let not your hearts be troubled. Believe in God; believe also in me.
Proverbs 12:25 ESV 
Anxiety in a man's heart weighs him down, but a good word makes him glad.
Luke 12:22 ESV 
And he said to his disciples, "Therefore I tell you, do not be anxious about your life, what you will eat, nor about your body, what you will put on.
Matthew 11:28-30 ESV 
Come to me, all who labor and are heavy laden, and I will give you rest. Take my yoke upon you, and learn from me, for I am gentle and lowly in heart, and you will find rest for your souls. For my yoke is easy, and my burden is light."
---
---
For More Encouragement Call 800-633-3446 or Chat
---