Below Find

Four Steps To Overcoming Toxic Thoughts!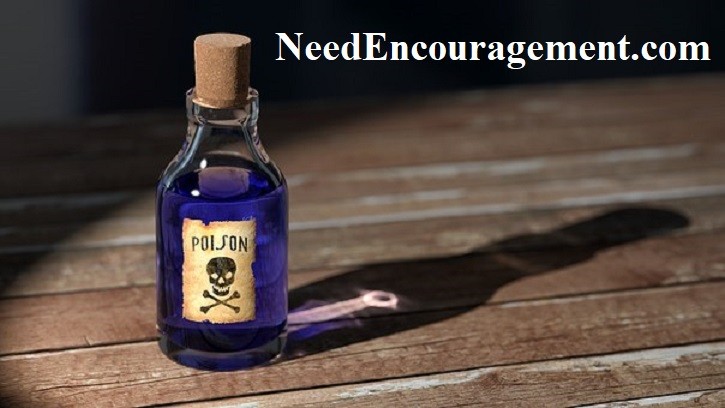 Please contact us if you have any questions or comments or would just like some encouragement?
One of my worst reoccurring toxic thoughts is going over a negative situation over and over. It is like being in a rocking chair and you think the more you rock, the further you will get. That is like our thinking sometimes. We all need to let go and let God take care of those types of situations that get us no where. We would be wise to take note of what it says in Romans 12:2 and Ephesians 4:23 to remind us that we are to renew our thoughts daily. That means we need to control what we're thinking because if you aren't, the same toxic thoughts will be controlling your life.
Some people are more prone to toxic thoughts than others. If it is a problem for you, read below to learn how to overcome them. I will admit that sometimes I get toxic thoughts about things I have no control over. So logically a person would realize that and simply stop doing it. There are times when I get so attached to the thought, I call it the Pitbull syndrome. It comes from a conversation or an event that is played over and over. Ending up getting no where.

~

Bill Greguska
Matthew 15:19 
For out of the heart come 
evil
thoughts
—murder, adultery, sexual immorality, theft, false testimony, slander.
---
How To Overcome Toxic Thoughts!
---
Toxic Thoughts Need To Be Dealt With Properly!
Being human, every one of us has to deal with our own toxic thoughts or that of others we are in our lives, such as family members, friends, relatives, acquaintances, and sometimes strangers.
If you allow toxic thoughts to affect or even control your life, that is a huge mistake. God has a plan for your life, and unfortunately, sin and toxic people are not something we can wish away. It has to be dealt with. Below is some idea from Kris Reece that I am sure that you find helpful.
---
If you are struggling with toxic thoughts, I want you to know you're not alone. There is help. ~ 
Kris Reece
---
Four Steps You Can Follow To Take Control Of Your Toxic Thoughts:
Step 1: Capture the thought. 
2 Corinthians 10:5 says we are to take every thought captive and make it obedient to Christ. The first step in doing this is to continually identify what you're thinking about and the content of those thoughts -including the feelings.
Step 2: Interrogate the thought. 
When you notice yourself having a negative thought, ask it questions such as, "Where did you come from?" and "What are you doing here?" Asking these questions can begin to reveal deeper issues—areas of your life that still need healing or old wounds you haven't let go of.
Step 3: Line it up with Truth. 
You can spend a lifetime ignoring the truth and believing lies.  I believe that God's Word is the truth.  So, if you're worried about finances and God's word says that He will supply all of your needs (Phil 4:19), that's a thought that has to go. If He says that your body is the temple of the Holy Spirit (1 Corinthians 6:19), then that nagging thought to start eating better likely is from God. When you compare your thoughts to God's word, you know which thoughts to keep and which to get rid of.
Step 4. Rewrite your thought according to the Word of God (truth).
Find the scripture that relates to your thought and then put it into your own words and apply it to whatever situation you're facing. When a thought is in your own words, you're more likely to believe it. So, create your new thought and keep repeating it out loud, even if you don't believe it at first.
---
Some Specific Scriptures To Encourage You:
Philippians 4:13 ESV 
I can do all things through him who strengthens me.
Romans 12:2 ESV 
Do not be conformed to this world, but be transformed by the renewal of your mind, that by testing you may discern what is the will of God, what is good and acceptable and perfect.
Philippians 4:8 ESV 
Finally, brothers, whatever is true, whatever is honorable, whatever is just, whatever is pure, whatever is lovely, whatever is commendable, if there is any excellence, if there is anything worthy of praise, think about these things.
2 Corinthians 10:5 ESV
We destroy arguments and every lofty opinion raised against the knowledge of God, and take every thought captive to obey Christ,
1 Corinthians 15:33 ESV 
Do not be deceived: "Bad company ruins good morals."
Matthew 5:28 ESV
But I say to you that everyone who looks at a woman with lustful intent has already committed adultery with her in his heart.
Jeremiah 29:11 ESV
For I know the plans I have for you, declares the Lord, plans for welfare and not for evil, to give you a future and a hope.
Proverbs 4:23 ESV 
Keep your heart with all vigilance, for from it flow the springs of life.
1 John 1:9 ESV 
If we confess our sins, he is faithful and just to forgive us our sins and to cleanse us from all unrighteousness.
James 4:7 ESV 
Submit yourselves therefore to God. Resist the devil, and he will flee from you.
James 4:1 ESV 
What causes quarrels and what causes fights among you? Is it not this, that your passions are at war within you?
James 3:2 ESV
For we all stumble in many ways. And if anyone does not stumble in what he says, he is a perfect man, able also to bridle his whole body.
---
---
For Encouragement, Call 800-633-3446 or Chat
---