NeedEncouragement.com-

Ministry
Please contact us if you have questions or if you need some encouragement.
This ministry blossomed from the ashes of a shattered marriage, where pain and heartbreak seemed to be all-consuming. In my darkest moments, when it felt like all hope had been snatched away, Pastor Ron Sauer and his remarkable wife Sue came alongside me with unwavering support. Their love knew no bounds as they poured their hearts into helping us salvage our relationship. However, despite their tireless efforts, my ex-wife decided that enough was enough and left me behind in the rubble of our broken union. The aftermath of the divorce sent me spiraling into a deep abyss of depression. It felt as if every ounce of joy had drained from my soul while darkness encased my being. Yet amidst this desolation, Ron and Sue offered me an unconventional lifeline – they suggested that I channel my pain towards uplifting others who were going through similar struggles.
And so the seed for NeedEncouragement.com-Ministry was sown; an idea birthed out of compassion and empathy from two extraordinary individuals whose dedication to easing my human suffering knew no limits. Their faithfulness since we first crossed paths back in 2003 served as a beacon of hope during those tumultuous times. Driven by their unwavering belief in my ability to bring peace to others' lives, I embarked on this mission with renewed vigor and determination. The virtual sanctuary known as NeedEncouragement.com became not only a platform for sharing stories but also a refuge where individuals could find comfort amidst chaos via pages of encouragement, videos, links, free Christian counseling, etc. I encourage you to do something similar to help others. In doing so, it is like pouring perfume on someone else, you will learn as you do that, you can not help but get some perfume on yourself in your helping others. ~ Bill Greguska
 1 Peter 5:7 Cast all your anxiety on him because he cares for you.
---
What Is Our Purpose?
Our purpose is to encourage and unite our readers with the love and compassion of Jesus Christ. How and why did our ministry start? It began as a result of my former pastor Ron Sauer and his wife, Sue. We are a Christian ministry, and our purpose is to help point people to Jesus Christ! I have learned from my personal experience that encouraging others encouraged me quite a lot when I have had problems in my life! Learn more about us and see how we can encourage you and you can help others. Mark 12:30-31 Love the Lord your God with all your heart and with all your soul and with all your mind and with all your strength. "The second is this: 'Love your neighbor as yourself.' There is no commandment greater than these."
---
God Made Something Good Out Of Something Bad!
This ministry of encouragement was established in Milwaukee, WI. Our purpose is to encourage, in a God-honoring way, as many people as possible via the Internet. What was the inspiration that started this ministry? NeedEncouragement.com-Ministry started from my home in 2005 with a 24-hour phone helpline. After two years, I started the website NeedEncouragement.com. Our goal is to use the Internet to continue to give more capacity to help more people. They helped me while I was going through some tough times in my marriage. This website started in Milwaukee in 2007 to encourage others to point me to Jesus and has inspired me in my life through God.
---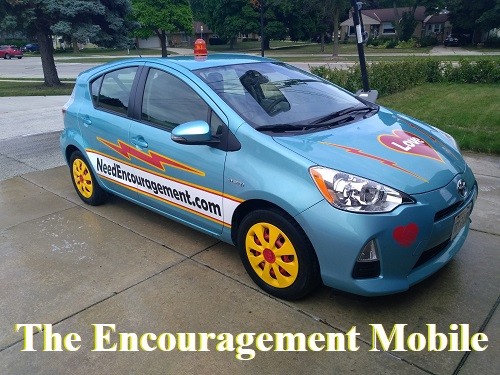 Below are samples of some of the different business cards that we have been handing out since 2007
---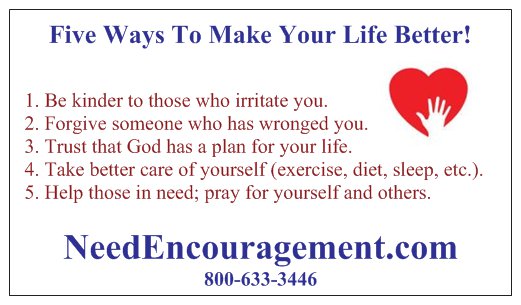 ---
Some Specific Scriptures To Encourage You:
1 Thessalonians 5:11 ESV
Therefore encourage one another and build one another up, just as you are doing.
Ephesians 4:29 ESV 
Let no corrupting talk come out of your mouths, but only such as is good for building up, as fits the occasion, that it may give grace to those who hear.
Hebrews 10:24-25 ESV 
And let us consider how to stir up one another to love and good works, not neglecting to meet together, as is the habit of some, but encouraging one another, and all the more as you see the Day drawing near.
Proverbs 12:25 ESV 
Anxiety in a man's heart weighs him down, but a good word makes him glad.
Philippians 4:8 ESV 
Finally, brothers, whatever is true, whatever is honorable, whatever is just, whatever is pure, whatever is lovely, whatever is commendable, if there is any excellence, if there is anything worthy of praise, think about these things.
1 Thessalonians 4:18 ESV
Therefore encourage one another with these words.
Hebrews 3:13 ESV 
But exhort one another every day, as long as it is called "today," that none of you may be hardened by the deceitfulness of sin.
Romans 15:4 ESV
For whatever was written in former days was written for our instruction, that through endurance and through the encouragement of the Scriptures we might have hope.
Acts 20:35 ESV 
In all things I have shown you that by working hard in this way we must help the weak and remember the words of the Lord Jesus, how he himself said, 'It is more blessed to give than to receive.'"
John 16:33 ESV 
I have said these things to you, that in me you may have peace. In the world you will have tribulation. But take heart; I have overcome the world."
Joshua 1:9 ESV 
Have I not commanded you? Be strong and courageous. Do not be frightened, and do not be dismayed, for the Lord your God is with you wherever you go."
Isaiah 40:31 ESV 
But they who wait for the Lord shall renew their strength; they shall mount up with wings like eagles; they shall run and not be weary; they shall walk and not faint.
Jeremiah 29:11 ESV 
For I know the plans I have for you, declares the Lord, plans for welfare and not for evil, to give you a future and a hope.
John 14:27 ESV 
Peace I leave with you; my peace I give to you. Not as the world gives do I give to you. Let not your hearts be troubled, neither let them be afraid.
Isaiah 41:10 ESV 
Fear not, for I am with you; be not dismayed, for I am your God; I will strengthen you, I will help you, I will uphold you with my righteous right hand.
Deuteronomy 31:6 ESV 
Be strong and courageous. Do not fear or be in dread of them, for it is the Lord your God who goes with you. He will not leave you or forsake you."
Romans 15:2 ESV 
Let each of us please his neighbor for his good, to build him up.
---
---
For Encouragement Call 800-633-3446 or Chat
---