How Do You Deal With Tension?
Please contact us if you have questions or if you need some encouragement.

Tension is inevitable, but it doesn't have to control us. Life can be tough, and it's easy to get caught up in negative emotions when we encounter conflicts with friends, family, co-workers or classmates. So take charge of your emotions and plan ahead on how to prevent tension from taking over. But remember this: the person who angers you controls you! Prioritize good sleep, a healthy diet and regular exercise – these are all powerful tools that help keep stress at bay. It's also important to trust that God is in control and let go of worries that weigh heavily on your mind and body.
When faced with tension or stress, try exercising or doing something fun instead of giving into negative feelings. Change your mindset towards stress by preparing for things ahead of time; learn how to respond lighter during stressful moments so you don't give them too much power over you. Remember: dealing with tension isn't always easy, but it's worth the effort because the rewards are priceless! If you believe God is in control, you must start trusting in Him more. Tension is inevitable in life, and we need to learn how to deal with it. ~ Bill Greguska
Proverbs 3:5-6 Trust in the Lord with all your heart and lean not on your own understanding; in all your ways, submit to him, and he will make your paths straight.

---
Five Ways To Reduce Tension And Stress!
---
The 10-Second Rule For Stress Management!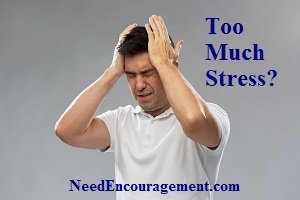 Too much tension? Reevaluate your life! You've possibly heard about the 10-second rule, using the ten seconds before responding or evaluating to show how Jesus would answer and then try to do as He would want you to.
Tension is displayed on our highways with road rage and in our families with battery and abuse, not murder in our streets.
When we allow stress or anger to dictate our feelings, things usually do not turn out well.  I know that when I worry, it only makes matters worse. When I become angry and use self-control, I feel much better about myself than if I lost my temper. You can take a personal inventory to see if your life is out of balance.
---
If you believe in God, you need to ask yourself this question: Who is our resource, and who is our supply? Stress is the inevitable response when we become disconnected from our Source. Once we reconnect our attention to our Supply and Source, we will quickly notice that our stress will fall back into perspective. It would help if you dealt with stress better. Looking back on my life, the pressure has been a thorn in my side, yet things got so much better when I learned about stress management. It is a battle for everyone every day to keep in check! No need to be stressed out!
---
What Is Stress Management?
The Merriam-Webster dictionary defines stress as "the burden of one's emotional or mental well-being created by the demands on one's time."

Stress places demand on one's resources that exceed the available resources – time, money, emotions, or physical ability. Using stress management tools like those on this page will greatly help you.
---
---
For Encouragement, Call 800-633-3446 or Chat
---