Do You Need A Better Attitude?

We all have a bad attitude from time to time, but is your bad attitude one that lingers on day after day? Here are some encouraging scriptures concerning attitude.
---
How Is Your Attitude?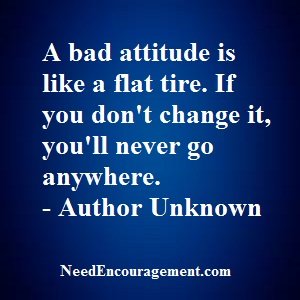 ---
Attitude…
A bad attitude makes it hard to get anywhere or do anything productive in life. I know it because it happens to me, but I fight to get out of it as soon as I possibly can if it starts to creep in.
I try to go to God for direction and to get out of the mess quickly. Starting the habit of doing an attitude adjustment can make a big difference in your life beginning today like it has in mine!
If you would be honest about it, you would have to admit that your attitude fluctuates from time to time. If you can keep a good attitude most all the time, you will notice that your life will be that much better overall.

Because of our sinful nature, we all carry a negative attitude from time to time. Charles R. Swindoll said it perfectly, "I am convinced that life is 10% what happens to me and 90% how I react to it. We are in charge of our attitudes." 
Turn your negative attitude into something positive with God's help! Do you need an attitude adjustment?It is how you look at things that make a big difference and if you are allowing God to lead you on the right path. Is it time for an attitude adjustment for you?~ Bill Greguska
---
Here Are Some Helpful Links:
---
Is Your Attitude Holding You Back?
Each and every one of us has an attitude, the question is whether we have a good attitude or a bad one? ~ Bill Greguska
Philippians 2:5 In your relationships with one another, have the same mindset as Christ Jesus.
---
Gratitude Is An Attitude!
---
---
Related Pages of Encouragement:
A Special Link for a Little Extra Encouragement
---
An Attitude Of Teamwork Can Help Out A Lot!
---
 To find joy and peace of mind, you need to trust in God and realize that He has a plan for your life, Jeremiah 29:11-13 and your only real job is to figure out what God's plan for you is?
While you are taking the time to find your purpose, you can also take the time to discover many resources and a lot of support through the videos, testimonies, prayers, links,

Bible verses, stories, photos, all throughout this website which hopes to be of help to you and others you know.
---
---
---
For Encouragement Call 1-800-633-3446 or Chat
---
Please contact us if you have any questions or comments or would just like some encouragement?
 If you don't like something, change it. If you can't change it, change your attitude. ~ Maya Angelou
Philippians 4:8  Finally, brothers and sisters, whatever is true, whatever is noble, whatever is right, whatever is pure, whatever is lovely, whatever is admirable. If anything is excellent or praiseworthy—think about such things.