What Can I Do To Be Wise?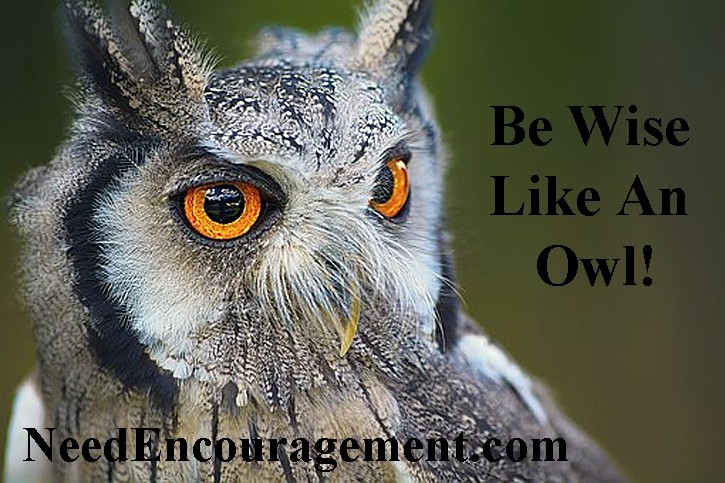 Please contact us if you have questions, or comments, or want encouragement.
I believe that it is a fact that all good things come from God, so in that case, wisdom comes from God, also! Some of you may think that you are wise in your own eyes. But wisdom comes from having love, fear, and respect for God. Yes, you and I can gain knowledge from books, the internet, or other ways, but to be wise, we need to use that knowledge to glorify God and encourage others. There is the internet and different ways to gain understanding, but to be wise, we must turn knowledge into wisdom.
To be wise does not mean having all the answers; instead, you know where to go to get the answers, which is first from the good book, the Bible.  There are plenty of other resources to learn how to be wise, just as long as they do not conflict with the teaching of God's word.  I made some foolish choices and had to pay the consequences. Some of these unwise choices were sinful, God forgave me, yet sometimes the effects linger. Be wise, for the days are evil; without wisdom, we are vulnerable to attacks from the devil.  Being wise does not mean you can not have fun and joke around, but an intelligent person knows when to stop. Like my dad used to say, "There is a time and place for everything." ~ Bill Greguska
Proverbs 3:7  Do not be wise in your own eyes; fear the Lord and shun evil.
---
How Can I Be Wise?
---
Here Are Some Helpful Links:
---
Three Ingredients On How To Be Wise!
---
Consider The Following Statements:
He who angers you controls you.

Life is too short to have regrets.

Courage is not the absence of fear but mastery over it.

Life has many choices. Eternity has two. What's yours?

Forgive those who don't treat you right.

The belief that everything happens for a reason.

When life knocks you to your knees, you're in a perfect place to pray.

With God, all things are possible.

God is not the author of confusion, but He is the author of peace.

Life is manageable when you let Jesus take control.

Salvation, the ticket to heaven.

1 cross + 3 nails = Forgiven.

God answers knee-mail.
---
How Do Three Different Types Of People Think?
The Pessimist Complains About The Wind.

The Optimist Expects The Wind To Change.

The Realist Adjusts His Sails!
~ William Arthur Ward
---
Some Specific Scriptures To Encourage You:
Proverbs 3:7 ESV
Be not wise in your own eyes; fear the Lord, and turn away from evil.
Colossians 4:5 ESV 
Walk in wisdom toward outsiders, making the best use of the time.
Proverbs 1:7 ESV 
The fear of the Lord is the beginning of knowledge; fools despise wisdom and instruction.
Proverbs 29:11 ESV 
A fool gives full vent to his spirit, but a wise man quietly holds it back.
2 Timothy 3:16 ESV
All Scripture is breathed out by God and profitable for teaching, for reproof, for correction, and for training in righteousness,
Psalm 19:7 ESV 
The law of the Lord is perfect, reviving the soul; the testimony of the Lord is sure, making wise the simple;
Matthew 10:16 ESV 
"Behold, I am sending you out as sheep in the midst of wolves, so be wise as serpents and innocent as doves.
James 3:17 ESV 
But the wisdom from above is first pure, then peaceable, gentle, open to reason, full of mercy and good fruits, impartial and sincere.
Psalm 14:1 ESV 
To the choirmaster. Of David. The fool says in his heart, "There is no God." They are corrupt, they do abominable deeds; there is none who does good.
James 1:5 ESV
If any of you lacks wisdom, let him ask God, who gives generously to all without reproach, and it will be given him.
2 Timothy 3:15 ESV 
And how from childhood, you have been acquainted with the sacred writings, which are able to make you wise for salvation through faith in Christ Jesus.
Proverbs 23:19-21 ESV
Hear, my son, and be wise, and direct your heart in the way. Be not among drunkards or among gluttonous eaters of meat, for the drunkard and the glutton will come to poverty, and slumber will clothe them with rags.
Proverbs 13:10 ESV 
By insolence comes nothing but strife, but with those who take advice is wisdom.
Proverbs 13:1 ESV 
A wise son hears his father's instruction, but a scoffer does not listen to rebuke.
Proverbs 12:15 ESV 
The way of a fool is right in his own eyes, but a wise man listens to advice.
Proverbs 11:2 ESV 
When pride comes, then comes disgrace, but with the humble is wisdom.
Proverbs 4:6-7 ESV 
Do not forsake her, and she will keep you; love her, and she will guard you. The beginning of wisdom is this: Get wisdom, and whatever you get, get insight.
Psalm 111:10 ESV 
The fear of the Lord is the beginning of wisdom; all those who practice it have a good understanding. His praise endures forever!
Psalm 53:1 ESV 
The fool says in his heart, "There is no God." They are corrupt, doing abominable iniquity; there is none who does good.
Job 12:12 ESV 
Wisdom is with the aged, and understanding in length of days.
---
---
For Encouragement, Call 1-800-633-3446 or Chat
---