Is Peer Pressure Influencing You Negatively?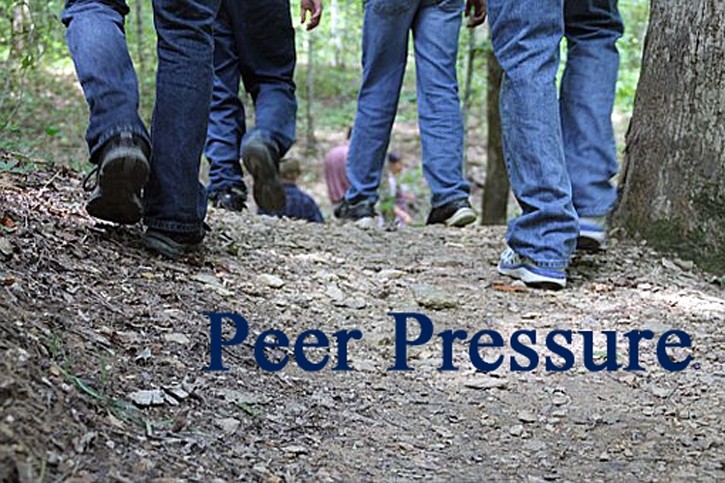 Please contact us if you have questions or if you need some encouragement.
Peer pressure is a powerful force that can influence our decisions and actions in many different ways. The media plays a significant role in shaping this pressure, with movies, advertisements, and the sexualizing of things all contributing to the mix. However, it's important to remember that we are not powerless against peer pressure. If we have good moral character and strong personal values, we can resist these temptations and stand firm in our beliefs.
While peer pressure may be different for each person, whether they are an adult or teenager, it's essential to recognize when it is leading us down a path that goes against God's teachings. Remembering that consequences will inevitably follow if we fall into sinful peer pressure should give us the strength to do what is right and stay true to ourselves. So let us remain steadfast in our faith and always strive for goodness despite any external influences around us! ~ Bill Greguska
1 Corinthians 10:13  No temptation has overtaken you except what is common to mankind. And God is faithful; he will not let you be tempted beyond what you can bear. But when you are tempted, he will also provide a way out so that you can endure it.
---
How To Resist Peer Pressure?
---
Specific Relationship Resource Links:
---
Peer Pressure Can Be A Tough Obstacle To Overcome!
It's important to remember that you always have a choice. The media plays a big role in shaping our perception of what is "cool" or acceptable behavior, but ultimately it's up to us to decide whether or not we want to follow the crowd. It takes courage and strength of character to stand up for what you believe in, especially when others are pressuring you to do something that goes against your values.
But if you stay true to yourself and trust in your own good godly judgment, you'll find that peer pressure loses its power over time. Don't be afraid to seek out positive influences and surround yourself with people who share your beliefs – together, you can create a supportive network that encourages each other towards success and fulfillment. Remember: no matter how strong the temptation may seem at the moment, nothing is worth sacrificing your morals or integrity for. Stay strong and keep striving towards the person you know deep down inside that God created!
---
What Are Fake Friends?
Are Very Selfish

Lie A Lot


Are Not Worth Trusting

Critical And Mean Spirited

Will Hurt You

Envious And Play Mind Games


Live For Gossip and Drama

Are Not Loyal

Not Worth Having In Your Life

Fake And Not Worth Your Time Or Effort
Fake friends are the ones that will get you in trouble and hurt you in the end. Fake friends are the ones who are involved in peer pressure the most (not real friends).
---
Peer Pressure And Why Some People Fall For it?
---
Peer Pressure!
Peer Pressure Can Be Very Stressful At Times! Peer pressure can be positive or negative, no matter what your age. Rather than letting peer pressure direct your steps, let God do so. Don't jump off the bridge just because your friends do! I am sure you relate to having had to resist peer pressure at all ages, not just as a teenager!  To withstand peer pressure is something crucial. Once you determine that God is the most critical person in your life, any weight you might feel from others can quickly be extinguished since you know what you value in life.
How does God want you to live? It is a decision each person must make on their own to resist peer pressure. Do not jump off the bridge just because your friends are doing so. Let God direct your steps rather than allowing peer pressure to do it! Yes, there will be temptations with what we see, hear, and what others you know are doing, but stand firm, and first of all, avoid places, and people you know will be tempted. Guard your eye gates and your ear gates. 
I was very committed to basketball. Still, that initial temptation and use of marijuana was the beginning of a road that I took that got full-blown by the time I was a sophomore in high school. I let the peer pressure tempt me to experiment when I got out of grade school, fortunately, I only dabbled once in a while for a couple of years, but then I got deep into drugs when my best friend Steve Mader died. That led me to full addiction for ten years until I broke free of drugs and alcohol on June 25, 1986. Praise God for that! There are many types of peer pressure, some of which can be helpful and motivating positively. Such as living up to norms and standards that are godly and good. ~ Bill Greguska
---
Here Are Some Helpful Links:
---
Peer pressure builds up, or it tears down! For example, "Does what I am considering to do or say go against God and His Word?" It is evident that if you want to be a Godly teenager, you will want to try to do God's will. Another example is, "Should I go out drinking or choose to spend time with my family and those who love me and want what is best for my life?" It says in Ephesians 5:18, "Do not get drunk on wine, which leads to debauchery. Instead, be filled with the Spirit." When you look at the Bible for your answers, the questions are much easier to answer.
---
Just know that God made you, so you can be your own individual, and don't let people give you that peer pressure. ~ Wyclef Jean
James 1:2-4Consider it pure joy, my brothers and sisters, whenever you face trials of many kinds because you know that the testing of your faith produces perseverance.  Let perseverance finish its work so that you may be mature and complete, not lacking anything.
---
Peer Pressure Comes In Many Different Ways!
---
Do What Is Right Or Fall For Peer Pressure?
How does God instruct you on how to live? It is a decision that each teenager must decide for themselves. Teen pressure can make a teen use drugs, have sex, disregard the law, get tattoos, and do whatever feels right or is accessible at the time. That is not to mention that the stress of school and home life can make a teen make some foolish choices that they will regret at some point, all while their bodies are going through changes that come with being a teenager.
As a teen, if you decide to follow the Lord, you will find great reward in doing so, but you will also experience pressure from your friends to do what the world thinks is right. Teens that love God have problems, too, but have a better chance of making it with God leading them. Pressure on teens can make them seriously wrong choices because they want to fit in and be accepted.
---
Is There Any Peer Pressure To Follow The Lord?
People become new spiritual people because of the Holy Spirit. They have a brand new lifestyle because of their new life. They wish to become closer to God, read God's word, and strengthen their faith.  Their habits and ways of life will conform to God's will. When they fail in some area of their life, which is inevitable, they will confess their sin to God, and God will forgive them. 1 John 1:9. To answer the question, is there any peer pressure to follow the Lord? I would say yes and no. Yes, because of how the Holy Spirit works in others' lives for His purpose. On the other hand, I would be forced to say no because of all the worldly influences from the media and the modern lifestyle the United States practices, full of sexual freedoms and the spiritual discipline lacking in our culture! I pray that you can start with yourself and share some peer pressure positively, pointing others to the Lord with love and respect!
---
Some Specific Scriptures To Encourage You:
James 1:12 ESV
Blessed is the man who remains steadfast under trial, for when he has stood the test, he will receive the crown of life, which God has promised to those who love him. 
1 Corinthians 10:13 ESV 
No temptation has overtaken you that is not common to man. God is faithful, and he will not let you be tempted beyond your ability, but with the temptation , he will also provide the way of escape, that you may be able to endure it.
Psalm 118:5-6 ESV
Out of my distress, I called on the Lord; the Lord answered me and set me free. The Lord is on my side; I will not fear. What can man do to me?
Romans 12:2 ESV 
Do not be conformed to this world, but be transformed by the renewal of your mind, that by testing, you may discern what is the will of God, what is good and acceptable and perfect.
Proverbs 24:10 ESV
If you faint in the day of adversity, your strength is small.
2 Corinthians 10:3-5 ESV 
For though we walk in the flesh, we are not waging war according to the flesh. For the weapons of our warfare are not of the flesh but have divine power to destroy strongholds. We destroy arguments and every lofty opinion raised against the knowledge of God, and take every thought captive to obey Christ,
Jeremiah 29:11 ESV 
For I know the plans I have for you, declares the Lord, plans for welfare and not for evil, to give you a future and a hope.
1 Peter 1:6-7 ESV 
In this, you rejoice, though now for a little while, if necessary, you have been grieved by various trials, so that the tested genuineness of your faith—more precious than gold that perishes though it is tested by fire—may be found to result in praise and glory and honor at the revelation of Jesus Christ.
1 Corinthians 6:18 ESV 
Flee from sexual immorality. Every other sin a person commits is outside the body, but the sexually immoral person sins against his own body.
John 16:33 ESV 
I have said these things to you, that in me you may have peace. In the world, you will have tribulation. But take heart; I have overcome the world."
Philippians 4:13 ESV
I can do all things through him who strengthens me.
Romans 8:28 ESV 
And we know that for those who love God, all things work together for good, for those who are called according to his purpose.
Psalm 23:4 ESV 
Even though I walk through the valley of the shadow of death, I will fear no evil, for you are with me; your rod and your staff, they comfort me.
---
---
For Encouragement, Call 800-633-3446 or Chat
---