Need Integrity?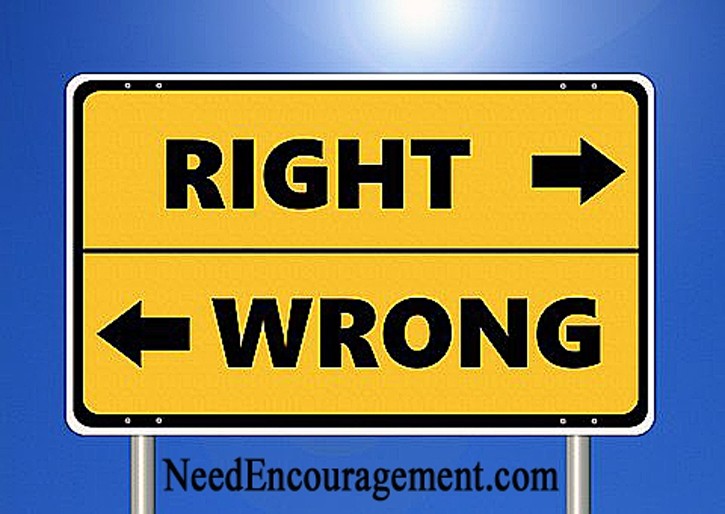 Please contact us if you have any questions or comments or would like some encouragement?
Pray to God to bless you with wisdom to keep you on the right path and make the right choices. Being honest is always the best choice, but sometimes it can be tricky and challenging to be honest and practice integrity. Are you going to cheat on a test at school? Are you going to falsify your income tax papers? Are you going to lie to a friend or family member? Are you going to take something that does not belong to you? These are all questions having to do with your integrity.
I remember as a little boy, my dad found a penny on the carpet in church, he picked it up and put it in his pocket, but the next day, he felt convicted that he should not have done that, so the next following Sunday, dad brought it back to church. It is not the value of the item or deed that was done, it was the principle that my dad should never have taken it in the first place. My dad set a good visual example for me that day that has been a good reminder of right and wrong and what integrity is. ~ Bill Greguska
Proverbs 10:9   Whoever walks in integrity walks securely, but whoever takes crooked paths will be found out.
---
Do You Need Integrity That Will Inspire You!
---
How To Develop Integrity?
What Ways Do You Compromise Your Integrity?
Learn how to develop integrity.  Being honest and having integrity is doing the right things for the right reasons, no matter what it takes. If you struggle to be in God's will, God allows U-turns and offers grace to those who seek to do His will, not their own. Your integrity reflects who you are. Honesty and integrity are both choices to do the right thing even though it is hard to do, or when others are doing their own thing and whatever feels right to them! 
Integrity is doing the right things for the right reasons. Honesty does not come naturally, and it has to be practiced. We all get tempted, but honesty and integrity are essential for healthy living. These two qualities have been a welcomed part of my life since I quit using drugs and alcohol in 1986. Without honesty and integrity, I believe overcoming any addiction is impossible.
---
Here Are Some Helpful Links:
---
What Is Integrity?
---
How Can We Improve Our Integrity?
Did you realize that you can have fun and enjoy yourself yet still have Godly qualities? Proverbs 10:9

Personal freedom and joy must

 start with a good relationship with Jesus.

If I confess my sins, God is faithful and just and will purify us from all unrighteousness.

Proverbs 14:5 An honest witness does not deceive, but a false witness pours out lies.

Being a real man, woman, or leader means being a servant who has morals they are committed to in their lives.

Be honest with yourself and everyone you interact with daily!

There is hope for anyone who can be honest with themselves and others. You must be willing to do what it takes to overcome and then let go of any adverse situations you may have had to deal with presently or in the past. Remember that improvement will take discipline and God's grace. Integrity means making the right choices, even if it is hard!
---
Some Specific Scriptures To Encourage You:
Proverbs 10:9 ESV 
Whoever walks in integrity walks securely, but he who makes his ways crooked will be found out.
Proverbs 11:3 ESV 
The integrity of the upright guides them, but the crookedness of the treacherous destroys them.
Proverbs 28:6 ESV 
Better is a poor man who walks in his integrity than a rich man who is crooked in his ways.
Proverbs 20:7 ESV 
The righteous who walks in his integrity— blessed are his children after him!
Proverbs 19:1 ESV 
Better is a poor person who walks in his integrity than one who is crooked in speech and is a fool.
Proverbs 12:22 ESV 
Lying lips are an abomination to the Lord, but those who act faithfully are his delight.
1 Peter 3:16 ESV 
Having a good conscience, so that, when you are slandered, those who revile your good behavior in Christ may be put to shame.
Proverbs 21:3 ESV 
To do righteousness and justice is more acceptable to the Lord than sacrifice.
Colossians 3:23 ESV 
Whatever you do, work heartily, as for the Lord and not for men,
Philippians 4:8 ESV 
Finally, brothers, whatever is true, whatever is honorable, whatever is just, whatever is pure, whatever is lovely, whatever is commendable, if there is any excellence, if there is anything worthy of praise, think about these things.
2 Corinthians 8:21 ESV 
For we aim at what is honorable not only in the Lord's sight but also in the sight of man.
Luke 16:10 ESV 
"One who is faithful in a very little is also faithful in much, and one who is dishonest in a very little is also dishonest in much.
Psalm 25:21 ESV 
May integrity and uprightness preserve me, for I wait for you.
Psalm 7:8 ESV 
The Lord judges the peoples; judge me, O Lord, according to my righteousness and according to the integrity that is in me.
Job 2:3 ESV 
And the Lord said to Satan, "Have you considered my servant Job, that there is none like him on the earth, a blameless and upright man, who fears God and turns away from evil? He still holds fast his integrity, although you incited me against him to destroy him without reason."
Proverbs 4:25-27 ESV 
Let your eyes look directly forward, and your gaze be straight before you. Ponder the path of your feet; then all your ways will be sure. Do not swerve to the right or to the left; turn your foot away from evil.
Titus 2:7 ESV
Show yourself in all respects to be a model of good works, and in your teaching show integrity, dignity.
---
---
For Encouragement, Call 1-800-633-3446 or
Chat
---