Need Help For An Addiction?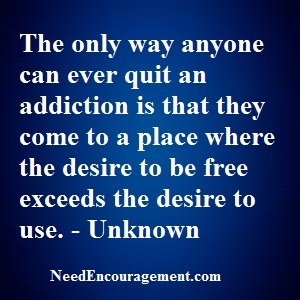 Are you wondering if you possibly have an addiction to something? If you do, there is help for addiction! Keep in mind that each and every human being is susceptible to these types of things.
Fleshly weakness

Sin nature from the curse of Adam and Eve

Our self-centered ways and our rebellious nature

Pressure from society and social media

Free will
I prayed for my recovery from alcohol and drugs. It was obvious looking back that God's timing was not the same as mine. But when God did release me from my stronghold, it lasted ever since June 25, 1986.
What about you?
Possibly similar to you, I personally was addicted to alcohol, drugs, and cigarettes for many years. The time this all happened was from the time I was 17 until I was 26 years old. I did not realize all the damage it all was doing in my life. Thank God I quit alcohol and drugs on June 25th, 1986 and about 2 years later I quit smoking cigarettes too. The alcohol and drugs were greatly interfering with my family, schooling, employment basically everything. Drugs and alcohol at one time it seemed to be so enjoyable and exciting, then the next thing I know it was getting ugly.
If you have a habit or think you might have an addiction, take this test and see where you stand.  ~ Bill Greguska

Listen To This Prayer For Addiction! 
---
Since you can quit anything… either an addiction or bad habit with God's help for:
15 minutes
30 minutes
1 hour
3 hours
8 hours and longer…
Then with God's help, there is hope for you to quit the ANY addiction, or bad habit that has put you in chains.  Go for the goal of 24 hours, then 2 days, 4 days, 7 days, and so forth… Do it One Day At A Time! I am not saying it will be easy, but with God all things are possible!
---
How much money are your additions costing you? 
Here are some helpful links:
Related Pages Of Encouragement:
---
For More Encouragement Call 1-800-633-3446 or Chat
---
Please contact us if you have any questions or comments or would just like some encouragement?
No one is immune from addiction; it afflicts people of all ages, races, classes, and professions. ~ Patrick J. Kennedy
Isaiah 58:6 "Is not this the kind of fasting I have chosen: to loose the chains of injustice and untie the cords of the yoke, to set the oppressed free and break every yoke?