Mobile App From Hope For The Heart Click Here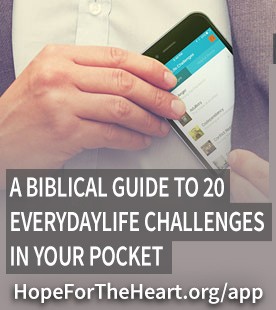 Please contact us if you have any questions or comments or would just like some encouragement?
This mobile app from Hope For The Heart will give you insights into God's word right to your phone in an evident and precise way that will encourage you!
Hope for the Heart is a worldwide biblical caregiving, coaching, and counseling ministry providing biblical hope and practical help for life's challenges. We're passionate about helping people apply God's Word to life. We pray that God will use our biblical resources to help you overcome challenges, grow personally, and equip you to help others.
Also, check out our sitemap for a list of all our pages on our website.
Some of the Most Downloaded:
---
Hope For The Heart Shares Biblical Truth And Hope!
---
More Topics in Alphabetical Order:
---
---
---
For Encouragement Call 1-800-633-3446 or Chat
---