GriefShare.org Can Help Support You In Times Of Grief!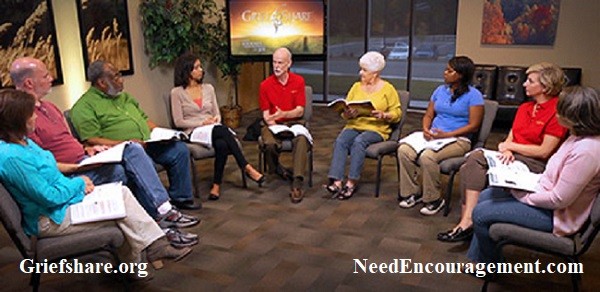 Please contact us if you have questions or if you need some encouragement.
God has created us as emotional beings, capable of experiencing the highs and lows that life brings. There are moments when darkness engulfs our lives, leaving us feeling lost and broken. In those times, I am eternally grateful for God's word and the people He has placed in my life who have shared it with me when I needed it most. It is unfortunate that I did not know about GriefShare.org during the tumultuous period of my divorce; however, I was blessed to have Ron and Sue Sauer, my loving mother, also Mark Mallwitz, and our Bible study group by my side. They were instrumental in pointing me towards Jesus and guiding me towards healing through separation, divorce, and the subsequent depression that followed.
Now aware of GriefShare.org's existence- an incredible platform that has helped countless individuals cope with loss and grief- I cannot stress enough how beneficial it can be to anyone facing emotional pain or hurt caused by death or divorce. If you find yourself grieving over the loss of a spouse, child, best friend, family member or anyone dear to your heart – take a moment to explore what GriefShare.org has to offer; its resources may just be the light you need on your path to healing. ~ Bill Greguska.
Psalm 31:9  Be merciful to me, Lord, for I am in distress; my eyes grow weak with sorrow, my soul and body with grief.
---
Grief Is Something We All Have Had To Deal With Sometimes!
---
Here Are Some Helpful Links:
---
Grief Share seminars and support groups by people who understand what you are going through and want to help. You'll gain access to valuable resources to help you recover from your loss and look forward to rebuilding your life.
Thousands of Grief Share grief recovery support groups meet throughout the US, Canada, and over ten other countries. There's one meeting near you!
Free Daily Email Encouragement
Receive an encouraging email message every day for a year. These short messages will inspire you and provide practical information as you grieve the loss of your loved one. Sign up for the Grief Share daily emails.
Grief Can Do Great Damage To Your Life If Not Dealt With
Grief is a compelling emotion that, if not handled properly, can lead to many other issues in a person's life, such as depression, alcoholism, and drug abuse, to name a few. If you are going through a difficult time in your life right now (or know someone who is), check out GriefShare.org today!
---
Some Specific Scriptures To Encourage You:
Matthew 5:4 ESV
Blessed are those who mourn, for they shall be comforted.
Revelation 21:4 ESV
He will wipe away every tear from their eyes, and death shall be no more, neither shall there be mourning, nor crying, nor pain anymore, for the former things have passed away."
Psalm 147:3 ESV
He heals the brokenhearted and binds up their wounds.
1 Peter 5:7 ESV 
Casting all your anxieties on him, because he cares for you.
Psalm 34:18 ESV 
The Lord is near to the brokenhearted and saves the crushed in spirit.
Matthew 11:28-30 ESV
Come to me, all who labor and are heavy laden, and I will give you rest. Take my yoke upon you, and learn from me, for I am gentle and lowly in heart, and you will find rest for your souls. For my yoke is easy, and my burden is light."
John 16:33 ESV 
I have said these things to you, that in me you may have peace. In the world you will have tribulation. But take heart; I have overcome the world."
John 16:22 ESV 
So also you have sorrow now, but I will see you again, and your hearts will rejoice, and no one will take your joy from you.
Romans 12:2 ESV 
Do not be conformed to this world, but be transformed by the renewal of your mind, that by testing you may discern what is the will of God, what is good and acceptable and perfect.
---
---
For Encouragement,  Call 800-633-3446 or Chat
---