Healing From Divorce Takes Time, Tears, And God!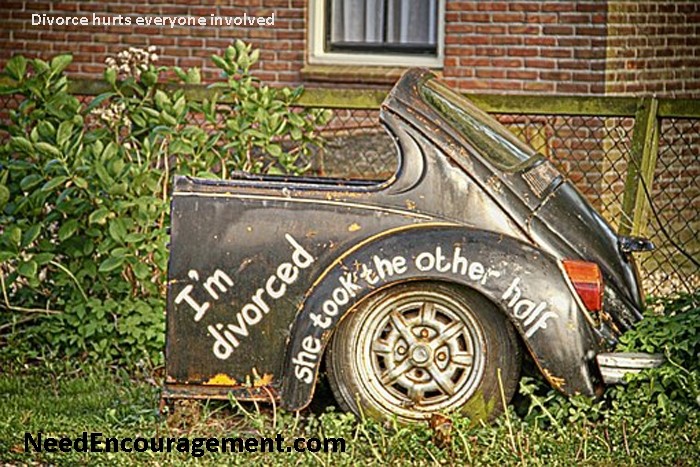 Please contact us if you have questions or if you need some encouragement.
Finding healing from divorce can be a daunting task, but it is not impossible. It is important to remember that God is always with us and willing to lend a helping hand in our darkest moments. The journey towards healing may involve tears, heartache, and sleepless nights, but we must not let the pain consume us. God hates divorce but has allowed it to happen because of man's hardened heart.  Contact us, and we will help you. 
Instead, we should reach out to God through prayer and ask for His guidance and comfort during this time of need. As Kathleen Casey once said: "Pain is inevitable. Suffering is optional." We cannot control the pain caused by a divorce, but we can choose how we respond to it – with bitterness or with hope for something better in the future. While relationships may have their ups and downs, it's important to remember that divorce doesn't mean the end of life as you know it; rather it opens up new opportunities for growth and personal development. So don't hesitate to seek help when needed because there are those who care about your well-being and want nothing more than for you to find peace amidst all the chaos – including those here at NeedEncouragement.com. ~ Bill Greguska
Psalm 30:2   Lord my God, I called you for help, and you healed me.
---
Healing From Divorce After Finally Finding Real Hope!
---
Specific Relationship Resource Links:
---
It Takes Time Healing From Divorce!
Healing from divorce can occur over time with God's assistance, love, and grace. Divorce tears apart the two who were made one through marriage, so it is painful! The scars will last a lifetime, yet the pain fades over time. It may seem impossible, but it will take some time, work, and walking close to God.
Many of you did not want a divorce like me. Are you wondering what we should look forward to in life, not being married anymore? There is life after a divorce when God works in your heart to forgive, heal, learn, and then turn the page — going through a divorce that I did not want was extremely painful. It was evident that my ex-wife could not deal with things, and she ended her second divorce. It must have been hard for her, too, but all it seemed was she wanted a way out. Your story could be similar or maybe entirely different.
---
There Is Healing From Divorce!
---
Gain Wisdom And Understanding
Learn some tips on how to begin healing from divorce. Divorce is the ripping apart of one flesh into two! From my experience, separation is one of the most painful things a person can go through. It would help if you consciously tried to heal from a divorce or would not recover entirely. When you heal from a divorce, you need to get closer to God, a straightforward formula to consider. Be aware of your health. You had a divorce, life is not over, but it has taken an extremely painful detour. Learn how to start healing from divorce by practicing forgiveness of your spouse. At some point needs to be a part of the recovery! ~ Bill Greguska
---
 Here Are Some Helpful Links:
---
Learn How To Discover The New Normal
---
Is There Life After Divorce?
A divorce is like an amputation: you survive it, but there's less of you. ~ Margaret Atwood
Psalm 6:2 Have mercy on me, Lord, for I am faint; heal me, Lord, for my bones are in agony.
---
The Great Pain Of Divorce
The bottom line is that divorce can be excruciatingly painful, but with God, all things can heal a broken heart and excruciatingly painful, but God, all things are possible when it comes to healing. A broken heart and shattered dreams! As a Christian man, divorce was not an option for me, and I thought my ex-wife, too, by how she discussed things before we got married, but things changed. I went through a divorce that I did not want, and it was the hardest thing I ever went through in my life, way harder than even the death of my mother, who I loved dearly. ~ Bill Greguska
---
Websites To Help Find Healing From Divorce:
---
Some Specific Scriptures To Encourage You:
Jeremiah 17:14 ESV 
Heal me, O Lord, and I shall be healed; save me, and I shall be saved, for you are my praise.
1 Peter 2:24 ESV 
He himself bore our sins in his body on the tree that we might die to sin and live to righteousness. By his wounds, you have been healed.
Isaiah 41:10 ESV 
Fear not, for I am with you; be not dismayed, for I am your God; I will strengthen you, I will help you, I will uphold you with my righteous right hand.
Jeremiah 33:6 ESV 
Behold, I will bring to it health and healing, and I will heal them and reveal to them abundance of prosperity and security.
Psalm 147:3 ESV
He heals the brokenhearted and binds up their wounds.
Psalm 103:2-4 ESV 
Bless the Lord, O my soul, and forget not all his benefits, who forgives all your iniquity, who heals all your diseases, who redeems your life from the pit, who crowns you with steadfast love and mercy,
James 5:16 ESV 
Therefore, confess your sins to one another and pray for one another that you may be healed. The prayer of a righteous person has great power as it is working.
Proverbs 17:22 ESV 
A joyful heart is good medicine, but a crushed spirit dries up the bones.
Jeremiah 30:17 ESV 
For I will restore health to you, and your wounds I will heal, declares the Lord, because they have called you an outcast: 'It is Zion, for whom no one cares!'
James 5:14 ESV 
Is anyone among you sick? Let him call for the elders of the church, and let them pray over him, anointing him with oil in the name of the Lord.
Psalm 6:2 ESV 
Be gracious to me, O Lord, for I am languishing; heal me, O Lord, for my bones are troubled.
---
---
For Encouragement, Call 800-633-3446 or Chat
---