Are You A Lover Or Hater?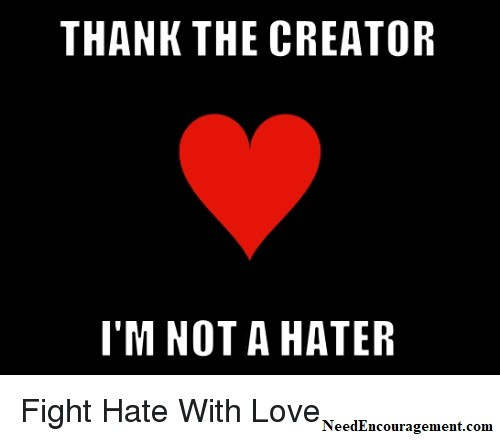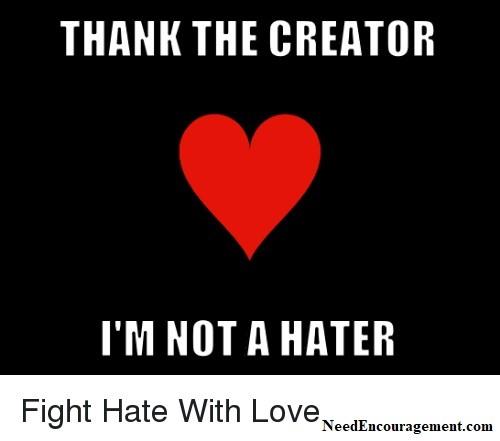 Lover or hater? Be honest with yourself, because God knows our hearts and knows that we are all sinners, but still gave His one and only Son to die for our sins.
We all have the same choice in our life to choose to be a lover or hater. I have done both in my life, but I will rather be a lover than a hater any day of the week. ~  Bill Greguska
---
God Commands Us To Love Eachother, But We Need To Hate Sin!
---
Choose To Be A Lover Or Hater?
John 13:34-35  "A new command I give you: Love one another. As I have loved you, so you must love one another. By this everyone will know that you are my disciples if you love one another."
Matthew 5:22  But I tell you that anyone who is angry with a brother or sister will be subject to judgment. Again, anyone who says to a brother or sister, 'Raca,' is answerable to the court. And anyone who says, 'You fool!' will be in danger of the fire of hell.
---
Stop Hating Everybody By Simply:

Learn to chit-chat with people. Learn to find joy in having a conversation and connecting with another person instead of looking at everyone who talks to you as someone who's either wasting your time or wants something. Keep in mind that when you smile and are friendly, it demonstrates to people that you're open to conversation, and they'll be more likely, to be transparent with you. There's nothing wrong with small talk. It's what leads you to build deeper relationships and to get to know people more intimately down the road.
---
To Learn To Stop Hating Is Not That Difficult With Love!
Give others compliments. Make a habit of giving at least one or two compliments a day to an acquaintance or a perfect stranger to show that you care and help you to look for the good in people. A random compliment you give to a person can make that person's day. Maybe it might be the only positive interaction that a person has all day, and it so easy to do. 
---
Thinking Outside The Box!
Think of all the ways that people can help you. An additional way to stop hating certain people is to realize that most of the people around you can be viewed as a resource of help. Your older brother can help you fix your car, your teacher can help you understand math, and your mom can help you learn how to make Italian Biscotti cookies. If you look for the potential of helping others and how others can help you, you will be on your way! Ask yourself, would I rather be a lover or hater?

---
How To Stop Hating A Particular Person
Let your feelings off your chest. If you want to stop hating a particular person in your life, whether it's an ex-friend or someone who irritates you, it's essential to be open and honest about how you feel before you can get rid of those negative feelings.

Take your situation to God in prayer.

You can also talk to a close friend or even a counselor about it, write your feelings down, or just make sure that you're open and honest about why you dislike that person; you may find that the person hasn't actually done anything wrong, or that the real reason why you feel badly about the person isn't what you expected. If you deny your feelings about the person, then you'll never really be able to deal with your feelings. The sooner you in a controlled way, get your feelings off your chest, the sooner you'll feel better.
---
To Stop Hating, You Must Be Real And Genuine
Do not gossip about the person you have ill feelings about. Though you may think that spreading your hatred toward a particular person can help you get over the situation, doing so will make you feel worse about the whole situation. Other people may reinforce your negative feelings, and you'll only feel more justified in hating that person; plus, talking about how much you hate the person will get you worked up and even more filled with hatred.
---
Look At The Bright Side Of Things!
Turn the page on to something that makes you happy. One way to stop hating a specific person is to focus on something good in your life instead. This can be hanging out with your other friends, working out, baking, reading for pleasure, hiking, or doing whatever it is that makes you smile. Though it can be hard to entirely distract yourself when you hate somebody (or should I say hate what they did or said), just making an effort to go through the motions and throw yourself into something else can be far more effective than sitting there and stewing.
---
---
---
For Encouragement Call 1-800-633-3446 or Chat
---