Brian Larson Loves God, And God's People!
Brian Larson has proved himself to be a Godly man, not only by what he knows about God and the Bible but also by how he lives his life for others.
Here are some encouraging scriptures that I feel reflect Brian Larson.
Please

contact us

if you have any questions or comments?
Riding a race bike is an art – a thing that you do because you feel something inside. ~ Valentino Rossi
Psalm 24:4  The one who has clean hands and a pure heart, who does not trust in an idol or swear by a false god.
---
My Hope America- Billy Graham Official Trailer
---
Brian Larson Is A Wise, Humble Man!
Brian Larson Loves God, And God Loves Brian Larson!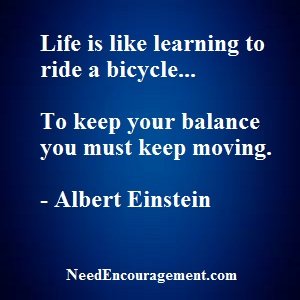 You will see that he loves the Lord! Brian Larson has helped teach me the importance of knowing what the Bible says compared to what people feel it means.
Some people would do almost anything for another person, and Brian is the type of good friend that would give his shirt off his back to someone in need.  
Brian is an avid bike rider and is brilliant with computers, lives out the Bible by his life, and is an overall good Christian man.
I am thankful that Brian has been a good Christian role model for me for many years, pointing me to Jesus Christ time after time.
It is a fact that Brian loves the Lord with all his heart and loves others too.

He sees such joy in serving God by serving others and having Jesus live through him. Proverbs 16:16

I know that Brian also volunteers with other non-profit organizations, helping with computer needs. Brian is also a Computer Lab Coordinator for Heart Fire Ministry.

He has been very involved in bike riding for many years.

Brian has a great personality directly influenced by his love for the Lord!

~

Bill Greguska
---
Here Are Some Helpful Links:
---
Brian Larson And His Faith In God!
An Adoption Fund Raiser Bike Ride!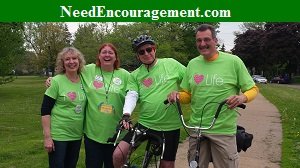 As a kid, Brian and his family went to church on Christmas and Easter. He wandered in the desert of unbelief for forty years, and at age 54, he came to the end of himself.
Brian cried out and asked God to show him if He was real, and He roared in.
Brian then knew He had waited for him and had been so patient with him. Now in his 70's, Brian is still very active in helping others and living out his faith!
Brian Larson has been a bike rider enthusiast for many, many years! He loves it still!
---
Time Will Decide If You Will Not!
One of my favorite questions to ask Brian is, "How are you doing, Brian?"  I love his response. He always says, "You know!"
Matthew 7:24"Therefore everyone who hears these words of mine and puts them into practice is like a wise man who built his house on the rock.
---
Related Pages Of Encouragement:
A Special Link for a Little Extra Encouragement
---
Brian Larson Loves Bicycle Riding!
He Enjoys His Bike Riding Friends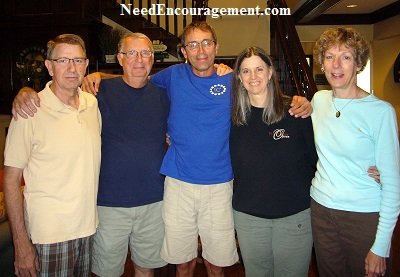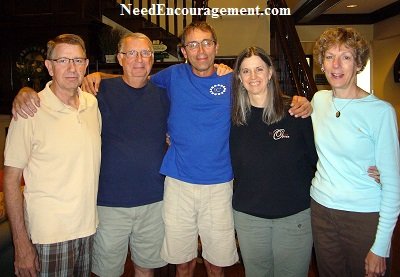 I am glad that Brian and I are good friends and brothers in Christ.
He is a wise man with a big heart for the Lord. Brian is a living testimony that, at any age, Jesus Christ can come into your life through the power of the Holy Spirit.
Brian has been an example of how the love of God inside his heart can overflow to be of help to many others.
The wisdom Brian gets from living his life for Jesus Christ is used wisely to encourage others. 1 Peter 4:10-11
My friend Brian Larson is the second on the left side with some of his good Bicycling friends!
---
God Touched Brian Larson's Heart And Changed His Life! 
Breaking Bread With Brian Larson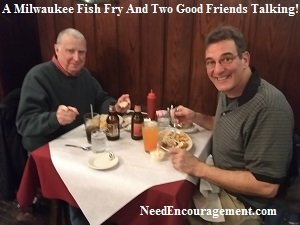 He showed Brian why Jesus had to suffer for him out of pure love. He delivered him from alcohol, lust, and self-absorption. Along with a new life, He has given him a biblical worldview that gives him "peace that surpasses understanding." Brian sees such joy in serving Him by serving others and having Jesus live through him.
Brian has Volunteered with other non-profit organizations besides Heart Fire, such as People First, by helping others with computer needs. Proverbs 11:25 Brian Larson is a wise man who loves the Lord and others, Pictured here with the prodigal cyclist and some good friends of his!
Brian Larson has been an influence on my spiritual life. Brian also is teaching me a lot about the computer!
---
More Encouraging Testimonies
---
---
---
For Encouragement Call 1-800-633-3446 or Chat
---