We All Need Grace, And We All Need To Share Grace!
Please contact us if you have any questions, comments, or encouragement.
Mercy and grace are two important Christian terms whose meanings are often misunderstood and misused. The definition of mercy is God not giving us what we do deserve; the definition of grace is God giving us something we do not deserve. We all make mistakes or do wrong things (sins). We all want forgiveness and pardon for the offenses that we commit. I know that I did some things when I was in my early 20s  that I needed God's grace. (and continue to need God's grace each day).
I found myself because of alcohol and drugs and getting into trouble, and getting placed on probation. Later on, while I was on probation, I violated my probation and committed an offense that could have landed me in jail. But by God's grace, the judge gave me a sentence of drug and alcohol treatment, ending two years away from home. I used that opportunity to learn about the addiction and sin I became accustomed.  I became clean and sober ever since June 25th, 1986.  I praise God for His love and grace for us and me particularly. How has God given you grace in your life? How do you give others grace in their lives? ~ Bill Greguska
Hebrews 4:16  Let us then approach God's throne of grace with confidence so that we may receive mercy and find grace to help us in our time of need.
---
Lord Help Me, I Need Grace!
---
What Is Your Perspective Of What Grace Looks Like To You?
When a police officer pulls you over for speeding, the officer believes your excuse and lets you free without a ticket.

When your doctor thinks you might have cancer, but when the tests' results come back, you do not.

Having the exact amount of money to pay for a fast-food meal to the penny.

When we say something dumb, the other person does not judge us or make fun of fun of us for that.

When your boss, teacher, or parents set a rule to live by, you break it but do not get as much penalty as you ought to or possibly nothing.
---
Why Is God's Love So Very Essential?
---
How Does Grace Work In Your Life?
What does the term "saved by grace" mean? It is unearned favor God bestows because He loves us. Even though we did not deserve it, God's Son Jesus died on the cross to pay for our sins. Have you accepted God's grace? God's mercy saves us from this ultimate burden of our sins because Jesus Christ gave His life up freely to pay the penalty for them. These crimes originated with Adam and Eve in the garden of Eden.
God is Holy and will not allow evil to be near Him, enter heaven with Him, or find peace with God here on earth. Without Jesus dying to cleanse us from all our sins, we would be unable to enter heaven, and the consequence would be separation from God for eternity. It is more than just being kind or going to church. Learn more about being saved by grace below. ~ Bill Greguska
---
Yet Not I But Through Christ In Me!
---
Here Are Some Helpful Links: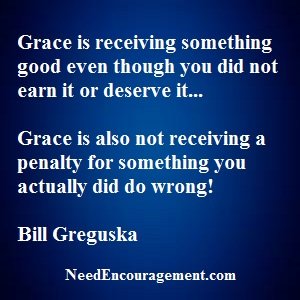 "If you declare with your mouth, "Jesus is Lord," and believe in your heart that God raised him from the dead, you will be saved. For it is with your heart that you believe and are justified, and it is with your mouth that you profess your faith and are saved. Romans 10:9-10
---
God's Grace When We Are Tempted!
---
Admit You Are A Sinner?
For all have sinned and fallen short of the glory of God." Romans 3:23

"For the wages of sin is death, but the gift of God is eternal life in Christ Jesus, our Lord." Romans 6:23
Believe In Jesus Christ As Your Lord And Savior?
"For God so loved the world that he gave his one and only Son, that whoever believes in him shall not perish but have eternal life." John 3:16

Help me, Lord my God; save me according to your unfailing love. Psalm 109:26
---
Some Specific Scriptures To Encourage You: 
2 Corinthians 12:9 ESV 
But he said to me, "My grace is sufficient for you, for my power is made perfect in weakness." Therefore I will boast all the more gladly of my weaknesses so that the power of Christ may rest upon me.
Ephesians 2:8-9 ESV
For by grace, you have been saved through faith. And this is not your own doing; it is the gift of God, not a result of works, so that no one may boast.
Romans 6:14 ESV 
For sin will have no dominion over you since you are not under law but under grace.
Romans 11:6 ESV
But if it is by grace, it is no longer on the basis of works; otherwise, grace would no longer be grace.
James 4:6 ESV 
But he gives more grace. Therefore it says, "God opposes the proud but gives grace to the humble."
John 1:16 ESV
And from his fullness, we have all received grace upon grace.
Romans 5:8 ESV
But God shows his love for us in that while we were still sinners, Christ died for us.
Romans 3:24 ESV
And are justified by his grace as a gift through the redemption that is in Christ Jesus,
Titus 2:11 ESV 
For the grace of God has appeared, bringing salvation for all people,
2 Peter 3:9 ESV 
The Lord is not slow to fulfill his promise as some count slowness but is patient toward you, not wishing that any should perish but that all should reach repentance.
---
---
For Encouragement, Call 800-633-3446 or Chat
---