Do Not Quit, Because Tomorrow Is A New Day!
Please contact us if you have any questions or comments or would just like some encouragement?
What's worked for me is not quitting and being passionate about what I do, and not giving up – and when I don't believe in myself, turning to others who believe in me. ~ Marc Jacobs
The dictionary definition of perseverance is the steady persistence in the course of action, a purpose, a state, etc., especially despite difficulties, obstacles, or discouragement.
James 1:12  Blessed is the man who perseveres under trial because when he has stood the test, he will receive the crown of life that God has promised to those who love him.
Sometimes we all get the feeling of quitting, but if we hang in a little longer, we learn that all things are possible with God and that to stop something (unless it is sinful) is often not the right choice.  Here are some encouraging scriptures having to do with the topic of do not quit.
---
Motivation Video- Never Give Up And Do Not Quit!
"When the going gets tough, I'm not always sure what you do. I'm not saying that I know how to fix everything when the going gets tough, but I do know this: when the going goes tough, you don't quit. And you don't fold up. And you don't go in the other direction". ~ John Madden
---
Encouragement Resource Links:
---
Do Not Quit Without Giving It Your Best Shot!
I was told many times by my mother, coaches, teachers, and others not to quit. But, I can recall twice in my life that I wanted to stop living because of all the pain I was experiencing.
The first time was when I was in high school, and the second time was when my wife divorced me.  But I thank God that He put outstanding people in my life to encourage me and point me back to the Lord.
The reason I mention this is because we all have hit a wall in our life, and you, too, can overcome it with the help of God like I did.
Whatever you do, do not quit! Think of it this way, when you feed your faith, your doubts will starve. When you feed your doubts, your confidence will starve.
It is up to you what you are going to choose to do? I used to tell my kids Chris and Sherry that when they were going through a challenging time growing up, "40 pounds of pain often can give you 400 pounds of gain!" ~
Whether it's a financial crisis that you're in, or a divorce you've been through, or an unthinkable sin you've committed, don't ever give in to the thinking that you won't recover. Nothing seems more discouraging than to think you'll never get out of the pain, debt, or guilt you're in.  
It is unnecessary to accept negative thoughts that pop into your heads or seem to haunt you that comes with tearing down ideas instead of building up. If you focus on them, your thought process tends to spiral down, which opens the door to depression, anger,
---
WHAT GOD HATH PROMISED
God hath not promised skies always blue,
Flower strewn pathways all our lives through;
God hath not promised sun without rain,
Joy without sorrow, peace without pain.
But God hath promised strength for the day,
Rest for the labor, light for the way,
Grace for the trials, help from above,
Unfailing sympathy, undying love.
God hath not promised we shall not know
Toil and temptation, trouble and woe;
He hath not told us we shall not bear
Many a burden, many a care.
God hath not promised smooth roads and wide,
Swift, easy travel, needing no guide;
Never a mountain rocky and steep,
Never a river turbid and deep.
---
Do Not Quit, Instead When You Fall, Fall Forward!
---
Here Are Some Helpful Links: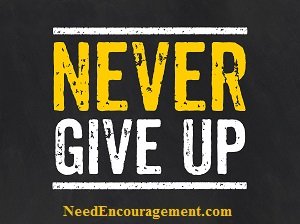 Rest if you must, but do not quit. You can never tell how close you are to your goal, so do not stop!
---
A Very Inspirational Poem!
The poem below, called "Do Not Quit," has been very inspirational since my twenties. I am now in my fifties and still love it. I love it so much that I even put it on my evangelistic business cards to pass out to people. The words are so real and can speak right to every reader at some point or another! 
When this poem talks about not quitting, I pray that people take that a little more seriously when it comes to marriage, friendships, jobs, or any other type of commitment. We need to focus on those three simple words, "Do not quit."

As coach Bear Bryant once said, "Never quit. It is the easiest cop-out in the world. Set a goal, and don't quit until you attain it. When you do attain it, set another goal, and don't quit until you reach it. Never quit."
---
Do Not Quit Poem 
"When things go wrong, as they sometimes will when the road you're trudging seems all uphill. When funds are low, and the debts are high, and you want to smile, but you have to sigh, when care is pressing you down a bit, Rest if you must, but don't you quit.
Life is strange with its twists and turns, as every one of us sometimes learns, And many a failure would turn about when you might have won if you would have stuck it out. So don't give up. Though the pace seems slow, you may succeed with another blow.
Success is failure turned inside out, The silver tint of the clouds of doubt, and you never can tell how close you are, it may be near when it seems afar; So stick to the fight when you're the hardest hit, it's when things seem worst that you must not quit."
– Author unknown 
---
Related Pages Of Encouragement: 
---
---
---
For Encouragement Call 1-800-633-3446 or Chat
---