My Basketball Testimony!
---
 I was born in 1960, but since 1986 my focus has now been so much more on God, and much less on basketball! The question now is…What motivates you?
If I can share with you one thing that I would do over again, it would be not to get my values off balance, that is what I did and it made a mess of my life. I am thankful that God is a God of second and third chances because God loves us!
I call it my life and basketball testimony because basketball was without a doubt an overwhelming part of my life, and when that got derailed due to getting too involved with drugs and alcohol while growing up.
Even though basketball is a fantastic sport, nothing should be more fantastic than your relationship with Jesus Christ and to love one another! ~ Bill Greguska
---
Do You And I Give All The Glory To God?
---
Encouragement To Do Your Very Best!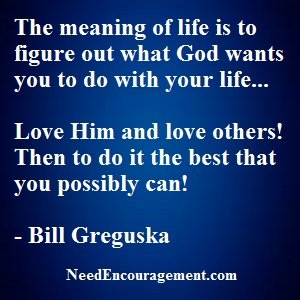 ---
Who I Am As A Player, I Can Be As A Christian!
Extremely Serious About Basketball!
During the summertime I played basketball for at least 4-8 hours each day, just loved the game of basketball because I was naturally good at it.
I was always the tallest in my classes, and it was just simply a lot of fun! I took basketball very seriously and set many goals to obtain.
It seems that when I get involved in something I jump with both feet in. This page is long so if you have the time now or later, I would encourage you to read through it. 
I had enjoyed playing and watching basketball since 1969 when I was nine years old, and I still love the game as a fan! Once basketball is in your blood, it is hard to get it out. ~ Bill Greguska
---
Here Are Some Personal Helpful Links:
---
A Look Back At

Facebook

~ Bill Greguska
Here's my Facebook movie. Find yours at https://facebook.com/lookback/ #FacebookIs10

Posted by Bill Greguska on Sunday, February 9, 2014
---
Life Got Crazy And I Turned To Drugs And Alcohol…

---
My Life Story…
Like all of your stories has had its many ups and downs – drugs, alcohol, divorce, misdirected priorities or just ordinary problems of life.
I have learned through it all that God has been faithful to me. Despite the way, I lived for so many years. My intent is to share my life story to help and encourage others. What is your story?
I thank God that, for over 20 years now, I have been sober and away from drugs. Not to forget to mention the lifestyle of sin that came with them.
I give God thanks and the credit for releasing me from the chains that I chose to foolishly entangle myself in when I was in my teenage years.
I hate when I hear about so many people throwing their lives away. That's why I decided to start this website in 2007.
---
Thankful Attitude
Thankfully, I became very willing to get help when life seemed to be going nowhere fast. Because of my life situation, I became so grateful for those who loved me enough to help me start over.
I believe the care of my mother and others over the years has been the direct help of God.
I am sure some people thought there might not have been any hope for me in my life, but God had different plans! And, if there was hope for me, there is hope for you, too, and for anyone that has problems with addiction and sin in their life.
God works, even in lives that seem to be an endless struggle, day after day. Now, with a clear mind and cleaner heart, God has been able to do even more in my life. He is still working on me today as a potter works on clay.
I wrote this seven chapter book to be an encouragement to you, no matter where your life has been, where your life is now, or even where it seems to be heading.
Always remember that there is hope when we rely on God as our refuge and strength, because He is an ever-present help in all our troubles, as Psalms 46:1 says.
---
This Is A Photo Shopped Picture, Yet It Was My Dream!
---
When Times Get Difficult
I thank God that I have learned that when life gets complicated, and you see no way out from the mess we make for ourselves, we need to call on to God, for He is our refuge and strength because He is an ever-present help in times of trouble.
Actually, a daily walk with God before we make a mess of our lives is the wise way to do it.
Although God loves us and will never leave us if we choose to follow him.  I realized that I made some horrible mistakes while growing up, I put alcohol, drugs and other harmful things, and even good things in my life ahead of belief in, and my core love for God that I had since I was a kid.  
---
Dealing With My Life With God's Help
I learned how not to try to handle what the devil and the storms of life deal out because I am not strong enough without help from God! 
Remember that it says in Romans 8:28 And we know that in all things God works for the good of those who love him, who have been called according to His purpose. 
Find your strength in God, not from yourself.  If you rely on yourself, you are bound to fall flat on your face, but if you trust in the Lord, even if you do fall, the Lord is there to pick you right back up. He will never leave you or forsake you!
I have made some mistakes as well as I have done some things well.  What is your story? ~ Bill Greguska
---
I Always Wished That I Could Shoot Like This!

---
Related Pages Of Encouragement:
A Special Link for a Little Extra Encouragement
---
Kevin Reddy Star Center Pius XI Basketball 74-78
---
My Personal Testimony In Jesus Christ

Written By Bill Greguska
I first heard of Jesus Christ when I was a young boy of about 7 years old while growing up.
My parents took me to church every weekend and even put me in a church school to instruct me which developed some of the fundamentals of my faith.
My faith in God was very frustrating to me because I learned about what was good and acceptable, but it was hard for me to live it out in my life.
Then while growing up, the Lord allowed multiple difficulties such as a drug and alcohol problems, homelessness, and problems with the law all to ultimately understand how deep of a need that I had for God through these hard times I got myself into.
---
Basketball Was My Carrot
There was a period of time in my life when I got really serious about my faith because God orchestrated that I would end up in long-term drug and alcohol rehabilitation for 2 years, where I got the help I truly needed.  
I got out in 1989, and shortly after that, I found Elmbrook Church which caught my eye through their open basketball program. Basketball was the "carrot" that got me back in church again!  Elmbrook took me in and helped me to grow as a Christian under the teaching of Stuart Briscoe and the rest of the staff.  
I even got a job at Elmbrook as a custodian for 4 years. The seeds of faith were planted. My roots were getting deeper into the things I was learning in God's word over the years. I also attended both NA and AA for about 10 years during that time.
NA and AA helped me to some degree, but Elmbrook helped me more because it was there that the seeds of faith were planted and my roots were getting deeper by the things I was learning in God's word over the years. I have loved basketball for almost 50 years! 
---
Dreams Of Basketball Were In My Head!
---
Searching For A Solution
I attended both AA and NA for about 10 years during that time, yet even though it helped me to some degree, I found Elmbrook church which caught my eye through their open basketball program.
Basketball back then was very important to me and was the carrot that got me into the church again back in 1989 shortly after I got out of long-term treatment.
The church took me in and helped me to grow as a Christian under the teaching of Stuart Briscoe and the rest of the staff.
I even got a job at Elmbrook as a custodian for 4 years. The seeds of faith were planted. My roots were getting deeper into the things I was learning in God's word over the years.
---
Letting Go And Letting God!
As a result of the experiences that God allowed in my life both good and also bad. That gave me the awareness of my urgent need for God in my life! The rest of my story is a series of ups and downs.
Thank God they have evened out considerably, but because this time God was in my life directing me. God was teaching me how to love Him, how to love others, and how to love myself.
My born again faith back on June 25, 1986, when I finally gave up drugs and alcohol, gave me a new opportunity to live my life for Jesus Christ.
---
Michael Pitrof, Son Of Larry Pitrof From My Pius XI Team!
---
People God Put In My Life
My life has not been perfect or even easy and I still sin, but since I accepted Jesus Christ as my Lord and Savior, I know my sins are now forgiven so I can confess and forsake them and have Hope!.
God has blessed me with some key people to help me such as Ron and Sue Sauer, Mark Mallwitz and Dave Briscoe and a few others. There are many people I am grateful for and find it hard at times to understand how much God loves me.
I know who created me, why I am here on earth, and that I have a purpose for my life which is to love and honor God and to love others because God has loved me first.
I have the assurance that God will never leave me or forget about me because He loves me, and I love Him and want to serve him out of gratitude for what He has done for me. ~ Bill Greguska
---
Basketball Was More Than Just A Game To Me!
---
What Do You Really Value?
Do you think it okay to put a higher priority on a hobby, activity, or anything over God?   My basketball testimony. It was more than a game to me: it was my life. 
Basketball was not only a lot of fun and full of excitement, but I got pretty good at it. So it became a real passion of mine. It became a way of life, and the game motivated me to be the best I could be.
It was the only thing that was giving my life any real direction. I totally loved playing the game of basketball and I would rather play basketball than do anything else in the world.
Bottom line, I loved basketball and found a lot of fulfillment from playing the game all those years growing up and through high school. God blessed with the right height being 6' tall in eighth grade and being very athletic.
---
Nate Can Really Play Some Good Basketball!
---
I Was Dedicated To Basketball But Not God Yet!
It was like my basketball testimony was my god by all the hours upon hours I used to play basketball during the off-season and all the practices and games during the years of competitive basketball.
Shooting around trying to perfect my shots and moves for 2 or 3 hours at a time was a usual practice for me. I remember shoveling off my parent's driveway and get my basketball out there just to shoot hoops in the backyard during the cold winter months.
I used to cut off the fingertips off my gloves to still have control of the ball yet not have my hands totally freeze.   I think a person could fall into that trap quite quickly. But once you are aware of it, the free choice is all yours. I believe that we need to love God with our whole heart, mind, and soul. Other things come after that priority!
Romans 6:23 For the wages of sin is death, but the gift of God is eternal life in Christ Jesus our Lord.
---
Is it that hard to become sober and drug-free? I have now been clean and sober for over 20 years, as of June 25, 1986. God delivered me through several situations, specifically by bringing Pastor Mel Ulich from Oshkosh into my life. Pastor Mel took the time and energy every Wednesday for 1-2 hours. He read the Bible to me, explaining things he knew that God wanted me to know. 
Pastor Mel did this for about two years while I was in long-term treatment. On my own, I believe I would have fallen and who knows what would have happened to me, but with God, He put the right people in my life to encourage me and help me!
---
Do Not Make Basketball Your Only Goal!
---
Mom Had Faith In Me Always!
I was very fortunate that my mom always had faith in me, which was just what I needed to help me get through treatment and leading a more normal life.
After finally admitting that I had a problem. The next step was letting go and being willing to let God take over my life.
The first thing I needed for me was the hard parts of getting sober and drug-free was the mentally breaking the habit of doing what kept me chained to my addiction.
It was almost like grieving a loss of a close, close friend! Once I got away from the places that I used to use drugs and alcohol and letting go of the people who I used to use with regularity. It was almost like learning how to live again!
Matthew 19:26 Jesus looked at them and said, "With man this is impossible, but with God all things are possible."
---
What are some things that change us as human beings? If we are blessed to live long enough, there are times in our lives when we can look back and can pinpoint the exact time when a change happened for good, or sometimes for the bad.
I call the good one's stepping-stones and the bad one's lessons. Both of which, if used well, can ultimately be used in time as stepping-stones. The first stepping stone in my life was to get a relationship with Jesus Christ, and the second one was to let him work in my life.
---
God Is Bigger Than My Storms!
He took away the power and influence that alcohol and drugs had over me for so many years, roughly from age 12 through age 26. From that foundation came all the changes and healing that have contributed to the man I am now. It sure is good to know that basketball is no longer my god.
Finally, God was on the throne of my life as he guides me through day by day. I continued to follow Him the best I can with His grace, keeping my focus and eyes on Jesus Christ and not any storm that comes in my life. Sometimes the best thing to change us, unfortunately, is the pain!
Pain is a great motivator and teacher when we experience pain or failure in life, which pain can either make us better not make us bitter. Ultimately love is what changes a person's life, without it, we are just clanging gongs without real purpose!
Romans 8:5 Those who live according to the sinful nature have their minds set on what that nature desires, but those who live in accordance with the Spirit have their minds set on what the Spirit desires.
---
What certain goals do you have in your life? It says in Galatians 5:22 because it is a list clearly for people like myself that need things spelled out exactly what we ought to have in our lives as we follow the Lord. I know none of us are without fault, but seeking after the fruit of the Spirit is a goal that needs to be highly regarded and sought after. I have many goals, to love and be loved.
To experience joy and share it with others. Not to mention to be patient with others and also myself. To be kind to everyone I meet especially those who are not that nice to me. Keep good thoughts in my mind.
Be faithful to God and others when I give my word. Be gentle with everyone especially those who are not kind to me. Practice self-control in all areas of my life and encourage but not demand it in the lives of others that I come in contact with.
Galatians 5:22 But the fruit of the Spirit is love, joy, peace, patience, kindness, goodness, faithfulness, gentleness, and self-control.
---
Basketball The Center Of My Life Prior To 1986
---
How Important Is It To Be Number One?
Basketball was something I always enjoyed. Actually all sports and the competition of sports I loved since I was tall, fast, and stronger than most kids my age, but I was not always trained to be godly.
I did almost all the sports like football and baseball across the street when I was a kid. Most all the neighbor kids that were all older than I was.  I was in 7th grade that I was on both the "A" team and the "B" team that I knew that I wanted to strive energetically after basketball as my sport that I wanted to excel in.
I always was on the starting five-line up all the way through grade school and high school, and even had a chance to play varsity when I was only a sophomore. Personally, I think it is not important at all, but it is important that we all do our best in life. We all can not be the best, but we all can try our best which is far more important than being number one!
1 Timothy 4:7-8 Have nothing to do with godless myths and old wives' tales; rather, train yourself to be godly. For physical training is of some value, but godliness has value for all things, holding promise for both the present life and the life to come. 
---
Do you think God allows bad things to happen sometimes for a better reason? Unfortunately, or fortunately? I sprained my ankle before the tryout, and all my big plans took an unexpected turn. I hobbled through the tryout, only to hear that coach Joe Bunetta at the end of practice hear that he wanted me to play Jr. Varsity.
Coach Bunetta wanted me to get all the experience I could for my Jr. year. Little that I knew, I got deep into drugs and alcohol that summer, and that I would find myself smoking marijuana and drinking all summer. What I was doing did not make sense to me looking back at it.
---
Not Ready To Compete In Basketball…

My junior year in high school came, but I was not physically ready to compete. I was not even going to go out for the basketball team. But one day my mom told me to take the dog for a walk, I did not feel up to it. But mom talked me into it, which I am glad she did.
It was just enough to get me motivated to want to go out for the team and not give up on life. My basketball testimony had its high points and so-called glamor. My basketball testimony also had its low points that also went with the good times!
I did make the varsity on my reputation, but sat the bench and struggled all season. Losing out on what I tried so hard to carry out got me depressed. It got to the point that I was wishing I was not alive, and everything like school and functioning was an uphill battle each day.
Looking at things now over 30 years later, I see how God used all that I went through with basketball, drugs, and alcohol. I realized that with my recovery and everything else, that God had a plan for me and my life.
Romans 8:28 And we know that in all things God works for the good of those who love him, who have been called according to His purpose.
---
We All Failed In Some Way, But That Means Nothing!
 "Limits, like fears, are often just an illusion" – Michael Jordan
2 Corinthians 5:17 Therefore, if anyone is in Christ, the new creation has come: The old has gone, the new is here! 
---
God Made Something Good Out Of A So-Called Failure
Even if I did make it into the NBA which was most unlikely, I realized one big problem. I do not like traveling that much at all, and in the NBA, they are on planes and living out of a suitcase much more than I would have been willing to do.
Just goes to show that God knows better than we do, and when we take things in our hands without asking God, we usually end up somewhere that we did not expect to be. God allowed me to pursue my dream, but at the same time gave me a way out from the road that did not lead to where I hoped.
To understand God is to know that he is in control and that God loves each and every one of us! Those who are saved and call him their savior. As well as those who are pre-saved that do not know him as of yet! None of us like things that happen bad in our lives. But those who trust in the Lord can be at peace inside their heart despite the pain they are experiencing.
---
God Is In Control, Not Me!
Yes, I believe that God allows bad things to happen since he is all-powerful and in control of this universe. The problem is that we can only see what we can see. When hard times come which they do, we cannot accept or understand why it has happened. Often when we look back to the situation that happened months or years later, we can be thankful to God that things happened the way they did. I know that has happened to me many times in life.
An example is that in my life of something wrong turning out good! I always dreamed in my heart being an NBA basketball player. This never happened even though I prayed for it. It was a wish I had which never turned out the way I wanted it to.
The so-called "bad" but looking back even if I did become an NBA player. I do not like to travel and be away from home as often as the players have to. I believe that God always knew this, but it took me years to figure out! This is only but one of the examples in my basketball testimony.
Proverbs 17:25 A foolish son brings grief to his father and bitterness to the one who bore him.
---
How can a parent help to motivate their child? My mom got me started playing because it was hard for me to behave and focus on work in school. Instead, I made noise and caused trouble for the teachers and disrupted the other kids.
I was a very likable kid, but since the school was so hard for me academically. I lost interest because it was uninteresting and frustrating. By no means was I dumb, but on the other hand, I did a lot of foolish things for attention and acceptance.
---
Biggest Tool My Mom Used!
Each child is unique, for me, basketball was the carrot that I needed to motivate me. Basketball was the only thing that helped me do well in school and have good behavior in class. Each parent must know what motivates their kids and use that to the advantage of the child. Does your child have something to call their own, something very special to them?
That is where basketball came into the picture for me for several years and saved me from who knows what I would have gotten myself into, but it became my god.
I was always one of the tallest in my class, and I had a lot of natural athletic skills. My mom was wise, and she saw basketball as a motivation tool to help me get better grades and behave in school.
---
Basketball Runs In The Family!
---
Self-Control Was Hard, But Basketball Helped Me!
At a young age, I figured that I was going to end up in trouble, somehow or another until the beginning of my basketball came into the picture in 4th grade.
At the time, I was a goofy kid and proud of it. I enjoyed my life but sometimes at the cost of other teachers and those in charge to watch over me like my sisters and most everyone.
I would not consider myself a maniac, but there have been times in my life that I acted like one.
I believe that everyone needs to have something that they are passionate about. Something they feel a part of that makes their life worthwhile. Children are no exception if your child does not have something like what I am describing, then you need to help them find it.
I would not consider myself a maniac, but there have been times in my life that I acted like one. I believe that everyone needs to have something that they are passionate about. Something they feel a part of that makes their life worthwhile. Children are no exception if your child does not have something like what I am describing, then you need to help them find it.
Hosea 9:7  The days of punishment are coming, the days of reckoning are at hand. Let Israel know this. Because your sins are so many and your hostility so great, the prophet is considered a fool, the inspired man a maniac.
---
Do you believe that God blesses us with special gifts? Basketball worked as motivation for many years, as my behavior got more and more the way it ought to. It seemed that my basketball skills improved as I spent hours and hours practicing. I played wherever and whenever I could.
When I was young, I played in the backyard with friends and different playgrounds in the Milwaukee area. The best competition was at Hart Park and Endris Park. That is where a lot of the better players played in the summertime. There were players from Marquette High and University, Pius High, and all over the city. My personal basketball skills started to develop almost from the day I got onto the court the first time; I seemed to be a natural.
---
Where Is Your Heart-Focused
My heart was right there from day one, and I still love the game at age 56. But in a different way and degree. As a child, I thought as a child, and then I became a man. But did not give up the zest and heart that I had as a child.   I believe that God does bless us all with unique gifts no matter what they are? Once we discover what that gift or gifts are, we need to be mature and wise to use them to glorify God and others in some way or another.
1 Corinthians 13:11 When I was a child, I talked like a child, I thought like a child, I reasoned like a child. When I became a man, I put childish ways behind me.
---
How important is it to have patience in everything you do in life? I distinctly remember when I was in eighth grade I could palm (hold a basketball in one hand). Then freshman year I could dunk a basketball; my sophomore year I could almost jump out of the gym and dunk with two hands. On the basketball court, I was a splendid shooter and a pretty good rebounder.
Day after day, month after month, and year after year, I worked to develop my skills in defense and passing. I was not only looking forward to playing on the high school varsity team; I was even looking beyond high school to my chances in college.
A coach from Iowa talked to me my sophomore year and was interested in me possibly attending his school. I was very honored to be even talking with the coach in the first place. It seemed that things were falling into place for me.
Looking back I was a little surprised how patient I was while I was hoping to become a successful basketball player; maybe because of the fact that if you love something or someone, you become willing to be patient. I dedicated literally hours upon hours, months upon months. This continued on and years upon years to develop the skills in basketball that I so greatly desired.
---
All My Eggs Were In One "Basket"
On the one hand I did become excellent at basketball, but on the other hand, compared to the competition that was out there. I knew that my skills were not as dominating as I moved up in school competition.
I was always in the starting five in grade school and high school except when drugs became an issue my junior year at Pius XI, I went to many basketball camps, played in summer basketball leagues, and put all my eggs in one basket which was basketball and at the end of high school that basket came crashing down and all the eggs that I so carefully put into basketball all just broke and I was left with nothing but some memories.
Basketball was not a total loss for me. It developed determination, teamwork, dedication plus much other great qualities that came out of basketball. If not, you will discover that the things you wish in life will not come your way. It is like trying to grab a bar of soap in the bathtub. The more and more you grab it the more it gets away. The thing is if you patiently wait for the right time and allow it to come gently into your hands.
God will provide you with what you need; it works in a similar way that way in life too! If you want to find peace and be somewhat successful, you need to practice having patience. It may be frustrating at times, but you will discover over time that it will be well worth the wait!
Romans 8:25 But if we hope for what we do not yet have, we wait for it patiently.
---
What is the line that is crossed before a dream turns into an obsession? I loved basketball so much I would eat and breathe and sleep the game. I tried to watch an NBA game on TV each Sunday for many years, and my bedroom while growing up.
This was even when I was an adult. I always had NBA posters of Dr. "J," Kareem Jabbar, Magic Johnson, and Michael Jordan. My son and I collected 6" NBA basketball statues; I almost always wore basketball T-shirts; I talked basketball to whoever was interested. My basketball got off track but eventually got back on track to a more normal lifestyle.
Later in life, I even got the opportunity to take my 11-year-old son, Chris, to Springfield, Massachusetts. We went to the NBA Hall of Fame for three days. Everything you can imagine about basketball was there—and we loved it. It was almost like I died and went to basketball heaven, years later I realized that basketball was like a god to me, so instead of dropping basketball entirely.
---
Keeping Things In Perspective
I just kept basketball in perspective, and I felt good about it then. When a dream turns into an obsession, is when a thought or desire gets out of control and negative repercussions result in the pursuit of the good dream a person has that has turned into a negative thing that needs to be stopped and reevaluated!
I took a break from basketball when I was in my mid to late 40's. Just recently, then decided to make a comeback in the world of basketball at age 56. Being on the court I could barely shoot, or dribble, or make any moves. But I was determined to get back up and try it again.
The game that I fell in love with when I was in 4th grade! I will probably never dunk again or play competitive basketball like I used to. But I could not give up the sport I was so passionate about for almost all of my life!!! 
---
More Encouraging Testimonies
---
---
---
For Encouragement Call 1-800-633-3446 or Chat
---
Please contact us if you have any questions or comments or would just like some encouragement?
"This is a team game and one man doesn't win and one man doesn't lose. In the end, the best team usually wins" ~ Wilt Chamberlain
Ecclesiastes 4:9-10 Two are better than one because they have a good return for their labor: If either of them falls down, one can help the other up. But pity anyone who falls and has no one to help them up.