My Basketball Testimony!
---
 I was born in 1960, but since 1986 my focus has now been so much more on God, and much less on basketball! The question now is. What motivates you?
If I can share with you one thing that I would do over again, it would be not to get my values off balance, that is what I did, and it made a mess of my life. I am thankful that God is a God of second and third chances because God loves us!
I call it my life and basketball testimony because basketball was without a doubt an overwhelming part of my life, and when that got derailed due to getting too involved with drugs and alcohol while growing up.
Even though basketball is a fantastic sport, nothing should be more fantastic than your relationship with Jesus Christ and to love one another! ~ Bill Greguska
---
Do You And I Give All The Glory To God?
---
Encouragement To Do Your Very Best!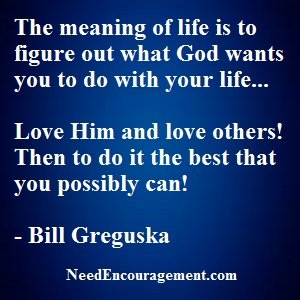 ---
Who I Am As A Player, I Can Be As A Christian!
Extremely Serious About Basketball!
During the summertime I played basketball for at least 4-8 hours each day, just loved the game of basketball because I was naturally good at it.
I was always the tallest in my classes, and it was just naturally a lot of fun! I took basketball very seriously and set many goals to obtain.
It seems that when I get involved in something I jump with both feet in. This page is long, so if you have the time now or later, I will encourage you to read through it. 
I had enjoyed playing and watching basketball since 1969 when I was nine years old, and I still love the game as a fan! Once basketball is in your blood, it is hard to get it out. ~ Bill Greguska
---
Here Are Some Personal Helpful Links:
---
A Look Back At

Facebook

~ Bill Greguska
Here's my Facebook movie. Find yours at https://facebook.com/lookback/ #FacebookIs10

Posted by Bill Greguska on Sunday, February 9, 2014
---
Life Got Crazy, And I Turned To Drugs And Alcohol…

---
My Life Story!
Like all of your stories has had its many ups and downs – drugs, alcohol, divorce, misdirected priorities or just ordinary problems of life.
I have learned through it all that God has been faithful to me. Despite the way, I lived for so many years. I intend to share my life story to help and encourage others. What is your story?
I thank God that, for over 20 years now, I have been sober and away from drugs. Not to forget to mention the lifestyle of sin that came with them.
I give God thanks and the credit for releasing me from the chains that I chose to foolishly entangle myself in when I was in my teenage years.
I hate when I hear about so many people throwing their lives away. That's why I decided to start this website in 2007.
---
Thankful Attitude
Thankfully, I became very willing to get help when life seemed to be going nowhere fast. Because of my life situation, I became so grateful for those who loved me enough to help me start over.
I believe the care of my mother and others over the years has been the direct help of God.
I am sure some people thought there might not have been any hope for me in my life, but God had different plans! And, if there was hope for me, there is hope for you, too, and for anyone that has problems with addiction and sin in their life.
God works, even in lives that seem to be an endless struggle, day after day. Now, with a clear mind and cleaner heart, God has been able to do even more in my life. He is still working on me today as a potter works on clay.
I wrote this seven chapter book to be an encouragement to you, no matter where your life has been, where your life is now, or even where it seems to be heading.
Always remember that there is hope when we rely on God as our refuge and strength, because He is an ever-present help in all our troubles, as Psalms 46:1 says.
---
This Photo Below I Had Photoshopped, Yet It Stood For A Dream!
---
When Times Get Difficult
I thank God that I have learned that when life gets complicated, and you see no way out from the mess we make for ourselves, we need to call on to God, for He is our refuge and strength because He is an ever-present help in times of trouble.
A daily walk with God before we make a mess of our lives is the wise way to do it.
Although God loves us and will never leave us if we choose to follow him.  I realized that I made some horrible mistakes while growing up, I put alcohol, drugs and other harmful things, and even good things in my life ahead of belief in, and my core love for God that I had since I was a kid.  
---
Dealing With My Life With God's Help
I learned how not to try to handle what the devil and the storms of life deal out because I am not strong enough without help from God! 
Remember that it says in Romans 8:28 And we know that in all things God works for the good of those who love him, who have been called according to His purpose. 
Find your strength in God, not from yourself.  If you rely on yourself, you are bound to fall flat on your face, but if you trust in the Lord, even if you do fall, the Lord is there to pick you right back up. He will never leave you or forsake you!
I have made some mistakes as well as I have done some things well.  What is your story? ~ Bill Greguska
---
I Always Wished That I Could Shoot Like This!

---
Related Pages Of Encouragement:
A Special Link for a Little Extra Encouragement
---
Kevin Reddy Star Center Pius XI Basketball 74-78
---
My Testimony In Jesus Christ

Written By Bill Greguska
I first heard of Jesus Christ when I was a young boy of about seven years old while growing up.
My parents took me to church every weekend and even put me in a church school to instruct me which developed some of the fundamentals of my faith.
My faith in God was very frustrating to me because I learned about what was good and acceptable, but it was hard for me to live it out in my life.
Then while growing up, the Lord allowed multiple difficulties such as a drug and alcohol problems, homelessness, and problems with the law all to ultimately understand how deep of a need that I had for God through these hard times I got myself into.
---
Basketball Was My Carrot
There was a period in my life when I got very serious about my faith because God orchestrated that I would end up in long-term drug and alcohol rehabilitation for two years, where I got the help I truly needed.  
I got out in 1989, and shortly after that, I found Elmbrook Church in Brookfield Wisconsin which caught my eye through their open basketball program. Basketball was the "carrot" that got me back in church again!  Elmbrook took me in and helped me to grow as a Christian under the teaching of Stuart Briscoe and the rest of the staff.  
I even got a job at Elmbrook as a custodian for four years. The seeds of faith were planted. My roots were getting deeper into the things I was learning in God's word over the years. I also attended both NA and AA for about ten years during that time.
NA and AA helped me to some degree, but Elmbrook helped me more because it was there that the seeds of faith were planted and my roots were getting deeper by the things I was learning in God's word over the years. I have loved basketball for almost 50 years! 
---
Dreams Of Basketball Were Not Only In My Head!
---
Searching For A Solution
I attended both AA and NA for about ten years during that time, yet even though it helped me to some degree, I found Elmbrook church which caught my eye through their open basketball program.
Basketball got me into the church again back in 1989 shortly after I got out of long-term treatment.
The church took me in and helped me to grow as a Christian under the teaching of Stuart Briscoe and the rest of the staff.
I even got a job at Elmbrook as a custodian for four years. The seeds of faith were planted. My roots were getting deeper into the things I was learning in God's word over the years.
---
Letting Go And Letting God!
As a result of the experiences that God allowed in my life both good and also bad. That gave me the awareness of my urgent need for God in my life! The rest of my story is a series of ups and downs.
Thank God they have evened out considerably, but because this time God was in my life directing me. God was teaching me how to love Him, how to love others, and how to love myself.
My born again faith back on June 25, 1986, when I finally gave up drugs and alcohol, gave me a new opportunity to live my life for Jesus Christ.
---
Michael Pitrof, Son Of Larry Pitrof From My Pius XI Team!
---
---
---
For Encouragement Call 1-800-633-3446 or Chat
---
Please contact us if you have any questions or comments or would just like some encouragement?
"This is a team game, and one man doesn't win, and one man doesn't lose. In the end, the best team usually wins" ~ Wilt Chamberlain
Ecclesiastes 4:9-10 Two are better than one because they have a good return for their labor: If either of them falls down, one can help the other up. But pity anyone who falls and has no one to help them up.