How To Deal With A Pity Party?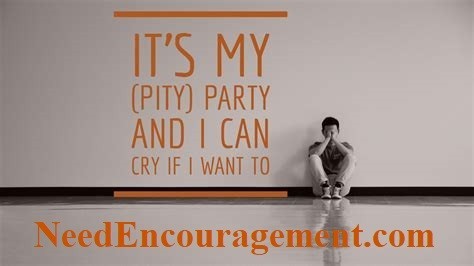 Please contact us if you have any questions or comments or would like some encouragement.
There is nothing wrong with our feelings unless your feelings control you instead of your intellect and the Spirit of God. Having feelings of sadness, anger, regreat, remorse, anxiety, and depression, but what we do with those feeling is what makes a person or breaks a person. Sometimes talking to a close friend, family member, pastor, or even a counselor can help pull anyone out of a pity party. Staying in a prolonged pity party is detrimental to the person having it and anyone around them.
When we take our concerns to God, He promises to hear our prayers and answer them in His own time and way. The best way to get out of a pity party is through prayer and also talking with someone wise that you can trust who will point you to Jesus Christ. Physical exercise can help, as well as writing down at least five possible solutions on paper. Remind yourself that things could be worse, and you will get through your situation by God's grace. Feelings are real, but pity parties are non-productive! 1 Peter 5:7 Cast all your anxiety on him because he cares for you. ~ Bill Greguska
Proverbs 4:23 
Above all else, guard your heart, for everything you do flows from it.
.
---
Seven Sins Of Self Pity!
---
---
---
---
---
This Serenity Prayer, will help us all put things into perspective.
Read is slowly, deliberately and prayerfully.
"The Serenity Prayer"
God, grant me the Serenity,
To accept the things I cannot change…
Courage to change the things I can,
And Wisdom to know the difference.
Living one day at a time,
Enjoying one moment at a time,
Accepting hardship as the pathway to peace.
Taking, as He did, this sinful world as it is,
Not as I would have it.
Trusting that He will make all things right
if I surrender to His will.
That I may be reasonably happy in this life,
And supremely happy with Him forever in the next.
Amen.      
---
Some Specific Scriptures To Encourage You:
James 1:2-4 ESV 
Count it all joy, my brothers, when you meet trials of various kinds, for you know that the testing of your faith produces steadfastness. And let steadfastness have its full effect, that you may be perfect and complete, lacking in nothing.
John 10:10 ESV 
The thief comes only to steal and kill and destroy. I came that they may have life and have it abundantly.
James 5:13 ESV 
Is anyone among you suffering? Let him pray. Is anyone cheerful? Let him sing praise.
Romans 12:2 ESV 
Do not be conformed to this world, but be transformed by the renewal of your mind, that by testing you may discern what is the will of God, what is good and acceptable and perfect.
Isaiah 41:10 ESV 
Fear not, for I am with you; be not dismayed, for I am your God; I will strengthen you, I will help you, I will uphold you with my righteous right hand.
Ephesians 4:31 ESV 
Let all bitterness and wrath and anger and clamor and slander be put away from you, along with all malice.
Ephesians 4:26 ESV 
Be angry and do not sin; do not let the sun go down on your anger,
Romans 15:13 ESV
May the God of hope fill you with all joy and peace in believing, so that by the power of the Holy Spirit you may abound in hope.
1 Corinthians 10:31 ESV 
So, whether you eat or drink, or whatever you do, do all to the glory of God.
Romans 15:4 ESV 
For whatever was written in former days was written for our instruction, that through endurance and through the encouragement of the Scriptures we might have hope.
Galatians 3:26 ESV 
For in Christ Jesus you are all sons of God, through faith.
1 John 1:9 ESV 
If we confess our sins, he is faithful and just to forgive us our sins and to cleanse us from all unrighteousness.
Romans 12:12 ESV 
Rejoice in hope, be patient in tribulation, be constant in prayer.
---
---
For Encouragement, Call 800-633-3446 or

Chat
---