Information About Recovery From Alcohol And Drugs!
Please contact us if you have any questions or comments or would just like some encouragement?
You do not have to lose it all before getting some help for alcohol and drugs. Figure out your next move to make to get off of drugs and alcohol. Start by praying to God for His mercy and strength to get out of checkmate! How much is your addition(s) costing you, and what will you do about it? (family, relationships, health, employment, respect, money, etc.) ~ Bill Greguska
"The mentality and behavior of drug addicts and alcoholics are wholly irrational. Until you understand that they are completely powerless over their addiction, and unless they have structured help, they have no hope." ― Russell Brand
Ephesians 5:18 Do not get drunk on wine, which leads to debauchery. Instead, be filled with the Spirit.
---
Some Encouraging Links Concerning Alcohol And Drugs:
---
Alcohol And Drugs Is A Battle That Can Be Won!
---
Where To Turn?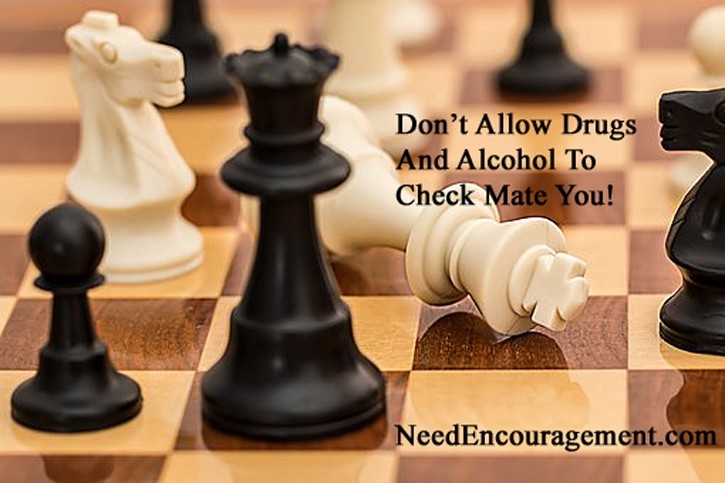 I am concerned about my drinking problem. AA.org
I am worried about my drug problem. NA.org

I am praying for someone with a drinking problem.

Al-Anon.org
"Too often, we underestimate the power of a touch, a smile, a kind word, a listening ear, an honest compliment, or the smallest act of caring. All of which have the potential to turn a life around." – Leo Buscaglia
1 Peter 4:3  For you have spent enough time in the past doing what pagans choose to do—living in debauchery, lust, drunkenness, orgies, carousing, and detestable idolatry.
---
Since We Can Quit Anything With God's Help For:
Don't Let Drugs And Alcohol Keep You Down!
15 minutes

30 minutes

1 hour

3 hours

8 hours and longer
Then with God's help, there is hope for you to quit ANY addiction or a bad habit that has put you in chains.  Go for the goal of 24 hours, then two days, four days, seven days, etc.  Do it One Day At A Time! I am not saying it will be easy, but all things are possible with God!
Ephesians 5:18  Do not get drunk on wine, which leads to debauchery. Instead, be filled with the Spirit.
Have you wondered if you are an alcoholic or drug addict? 

Do you know your drinking and drug use is hurting your life, but you cannot seem to stop?
---
My Prayer For You!
My sincere prayer for you is that you stop right now and get help from a trusted friend, parent, co-worker, or pastor–anyone that can help you on the road to recovery. 
You do not have to deal with addiction's bad things.  I am telling you so you don't have to learn the hard way as I did.
---
Here Are Some Helpful Links:
Alcohol And Drugs Affect Relationship!
---
Related Pages Of Encouragement:
---
---
For Encouragement, Call 1-800-633-3446 or Chat
---