Find Recovery From Alcohol And Drugs!
Please contact us if you have questions or if you need some encouragement.
Looking back on my problems with alcohol and drugs, I find it very interesting that I wouldn't say I liked the taste of alcohol. It was almost bitter to me, but still, I craved the effect and feelings of euphoric power and freedom that it gave me upon my request. It was as if every sip took me further from reality and into a world where nothing mattered except for how good it made me feel. And yet, deep down inside, I knew it wasn't right.
The same went for drugs – they were never something that appealed to me in any way; however, once again, their effects had a hold over me like no other. This is why even though I didn't necessarily enjoy the taste of either substance; nevertheless, I forced myself to acquire a taste for them because I was so addicted to the effects they produced within me. Looking back now at those days when these substances controlled my life entirely – taking away everything precious from family relationships to health, employment, respect, money, etc. -I'm humbled by what God did in helping put people in my path such as pastor Ron and Sue Sauer, who could help pull me out of the checkmate situation addiction creates, and that is what God can do for you too! ~ Bill Greguska
Ephesians 5:18 Do not get drunk on wine, which leads to debauchery. Instead, be filled with the Spirit.
---
The Alcohol And Drugs Battle Can Be Won!
---
Where To Turn?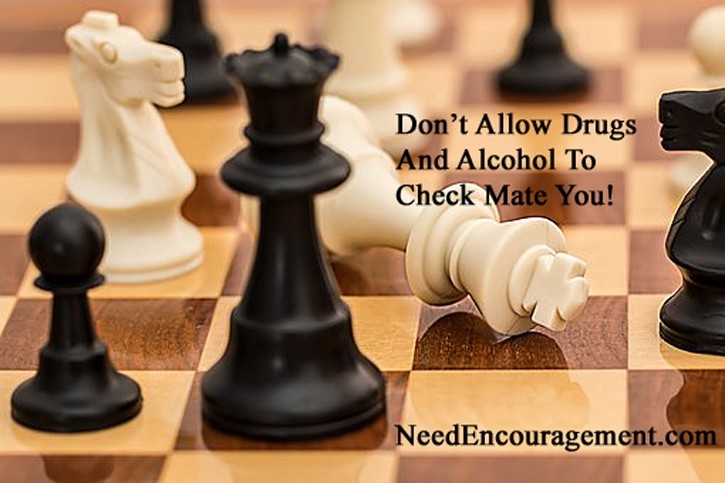 I am concerned about my drinking problem. AA.org
I am worried about my drug problem. NA.org

I am praying for someone with a drinking problem.

Al-Anon.org
"Too often, we underestimate the power of a touch, a smile, a kind word, a listening ear, an honest compliment, or the smallest act of caring. All of which have the potential to turn a life around." – Leo Buscaglia
1 Peter 4:3  For you have spent enough time in the past doing what pagans choose to do—living in debauchery, lust, drunkenness, orgies, carousing, and detestable idolatry.
---
There Is Recovery From Alcohol And Drugs If You Want It!
---
Since We Can Quit Anything With God's Help For:
15 minutes

30 minutes

1 hour

3 hours

8 hours and longer
Then with God's help, there is hope for you to quit ANY addiction or bad habit that has put you in chains.  Go for the goal of 24 hours, then two days, four days, seven days, etc.  Do it One Day At A Time! I am not saying it will be easy, but God makes all things possible!
Ephesians 5:18  Do not get drunk on wine, which leads to debauchery. Instead, be filled with the Spirit.
Have you wondered if you are an alcoholic or drug addict? 

Do you know your drinking and drug use is hurting your life, but you cannot seem to stop?
---
My Prayer For You!
My sincere prayer for you is that you stop right now and get help from a trusted friend, parent, co-worker, or pastor–anyone that can help you on the road to recovery. 
---
Here Are Some Helpful Links:
Alcohol And Drugs Affect Relations Relationships
---
Is Alcohol A Friend Or Enemy Of Yours?
---
Some Specific Scriptures to To Encourage You: 
Ephesians 5:18 ESV 
And do not get drunk with wine, for that is debauchery, but be filled with the Spirit,
1 Corinthians 6:19-20 ESV
Or do you not know that your body is a temple of the Holy Spirit within you, whom you have from God? You are not your own, for you were bought with a price. So glorify God in your body.
Proverbs 20:1 ESV
Wine is a mocker, strong drink a brawler, and whoever is led astray by it is not wise.
Galatians 5:21 ESV
Envy, drunkenness, orgies, and things like these. I warn you, as I warned you before, that those who do such things will not inherit the kingdom of God.
1 Peter 5:8 ESV
Be sober-minded; be watchful. Your adversary, the devil, prowls around like a roaring lion, seeking someone to devour.
Proverbs 23:29-35 ESV
Who has woe? Who has sorrow? Who has strife? Who has complaining? Who has wounds without cause? Who has redness of eyes? Those who tarry long over wine; those who go to try mixed wine. Do not look at wine when it is red when it sparkles in the cup and goes down smoothly. In the end, it bites like a serpent and stings like an adder. Your eyes will see strange things, and your heart utter perverse things.
1 Corinthians 3:16-17 ESV
Do you not know that you are God's temple and that God's Spirit dwells in you? If anyone destroys God's temple, God will destroy him. For God's temple is holy, and you are that temple.
Isaiah 5:11 ESV
Woe to those who rise early in the morning, that they may run after strong drink, who tarry late into the evening as wine inflames them!
Isaiah 28:7 ESV
These also reel with wine and stagger with strong drink; the priest and the prophet reel with strong drink, they are swallowed by wine, they stagger with strong drink, they reel in vision, they stumble in giving judgment.
2 Timothy 4:5 ESV
As for you, always be sober-minded, endure suffering, do the work of an evangelist, fulfill your ministry.
1 Corinthians 6:10 ESV
Nor thieves, nor the greedy, nor drunkards, nor revilers, nor swindlers will inherit the kingdom of God.
1 Corinthians 3:17 ESV
If anyone destroys God's temple, God will destroy him. For God's temple is holy, and you are that temple.
1 Peter 4:7 ESV
The end of all things is at hand; therefore, be self-controlled and sober-minded for the sake of your prayers.
---
---
For Encouragement, Call 800-633-3446 or Chat
---