Learn About Us And Our Purpose!
Please contact us if you have any questions or comments or would just like some encouragement?
So that you know…I do not refer to myself as a religious man, BUT thankfully, I have a daily personal relationship with God that is very important to me that I would like to share with you. I would strongly encourage you to consider a relationship with God for yourself too. However, if you already believe in God, I encourage you to renew and strengthen your relationship with Him as of today!
"Be more concerned with your character than with your reputation because your character is what you are, while your reputation is what others think you are."  John Wooden
Learn more about us on this page, and be sure to tell others about us! Here are some encouraging scriptures about hope and encouragement that I am sure you will like.  NeedEncouragment.com was founded in 2007, and our purpose is to encourage others with the encouragement that we have received from Christ. 1 Corinthians 1:3-5. ~ Bill Greguska
Romans 8:28  And we know that in all things God works for the good of those who love him, who have been called according to His purpose.
---
We Share Our Faith. You Can Share Your Faith Too!
---
What Is Our Purpose?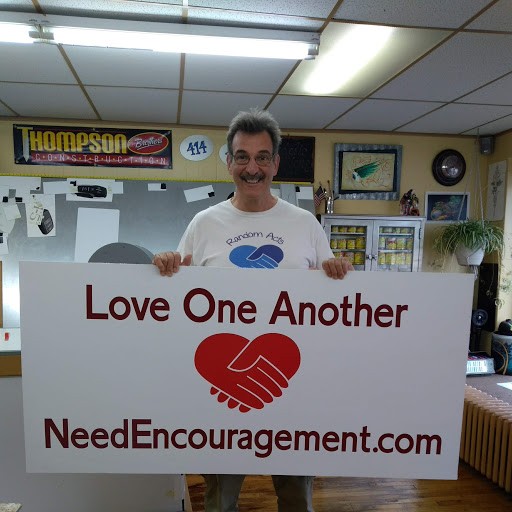 Our purpose is to encourage and unite our readers with the love and compassion of Jesus Christ. How and why did our ministry start? 
It began as a result of my former pastor Ron Sauer and his wife, Sue.
We are a Christian ministry, and our purpose is to help point people to Jesus Christ!
I have learned from my personal experience that encouraging others encouraged me quite a lot when I have had problems in my life!
Learn more about us and see how we can encourage you and you can help others.
Mark 12:30-31 Love the Lord your God with all your heart and with all your soul and with all your mind and with all your strength."The second is this: 'Love your neighbor as yourself.' There is no commandment greater than these."
---
God Made Something Good Out Of Something Bad!
What Was The Inspiration To Start This Ministry?
The Encouragement Ministry started from my home in 2005 with a 24-hour phone helpline.
Our goal is to use the Internet to continue to give more capacity to help more people.
They helped me while I was going through some tough times in my marriage. 
This website started in Milwaukee in 2007 to encourage others, considering I was going through a separation and divorce. My pastor Ron and Sue Sauer suggested that I get out of my own sadness and depression by encouraging others. Doing what they suggested has helped countless people, and it has also been a blessing to me!

This ministry of encouragement was established in Milwaukee, WI. Our purpose is to encourage, in a God-honoring way, as many people as possible via the Internet.
---
With Gratitude On My Heart!
I Encourage You To Try To Encourage Others!
I wanted to repay Ron and Sue Sauer somehow for all they did to help me. It is essential to have supportive people in your life, even if you are not going through a crisis.
I have been blessed with other beautiful people such as Mark Mallwitz, Dave Briscoe, my mom Diana Greguska, and a few others who also influenced me.
I attended Elmbrook church for about 23 years, back when Stuart Briscoe was the head pastor. I learned a lot and grew as a Christian.
I feel that God has been leading me to encourage others since 2007 because, first of all, God wants all of us to support one another. Second of all, when we encourage others, we can not help but experience some encouragement ourselves.
If God has inspired you in any way, I encourage you to go out and encourage others! 2 Corinthians 1:3-5

---
Here Are Some Helpful Links:
---
Find Some Additional Encouragement
Visit MilwaukeeChristianGifts.com. When you help support our ministry of Encouragement, cover the overhead and get the word out, allowing others like you and your friends and family to find hope and Encouragement. Please feel free to donate if you feel led to. As it says in 2 Corinthians 9:7 Each of you should give what you have decided in your heart to give, not reluctantly or under compulsion, for God loves a cheerful giver.
If you have any requests for additional specific types of Encouragement you would like to see on our website, please let us know.
Thank you ~ Bill Greguska.
---
---
If you just started believing in God, we have a page specifically for you.
We have phone helplines, website links, youtube videos.
You can learn more about us and our goals, and our purpose.
If you have a drug/alcohol problem, or if you want to get right with God, you are at the right place!
If you need to talk to someone right away, you can call 800-633-3446 or click here.
Finally, if you have any questions or want to get on our email list, just let us know.

I am convinced that life is 10% what happens to me and 90% of how I react to it. ~ Charles R. Swindoll

Please consider paying it forward to others by telling them about NeedEncouragment.com. Also, consider bookmarking this encouragement website for future reference. Enjoy the rest of the site!
Please contact us if you have any questions or comments or would just like some encouragement?
Instead of giving someone a piece of your mind, share with them a part of your heart. 
The love of God is not based on you; God's love is placed on you!
I encourage you to start rekindling or strengthening your relationship with God today! Matthew 19:26  

Trust God, for He has a plan for your life. Jeremiah 29:11

Please contact us if you have any questions or comments. Learn more about us by viewing our website.
Trust in the Lord with all your heart and lean not on your own understanding; in all your ways, submit to him, and he will make your paths straight. Proverbs 3:5-6
---
For Encouragement Call 1-800-633-3446 or Chat
---