Learn About Us And Our Purpose!
Please contact us if you have any questions or comments or would just like some encouragement?
"Be more concerned with your character than with your reputation because your character is what you are, while your reputation is what others think you are."  John Wooden
Romans 8:28  And we know that in all things God works for the good of those who love him, who have been called according to His purpose.
View Our Posts From Our Other Encouraging Website!
---
Life Can Get Difficult For All Of Us At Times!
My life took a detour back in high school when I got involved with drugs and alcohol. Thank God that He did not ever give up on me. He put people in my life to help me, and years later, I started this website to encourage others with the encouragement that I received from God.
We all need encouragement. Since we are all unique with different issues, we are dealing with, and we have over 500 pages of encouragement to choose from. Our purpose is to encourage anyone who needs and wants encouragement. 
Use this as the foundation to build your faith in Jesus Christ and not allow negative thinking to hinder you from reaching your goals. Be sure to get enough exercise, proper sleep, and eat healthy foods. Please keep it simple. Trust in God!
NeedEncouragement.com
---
We Share Our Faith. You Can Share Your Faith Too!
---
What Is Our Purpose?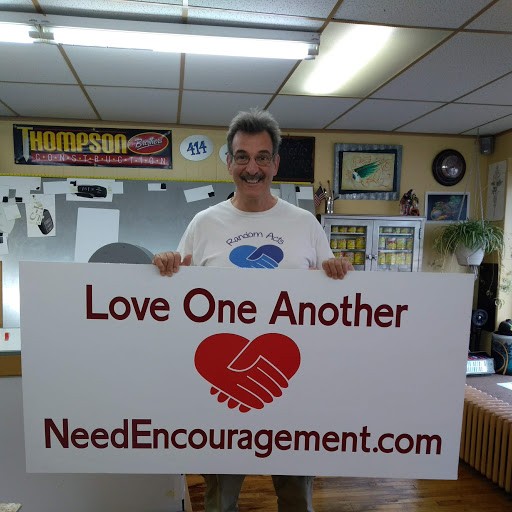 Our purpose is to encourage and unite our readers with the love and compassion of Jesus Christ. How and why did our ministry start? 
It began as a result of my former pastor Ron Sauer and his wife, Sue.
We are a Christian ministry, and our purpose is to help point people to Jesus Christ!
I have learned from my personal experience that when I have had problems in my life, encouraging others encouraged me quite a lot!
Learn more about us and see how we can encourage you, and you can help others.
Mark 12:30-31 Love the Lord your God with all your heart and with all your soul and with all your mind and with all your strength."The second is this: 'Love your neighbor as yourself.' There is no commandment greater than these."
---
God Made Something Good Out Of Something Bad!
What Was The Inspiration To Start This Ministry?
The Encouragement Ministry started from my home in 2005 with a 24-hour phone helpline.
Our goal is to use the Internet to continue to give more capacity to help more people.
They helped me while I was going through some tough times in my marriage. 
This website started in Milwaukee in 2007 to encourage others the way they have inspired me in my life.
This ministry of encouragement was established in Milwaukee, WI. Our purpose is to encourage, in a God-honoring way, as many people as possible via the Internet.
---
With Gratitude On My Heart!
I Encourage You To Try To Encourage Others!
I wanted to repay Ron and Sue Sauer somehow for all they did to help me. It is essential to have supportive people in your life, even if you are not going through a crisis.
I have been blessed with other beautiful people such as Mark Mallwitz, Dave Briscoe, my mom Diana Greguska, and a few others who also influenced me.
I attended Elmbrook church for about 23 years, back when Stuart Briscoe was the head pastor. I learned a lot and grew as a Christian.
I feel that God has been leading me to try to encourage others since 2007 because, first of all, God wants all of us to support one another. Second of all, when we encourage others, we can not help but experience some encouragement ourselves.
If God has inspired you in any way, I encourage you to go out and encourage others! 2 Corinthians 1:3-5

---
Here Are Some Helpful Links:
---
About Us And What We Believe
We have a Christ-centered, Biblical world view.
We believe that the Bible is the absolute authority in matters of faith and practice and that it is the inspired word of God. We further conclude that the Holy Spirit is actively engaged in the world to teach and guide us.
We believe there are parts of the Bible that are written and int