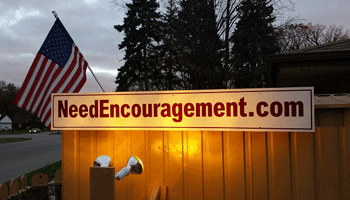 About Us
NeedEncouragement.com
The Encouragement Ministry started out of my basement back in 2005 with a 24-hour phone helpline. After two years with the phone ministry, the website NeedEncouragement.com started up. The Internet seems to have a bigger capacity to get more people to visit it which in turn could help more people. My former pastor Ron Sauer and his wife Sue Sauer helped me a lot going through a terrible time in my life. I wanted to repay them somehow, but they kept telling me to encourage other with the encouragement that I have received from the Lord. That is how this ministry started. ~ Bill Greguska
English
English
Afrikaans
Albanian
Arabic
Armenian
Azerbaijani
Basque
Belarusian
Bengali
Bosnian
Bulgarian
Catalan
Cebuano
Chinese (Simplified)
Chinese (Traditional)
Czech
Croatian
Danish
Dutch
Esperanto
Estonian
Filipino
Finnish
French
Galician
Georgian
German
Greek
Gujarati
Haitian
Hebrew
Hindi
Hmong
Hungarian
Icelandic
Indonesia
Irish
Italian
Japanese
Javanese
Kannada
Khmer
Korean
Laos
Latin
Latvian
Lithuanian
Macedonian
Malay
Maltese
Marathi
Norwegian
Persian
Polish
Portuguese
Romanian
Russian
Serbian
Slovak
Slovenian
Spanish
Swahili
Swedish
Tamil
Telugu
Thailand
Turkish
Ukranian
Urdu
Vietnam
Welsh
Yiddish
Powered by
Translate
We want to help point you to a better relationship with God, with yourself, and with others.
On our website, you will find information on how to live up to your best potential and abilities. We make available many helpful resources strengthen and help you for whatever life issues you are presently going through presently. We suggest that finding a Bible believing church is a vital part of finding support and strength in your life.  Jeremiah 29:13  You will seek me and find me when you seek me with all your heart.
We hope to encourage you, no matter what you are dealing with today.
God has a plan for your life. We want you to understand His loves you. John 3:16 For God so loved the world that He gave His one and only Son, that whoever believes in Him shall not perish but have eternal life.") We believe that God ultimately wants you on the right road if you have temporarily taken a temporary detour for any reason in your life.
What makes a good Christian?
What is our purpose? 
Our purpose is to encourage anyone who is hurting because God cares for them. In part, this ministry came from the dedication, love, and compassion of my former pastor Ron Sauer and wife Sue while I was having difficulties with my marriage,  pointing me to Jesus Christ for the strength I needed to make it through. I asked them what I could do to repay them for all the help, love, compassion, wisdom, and strength they demonstrated to me in my time of trouble. Ron and Sue just asked me to comfort others with the comfort that I have received. The thought of starting a ministry kept echoing in my heart and mind until God led me to start this encouragement ministry, reaching out to people who were going through life troubles similar to the ones that I have gone through with God's help. Learn more about us!
Why do we care?
The fact is, God never left me, and won't leave any of us, during the darkest times in our lives. (Psalm 9:9, "The Lord is a refuge for the oppressed, a stronghold in times of trouble.") When I realize what God has done in my life (helping me make it through life struggles drugs and alcohol addiction, depression, all kinds of stress) the response the Lord put on my heart was to share what had worked for me with others. We care because God cared about us.
When and where did NeedEncouragement.com begin?
This Encouragement Ministry began out of my home in Milwaukee, Wisconsin as a 24-Hour Encouragement Help Phone Line in the winter of 2005. In 2007, we expanded into the current website NeedEncouragement.com.
Encouraging Scriptures about having purpose in life:
1. Romans 8:28  And we know that in all things God works for the good of those who love him, who have been called according to his purpose.
2. Psalm 33:11  But the plans of the Lord stand firm forever, the purposes of his heart through all generations.
3. Isaiah 55:11  so is my word that goes out from my mouth: It will not return to me empty, but will accomplish what I desire and achieve the purpose for which I sent it.
ENCOURAGING WORDS OF WISDOM
"Be more concerned with your character than with your reputation, because your character is what you are, while your reputation is what others think you are."  John Wooden
What does the Bible say about thankfulness/gratitude?
"When things go wrong as they sometimes will. When the road you're trudging seems all uphill. When the funds are low, and the debts are high, And you want to smile, but you have to sigh. When care is pressing you down a bit, Rest if you must, but don't you quit. Life is queer with its twists and turns, As every one of us sometimes learns, And many a failure turns about, When he might have won had he stuck it out. Don't give up though the pace seems slow. You may succeed with another blow. Success is failure turned inside out–The silver tint of the clouds of doubt.  And you never can tell how close you are, It may be near when it seems so far; So stick to the fight when you're hardest hit. It's when things seem worst that you must not quit." — Author Unknown
How can I know if I have received a call to
ministry?
2 Corinthians 1:3-5  "Praise be to the God and Father of our Lord Jesus Christ, the Father of compassion and the God of all comfort, who comforts us in all our troubles so that we can comfort those in any trouble with the comfort we receive from God."
Below is a list of pages that we have on our

website