Encouragement For Women!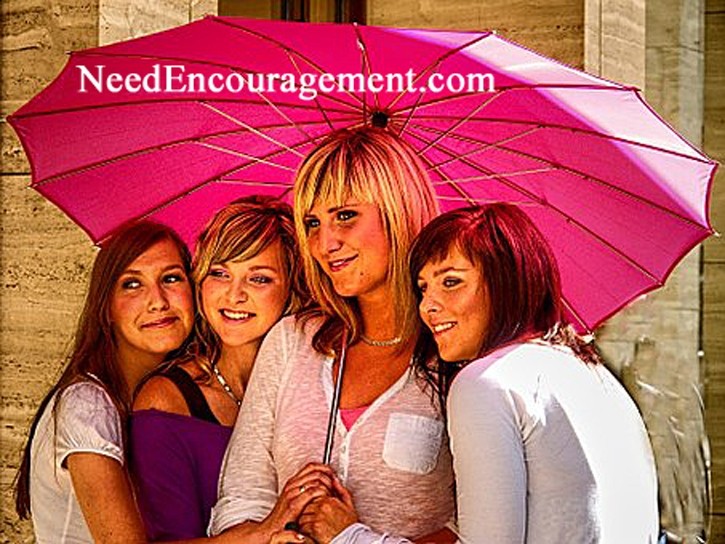 Please contact us if you have any questions or comments or would just like some encouragement?
"When one door of happiness closes, another opens. But often, we look so long at the closed door that we do not see the one which has been opened for us."~ Helen Keller
We all need encouragement, and encouragement for women is essential. Women tend to need love more, and men tend to need respect more. Here are some encouraging scriptures about women and God's plan for them.
Proverbs 31:29-30  "Many women do noble things, but you surpass them all." Charm is deceptive, and beauty is fleeting, but a woman who fears the Lord is to be praised.
The Story Behind A Woman
A woman was made from the rib of a man.
Not from his head to top him.
And not from his feet to be stepped on by him.
But his side to be equal to him.
And under his arm to be protected by him.
Near his heart to be loved by him.
She is to respect him, and He is to love her like Christ loved the church.
ThankfulHomeMaker.com

Gospel-Driven Encouragement for Homemakers
---
Encouragement For Women To Be Themselves!
---
Encouragement Resource Links:
"A woman is like a teabag – you never know how strong she is until she gets in hot water."~
Proverbs 31:30 Charm is deceptive, and beauty is fleeting, but a woman who fears the Lord is to be praised.
---
Many women find great fulfillment in being a wife and

mother

,

yet other women are single because of choice, divorce, or widow.
Encouragement for women comes in various sizes and shapes. Just like shoes! All women (and people) have been

created by God, for God

,

all with a particular purpose in life.
Everyone would benefit from hearing a compliment or anything said kindly to another person. Women need that affirmation, and without it, they can dry up like a dead flower. So keep that in mind when you talk to a woman being either a man or woman yourself.
---
Here Are Some Helpful Links:
---
Encouragement For Women Comes From God!
If men can say these things and are truly sincere and mean what they say, this is a great start. Women need encouragement, not just words!
I appreciate your loyalty and the respect you show me.

Respect the woman you are.

Enjoy spending time with you.

I can trust you with anything.

I like going out on dates with you like we regularly do.

You are an excellent cook!

You are as beautiful to me as the day we married.

Our kids are very fortunate to have you as their mother.

You bring out the very best in me.

You are my best friend!

I don't know what I would do without you.

Have total confidence in you, and we are a team.

I look forward to growing old with you.

You are an excellent lover.

Look fabulous in that outfit!

You are an excellent wife, and I'm a blessed man.

You are such a beautiful person, inside and out.
---
Related Pages Of Encouragement:
A Special Link for a Little Extra Encouragement
---
---
---
For Encouragement Call 1-800-633-3446 or Chat
---