How To Avoid Sin And Checkmate?
Please contact us if you have questions or if you need some encouragement.
Avoiding sin is essential, but when it comes to sexual sin. It's not something that we can wrestle with or play around with because our flesh will fail us every time if we are not walking with God properl

y

. We must guard our hearts and minds by walking closely with God and avoiding situations that may lead us down the wrong path of the sins of lying, stealing, adulty, pornography, etc. We need to flee from sexual sin and be aware of our weaknesses and avoid any temptation that could get us off track.

Stop playing checkers when the devil is been playing chess! We need to take spiritual warfare seriously. However, don't forget that God gives us strength in times of weakness if we lean on Him! Let's not intentionally put ourselves in harm's way but rather strive for holiness day by day! Remember, if you do fall into sin, quickly confess your faults unto God knowing He will forgive you! ~

Bill Greguska
Proverbs 4:23 Above all else, guard your heart, for everything you do flows from it.
---
Be More Aware Of How To Avoid Sin!
---
Do You Want To Avoid Sin?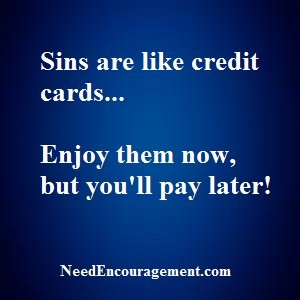 My friends, let me tell you that avoiding sin is not an impossible task. It's all about guarding our hearts and minds against temptation and walking closely with God. Sexual sin is different from other sins because it can quickly take hold of us if we allow ourselves to be in a vulnerable position. We must be aware of our weaknesses and avoid situations that may lead us down the wrong path. 
Take spiritual warfare seriously because the enemy wants nothing more than to steal, kill, and destroy us. Remember, we were born into sin because of Adam and Eve's original sin in the Garden, but God provides a way for us to stand strong against temptation. The key is not getting too close to it in the first place! Our flesh may be weak, but our spirit can remain willing by staying away from temptation altogether. And if we do fall into sin (let's face it – we're human!), confess your wrongdoing immediately to God and ask for forgiveness – He will always provide a way out!
How can you avoid sin? There are many ways to avoid sin. One obvious way is by not going to places that will tempt you. To avoid corruption, you need to monitor what you see with your eyes, hear with your ears, and think in your head. Kind of like putting on armor to protect you from sin. Learn more by reading Ephesians 6:10-17
Not only that, but you also need to keep your focus on God and ask for His protection. You know where you are weak, and remember that God is always available and s full of mercy and grace! "If we confess our sins, He is faithful and just to forgive us our sins and cleanse us from all unrighteousness" 1 John 1:9. Sin will always be around us in this world, but we can avoid sin by staying close to God, and avoiding Satan's pitfalls. Having someone to help keep you accountable is very important; otherwise, we can fall prey to the enemy alone. You can avoid sin by staying away from the wrong places and the people that tempt you and continuing to pray!~ Bill Greguska
---
How Can I Overcome Sin In My Christian Life?

---
Here Are Some Helpful Links:
---
Some Specific Scriptures To Encourage You:
1 John 3:4 ESV
Everyone who makes a practice of sinning also practices lawlessness; sin is lawlessness.
Romans 6:23 ESV
For the wages of sin is death, but the free gift of God is eternal life in Christ Jesus our Lord.
1 John 5:17 ESV 
All wrongdoing is sin, but there is sin that does not lead to death.
1 John 1:8 ESV 
If we say we have no sin, we deceive ourselves, and the truth is not in us.
1 Peter 2:24 ESV 
He himself bore our sins in his body on the tree that we might die to sin and live to righteousness. By his wounds, you have been healed.
James 4:17 ESV 
So whoever knows the right thing to do and fails to do it, for him, it is sin.
Hebrews 4:12 ESV
For the word of God is living and active, sharper than any two-edged sword, piercing to the division of soul and of spirit, of joints and of marrow, and discerning the thoughts and intentions of the heart.
2 Timothy 3:16-17 ESV 
All Scripture is breathed out by God and profitable for teaching, for reproof, for correction, and for training in righteousness, that the man of God may be complete, equipped for every good work.
Romans 14:23 ESV
But whoever has doubts is condemned if he eats because the eating is not from faith. For whatever does not proceed from faith is sin.
John 14:6 ESV 
Jesus said to him, "I am the way, and the truth, and the life. No one comes to the Father except through me.
John 10:10 ESV
The thief comes only to steal and kill and destroy. I came that they may have life and have it abundantly.
---
---
For Encouragement, Call 800-633-3446 or Chat.
---