Avoid Sin By Guarding Your Heart!
---
Avoid Sin Because It's Definitely Not Worth It!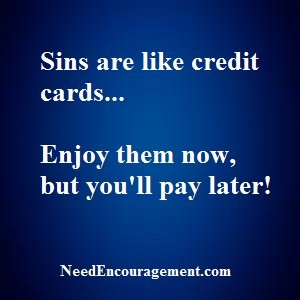 ---
Avoid Sin…
How can you avoid sin? There are a number of ways to avoid sin. One obvious way is by not going to places that will tempt you.  
To avoid sin, you need to monitor what you see with your eyes, hear with your ears, and think in your head. Kind of like putting on armor to protect you from sin. Learn more by reading Ephesians 6:10-17
Not only that, you need to keep your focus on God and ask for His protection. You know where you are weak, but also remember that God is strong and He is full of mercy and grace! 
"If we confess our sins, He is faithful and just to forgive us our sins and cleanse us from all unrighteousness" 1 John 1:9.
Sin will always around us in this world, but we can avoid sin, by staying close to God and avoid the pitfalls of Satan. Having someone to help keep you accountable is very important, otherwise alone we can fall prey to the enemy. ~ Bill Greguska
---
Here Are Some Helpful Links:
---
Avoid Sin By Being More Aware Of What You Think About!
---
How To Avoid Sin By Reaching Out To God!
Guard your eyes against what they ought not to see.

Protect your ears from what they ought not to hear.

Shield your heart from things other people say and do.

Keep your mind from the influences of this world, your flesh, and the devil.
---
Avoid Sin By Turning Your Life To The Lord!
---
It Is Very Wise To Avoid Sin And Temptation!
If you have an alcohol or drug problem, then stay away from bars and places that you used to use drugs at.
If you have a gambling problem, stay away from the casinos.
If you have a sexual problem, stay away from the things that tempt you. This goes for every type of sin that there is.
Obviously, avoiding sin is a good thing, but it does not solve the problem completely. When you are tempted, your flesh screams for what is not good for your soul.
Having a personal relationship with Jesus Christ each day will strengthen you against those attacks of the flesh and the devil.
---
Avoid Sin By Avoiding Temptation When You Can!
---
Avoid Sin And Avoid Evil Because It Is Everywhere!
As Christians, we cannot avoid every kind of evil because we live in a sinful world.  We can, however, make sure that we don't give evil a foothold by avoiding tempting situations and concentrating on obeying God's Word. ~ Mike Hayden
1 Thessalonians 5:22  Avoid every kind of evil.
---
---
Yes, It Is True That There Is Pleasure In Sin!
But sin keeps us apart from God.  Bearing in mind that one sin is not greater than another sin. Sin is sin no matter if it is in the form of a lie, murder, homosexuality, stealing, or whatever, God hates sin and to avoid sin should be one of our most important objectives in life! 
When we do sin, you need to ask God and others that you have sinned against (or offended) for forgiveness and then turn away from your sin and ask God to help you avoid sin the best you can. ~ Bill Greguska
---
Avoid Sin By Recognizing Sin Ahead Of Time!
---
Three Types Of Sin To Avoid
The sin of not doing something that we ought to do is called the sin of omission.

There is also the sin of commission which is doing something that God instructs us not to do.

There is a third type is called personal sin, that which is committed every day to every human being by disobeying God's word.
---
Where Does Sin Come From?
Because we have inherited a sin nature from Adam, we commit personal sins, everything from seemingly innocent untruths to murder.
Now we can choose whether to commit personal sins or not because we have the power to resist sin through the Holy Spirit, who dwells within us, convicting us of our sins when we do commit them (Romans 8:9-11).
Once we confess our personal sins to God and ask forgiveness for them, we are restored to perfect fellowship and communion with Him.
---
Is There A Difference Between Sins?
I have heard it said that murder, or rape, or robbing a bank is the big sins. Let's say, and the so-called little sins are those sins such as telling a white lie. Taking a small item from someone, or something like that are small sins.
There are many different types of sins, but again all sin is against God and has to be accounted for and punished. That is why God gave us his only son to die on the cross a painful death to cover up the many different types of sin that we commit.
I thank God for what he has done, and to show my thanks to God I do my best not to sins, and when I do, I ask forgiveness right away.
---
How to Avoid Sin?
God's arrows of affliction are sharp and painful so He can get our attention. He won't let His beloved children get away with sin because He knows it robs us of blessings, opportunities, and even character refinement. ~ Charles Stanley
Matthew 6:13 And lead us not into temptation, but deliver us from the evil one.
---
---
---
Related Pages Of Encouragement:
A Special Link for a Little Extra Encouragement
---
Free Will Makes It Harder To Avoid Sin! 
---
For Encouragement Call 1-800-633-3446 or Chat
---
Please contact us if you have any questions or comments or would just like some encouragement?
Faith in the Lord Jesus Christ is the foundation upon which sincere and meaningful repentance must be built. If we truly seek to put away sin, we must first look to Him who is the Author of our salvation. ~ Ezra Taft Benson
Psalm 51:2 
Wash away all my iniquity and cleanse me from my sin.