Friendships Can Make Your Life Joyful!

Please contact us if you have any questions or comments or would just like some encouragement?
The strong bond of friendship is not always a balanced equation; friendship is not always about giving and taking in equal shares. Instead, friendship is grounded in a feeling that you know exactly who will be there for you when you need something, no matter what or when. ~ Simon Sinek
If you have five solid friendships in your entire life, you have been blessed with a lot! Remember that friendships are the hardest ships to sail, but they are worth it. Here are some encouraging scriptures about friendships.
John 15:13-15  "Greater love has no one than this: to lay down one's life for one's friends. You are my friends if you do what I command. I no longer call you servants because a servant does not know his master's business. Instead, I have called you friends, for everything that I learned from my Father I have made known to you."
Friendship is a strong and habitual inclination in two persons to promote the good and happiness of one another. ~ Eustace Budgell
---
Easy Ways How To Make Friendships Stronger!
---
What Are Real Friendships?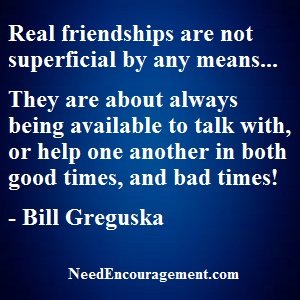 We all need friendships; the question is whether we will put in the energy it takes to build strong friendships or not?
If we think that If you believe that friendships will grow naturally, there is some truth to that, but in reality, it takes time, effort, energy, sacrifice, patience, and love to make friendships thrive!
I have noticed in my life that when I nurture a friendship by giving the other person respect, their time and space, and focus on their interests more than dumping my problems on them or being less self-centered.
I have noticed that those relationships tend to go better, last longer, and become stronger. Are you ready to build strong friendships? Then read more about the how-to below. ~ Bill Greguska
---
Here Are Some Helpful Links:
---
Thoughts To Consider About Building Strong Friendships.
What are some ways that you encourage your friend when they are sad or depressed?

Do you try to listen twice as much as you talk?

Would you be willing to cancel or change your plans if your friend needed your help?

Do you keep your friendships healthy by having a good sense of humor?
Do you give an honest, loving answer when asked a sensitive question?

Realize that friendships can be hard to be in sometimes.
---
Friendships Can Be Tricky, So Build Bridges, Not Walls!
Try to understand the other person's point of view; this is critical to have better friendships.

Arguments are not usually very productive. But instead, discussions are. James 4:1-2

Respect other people's opinions even if you disagree with them.

If you find out that you're mistaken, humbly admit it right away.

Get people on your side by finding common bonds.

Never argue about religion, share your thoughts, and respect others.

Give other people credit for something said or done right.

Try to be more sympathetic to others feelings and ideas

Attempt to find a thing in common and be open to differences.

Ask others what their opinion is.
---
---
---
For Encouragement Call 1-800-633-3446 or Chat
---