Is Knowing God All It Takes To Make You A Christian?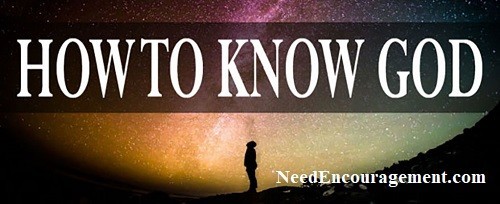 Please contact us if you have questions or comments or want encouragement.
The idea of knowing God is an exciting concept. The reason I say this is because Satan knows God, but he does not honor or follow God. Satan is in rebellion against God since Satan was cast out of heaven for trying to be honored above God. Many people in our churches today know about God, yet like Satan, do not honor or follow God.
So just knowing about God does not mean you are a follower of God. I hope you can have a clear understanding of God and a love also devotion to Him. God wants to share His Holiness with us if and when we are ready to receive His truth that He has provided to us in His Word, the Bible. God loves you and wants a personal relationship with you and me. We do not have to come to God all cleaned up without sin; we need to go as we are and allow God to renew us and make us righteous in His sight by our faith in Him, not by anything we can do to save ourselves.  Do you understand that it is what Jesus Christ did on the cross for you and me? Learn more below.  ~ Bill Greguska
Psalm 14:2  The Lord looks down from heaven on all mankind to see if there are any who understand, any who seek God.
---
How To Know God?
---
All Roads Do Not Lead To God!
---
The Purpose Of Life Is To Know God!
---
How To Know God's Will For Your Life?
---
Knowing You, Lord
Lord, I know that I'm in a spiritual war. For me to be victorious, it is important that I get to know you as well as I can, using the essential equipment you have given me, such as my Bible (so I can read your word each day), and frequent prayer. I need to get my marching orders from you. It's not hard to understand what you want me to know and do; I know you came into the world to live and to die for my sins. My job is to accept your sacrificial gift by faith, and to follow you one day at a time, until you take me home to heaven with you. That is the key to success in the fight.
I'm so thankful that over the years I have learned so much about you and your ways, Lord, and have grown closer to you, though I know I still have much growing and learning to do. I am glad that you saved me, and that you have sown into me the desire to obey you. I know that, because I gave my life to you as my Lord and Savior, when my time on earth is over, I will meet you in heaven. True, I sometimes get confused, but I have learned that the answers are in your word. Help me keep it simple by remembering that you love me and died for me.
Another important weapon you have given me to fight this spiritual war is fellowship with other believers. Having an accountability partner to share ideas, thoughts, and feelings with, helps me continue growing. Lord, help my understanding of you grow more each day, week, and year, with the help of other Christians.
Faith is the first step to understanding. Either it's the Word of an infallible God, the fallible words of men, or faith in what you believe. You've got to have faith in something. Believe me. ~ Ray Comfort, Christian minister and evangelist, founder of Living Waters Publications.
NeedEncouragement.com/understand-the-bible
---
Some Specific Scriptures To Encourage You:
John 10:30 ESV 
I and the Father are one.
John 1:12 ESV 
But to all who did receive him, who believed in his name, he gave the right to become children of God,
John 1:4 ESV 
In him was life, and the life was the light of men.
John 1:1 ESV 
In the beginning, was the Word, and the Word was with God, and the Word was God.
1 John 2:4 ESV 
Whoever says "I know him" but does not keep his commandments is a liar, and the truth is not in him,
Hebrews 9:27 ESV 
And just as it is appointed for man to die once, and after that comes judgment,
2 Timothy 3:16 ESV 
All Scripture is breathed out by God and profitable for teaching, for reproof, for correction, and for training in righteousness.
2 Timothy 3:12 ESV
Indeed, all who desire to live a godly life in Christ Jesus will be persecuted,
1 Timothy 2:5 ESV 
For there is one God, and there is one mediator between God and men, the man Christ Jesus,
1 Thessalonians 5:17 ESV 
Pray without ceasing,
Colossians 2:9 ESV 
For in him the whole fullness of deity dwells bodily,
Colossians 1:15 ESV 
He is the image of the invisible God, the firstborn of all creation.
---
---
For Encouragement, Call 800-633-3446 or Chat
---