Debunked Videos

Will

Deepen Your Understanding!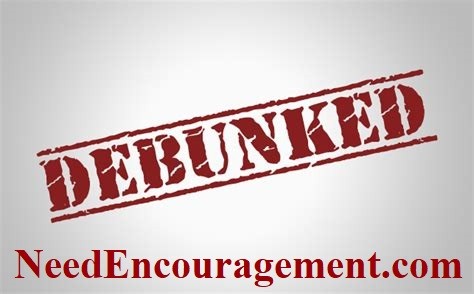 Please contact us if you have questions or comments or want encouragement.
Have you ever heard something that seemed true, only to find out it was completely false? It happens all the time! That's why it's so important to be open-minded and willing to learn. And what better way to do that than by watching Debunked videos?! These videos are a fantastic resource for anyone who wants to separate fact from fiction.
By checking your beliefs against reliable sources like the Bible, you can avoid falling prey to harmful misinformation. So if you're ready to gain a deeper understanding of God, Jesus, The Bible, and Scriptures in general, dive into those Debunked videos! You might just be surprised at how many myths have been debunked – and grateful for the chance to know the truth. ~ Bill Greguska
John 14:6 Jesus answered, "I am the way and the truth and the life. No one comes to the Father except through me.
---
How Would You Know About God, Unless Someone Told You?
---
Have you ever been told something that you believed to be true, only to find out later that it wasn't? That's because what some people think is true is not always a fact. But don't worry, there's a solution! By watching the Debunked videos, you can better understand God, Jesus, The Bible and Scriptures right at your fingertips. These videos are an excellent resource for learning the truth about God and separating fact from fiction. When you get the facts from a reputable source like the Bible, you will discover how many ideas have been debunked. You might be amazed at what you learn! By knowing the truth about God and his word, you can avoid believing things that are not only untrue but could also cause significant harm to your life on earth and in eternity. So take advantage of this amazing resource today and watch all the Debunked videos –you'll probably be thankful for being able to know the truth!
Do All Roads Lead To God?
---
Some Specific Scriptures To Encourage You:
Proverbs 12:22 ESV
Lying lips are an abomination to the Lord, but those who act faithfully are his delight.
Colossians 3:9-10 ESV 
Do not lie to one another, seeing that you have put off the old self with its practices and have put on the new self, which is being renewed in knowledge after the image of its creator.
1 Corinthians 10:13 ESV
No temptation has overtaken you that is not common to man. God is faithful, and he will not let you be tempted beyond your ability, but with the temptation, he will also provide the way of escape, that you may be able to endure it.
1 John 2:4 ESV 
Whoever says "I know him" but does not keep his commandments is a liar, and the truth is not in him,
Psalm 101:7 ESV 
No one who practices deceit shall dwell in my house; no one who utters lies shall continue before my eyes.
2 Corinthians 5:17 ESV 
Therefore, if anyone is in Christ, he is a new creation. The old has passed away; behold, the new has come.
Romans 1:30 ESV 
Slanderers, haters of God, insolent, haughty, boastful, inventors of evil, disobedient to parents,
Genesis 3:4-5 ESV 
But the serpent said to the woman, "You will not surely die. For God knows that when you eat of it, your eyes will be opened, and you will be like God, knowing good and evil."
1 Timothy 1:10 ESV 
The sexually immoral men who practice homosexuality, enslavers, liars, perjurers, and whatever else is contrary to sound doctrine,
Romans 1:29 ESV
They were filled with all manner of unrighteousness, evil, covetousness, malice. They are full of envy, murder, strife, deceit, maliciousness. They are gossips,
Matthew 5:11 ESV 
"Blessed are you when others revile you and persecute you and utter all kinds of evil against you falsely on my account.
Proverbs 12:19 ESV 
Truthful lips endure forever, but a lying tongue is but for a moment.
---
---
For Encouragement, Call 800-633-3446 or

Chat
---