Marriage Tips To Strengthen Your Marriage!
---
Marriage Tips Can Be Very Helpful!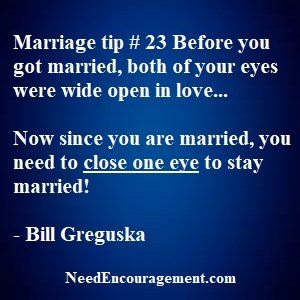 You need to give it all you have when you are in a divorce.
---
Marriage Tips For You!

Marriage tips can be beneficial to your marriage. Be sure to make God the center of your marriage, and make forgiveness a high priority and that you can have a sense of humor when troubles come.
Make your spouse your best friend so that nothing or no one can get between the two of you.
Be sure to talk everything out

, or make temporary agreements. Sometimes it is okay to agree upon a couple of hours to allow things to settle before trying to rehash whatever difference you might be experiencing.
One of the many marriage tips would be to pray for your spouse and be willing to do whatever it takes to not only keep your marriage together but to make sure it grows and gets stronger year after year!
Here Are Some Helpful Links:
---
Marriage Video Topics
---
Ten Marriage Tips For A Happy Marriage!
---
Marriage Tips Kept Simple!

---
Marriage Tips For A Happy Married Life, And Happy Wife!
---
Plan To Have A Healthy Marriage And You Are Half Way There!
---
Put Marriage Tips Into Practice!
---
One Of The Greatest Marriage Tips!
Chains do not hold a marriage together. Rather it's threaded, hundreds of tiny threads, which sew people together through the years. ~ Simone Signoret
Colossians 3:19  Husbands, love your wives and do not be harsh with them.

Ephesians 5:22  Wives, submit yourselves to your own husbands as you do to the Lord.
---
Related Pages Of Encouragement:
A Special Link for a Little Extra Encouragement
---
Marriage Tips Concerning Having Children, Or Not.
How many children? 

How many years apart?

Would we possibly consider adoption?

What are the standards of behavior we would agree upon with the children?

Are we willing to be a team in raising the children?

Would one parent be the disciplinary parent and the other the backup? Who would be what?

What are the proper ways to discipline them? How many strikes before they're disciplined?

The expectations of time spent with them and when they go to bed?

What signs of affection will you show them?

Their education? Homeschool? Christian school? Public school?

Would both parents help with homework or just one primarily?
---
Weird Things All Couples Fight About!
---
Marriage Tips About Making Choices For Entertainment!
How much money should we spend on entertainment?

How often should we eat out? Where?


What kind of a vacation is right and helpful for us?

How many luxuries? Snowmobile, boat, cabin?

Should we own a TV? Where? What is fitting to watch? How much?

What are the criteria for movies and theater? What will our guidance be for the kids?
---
Marriage Tips About How To Deal With Conflict!
What makes you angry?

How do you handle your frustration or anger?

How should we bring up an issue that is bothersome?

What if we disagree both about what should be done, and whether it is severe or not?

Will we go to bed angry at each other? Ephesians 4:26-27

What is our view of getting help from friends or counselors?
---
Love Is Not Just A Feeling; It Is A Choice!
How would you rate your marriage if you are in one?

What do you expect from a marriage before you get married?

If you have been divorced in the past and would like some help getting

back on your feet, go to DivorceCare.org         

---
---
---
For Encouragement Call 1-800-633-3446 or Chat
---
Please contact us if you have any questions or comments or would just like some encouragement?
It is not a lack of love, but a lack of friendship that makes unhappy marriages. ~ Friedrich Nietzsche
Hebrews 13:4 Marriage should be honored by all, and the marriage bed kept pure, for God will judge the adulterer and all the sexually immoral.