To Be Able To Encourage A Friend
Is A Blessing
!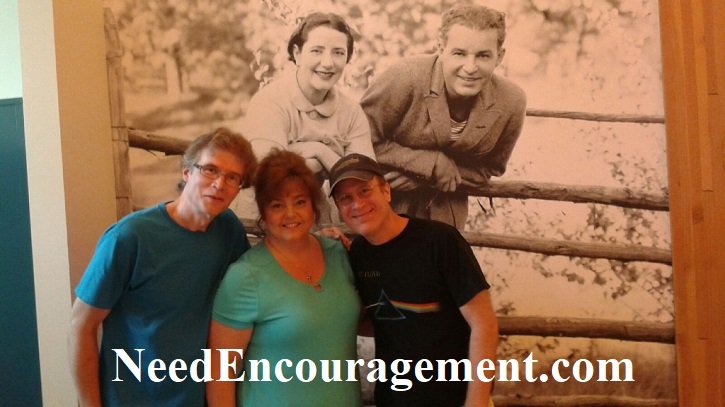 Please contact us if you have questions or if you need some encouragement.
Being a good friend is not just about having someone to hang out with or share secrets with. It goes much deeper than that. To have a true and loyal friend, you must be willing to invest time and effort into the relationship. One of the best ways to do this is by encouraging them in every way possible. You can make them feel loved and appreciated by spending quality time together, whether it's going for a walk, watching a movie, or simply chatting on the phone. Sending cards or texts can also go a long way in letting your friend know they are valued and cherished. The poem "Make new friends, keep the old, the new are silver, the old are gold" reminds us that friendships are precious gifts that should be treasured like gold. We should strive to maintain our relationships while also being open to forming new ones.
When it comes down to it, being an encourager means putting yourself in your friend's shoes and considering what would lift their spirits during tough times. Treating others as you would want to be treated isn't just an saying from childhood; it's still applicable today when cultivating strong friendships. In summary, if you want to have good friends who will stick around through thick and thin then show up for them consistently! Encouraging words cost nothing but mean everything – so take some time today (and every day) to think of ways you can uplift those closest in your life because they deserve all the love & support available! ~ Bill Greguska
Proverbs 17:17  A friend loves at all times, and a brother is born for a time of adversity.
---
Seven Ways to Encourage Others
Pray for them when you are together and at home alone.

Point them to a saving knowledge of who Jesus Christ is.

Show them in tangible ways that you care about them.

Tell them verbally that you care.

Tell them in writing that you care.

Offer to spend time with them or help them with a project.

Please share with others how much you care about them.

Trust them with more responsibilities.

Remind them about their good qualities.

Help them be the best that they can be.
---
One Motivational Way To Encourage A Friend!
---
25 Ideas To Encourage A Friend, Or Make A Friend:
Bake something and share it with friends.

Be a bingo caller. Nursing homes are filled with people who have very few visitors.

Buy something for someone else. Buy the person's hamburger in a drive-through. Pay for someone's gas.

Buy someone some flowers.

Celebrate accomplishments. Large or small.

During your quiet time, lift friends in prayer.

Give a hug. Studies have shown that hugs lower blood pressure and heighten your sense of belonging.

Give a sincere compliment.

Help a friend move. With the help of a friend, the burden drastically gets reduced.

Lend a helping hand anywhere and at any time.

Listen. Sit down with a friend for a soda or cup of coffee and let them talk.

Make a meal for someone.

Mow a yard, rake some leaves, and shovel snow for an elderly or disabled person.

Pass along a book that changed your life to some degree.

Praise a parent.

Pray with someone immediately when they share a need.

Please send a card in the mail, letting someone know you're thinking of them.

Send someone serving in the military a care package.

Tell someone how they have encouraged you in the past.

Thank someone. Many people work behind the scene, so let them know you are grateful for their help.

Use social media to pass along thoughtful words.

Volunteer to watch kids. Let parents have a date night.

Volunteer. This almost turns into a selfish act because of how amazing you feel at the end of assisting. Make a difference with Special Olympics, the local food bank, or the homeless shelter.

When introducing someone, please share a few words about their talent or gift.

Write a handwritten letter, or email someone's boss for someone who went out of their way to serve you in a particularly thoughtful way. Let the boss know how happy that made you.
---
Seven Tips for Confronting a Friend in Sin
Scripture also teaches us how to confront a Christian friend in their sin. As we mentioned, these conversations are not easy, but as members of the family of God, they are necessary. And as with all of the things God has called us to do, he gives us wisdom in his word to know how to obey our calling. The following are seven biblical principles for addressing sin in a friend's life:
1. Confront yourself first.
Personal humility is necessary when confronting someone else's sin. Before you judge the sin of another, first repent of the sin in your life (Matt. 7:3–5). Prayerfully examine yourself and confess any known sin. Forsake self-righteousness or hypocrisy, which would dishonor God and hinder your message. Prepare yourself to speak with your friend by asking God to grant you wisdom, protection from sin, and genuine love for her (1 Kings 3:10–12; Gal. 1:6; 1 John 4:11).
2. Confront from a loving heart.
Speak with grace and affection to your friend. Paul boldly opposed sin among God's people, but a tender love also characterized his appeals for their repentance. He didn't seek to belittle or shame them (1 Cor. 4:14). Rather, he addressed their sin with compassion: "For I wrote to you out of much affliction and anguish of heart and with many tears, not to cause you pain but to let you know the abundant love that I have for you" (2 Cor. 2:4). In the same way, speak to your friend from a heart of love and mercy. Christians love each other well when they address one another's sin with Christlike love.
3. Confront at the right time.
Before you address a friend's sin, consider the best time to have that conversation. Is it a time when she can listen, pay attention, and receive what you have to say? Or is your friend busy, tired, distracted, or emotionally upset? If so, trust God's providence, and wait to speak with her at another time. Remember the wisdom of "the Preacher" in Ecclesiastes: ". . . the wise heart will know the proper time and the just way" (Eccl. 8:5).
4. Confront the most important matters.
Your role as a Christian friend isn't to address every infraction of God's righteousness that you may see in others. Jesus rebuked the Pharisees for their self-righteousness as they placed a greater importance on secondary issues while neglecting "the weightier matters of the law" (Matt. 23:23–24). Likewise, don't focus your attention on your friend's minor offenses. Instead, reserve your confrontations for unrepentant sin that is a clear violation of God's word, brings harm to herself and others, and dishonors the Lord in a public way. Lovingly overlook her occasional failings with a spirit of grace and forgiveness (1 Pet. 4:8).
5. Confront with Scripture.
When confronting a friend, base your concerns on clear biblical truth. The standard of righteous living is the word of God and not your personal opinions. Your role as a fellow-believer is to remind or inform your friend of what Scripture says about her sin and her need to turn from it. Instead of trying to convince her with your own arguments, discuss Scripture with her and trust the Holy Spirit to convict her according to the truth of his word (Ez. 36:27; 1 Tim. 3:16–17).
6. Confront confidentially.
Be careful to keep the matters you discuss with your friend confidential. Unless your friend is going to harm someone (including herself) or shares something with you that must be reported to the civil authorities, guard her privacy and friendship. (In addition, according to Matthew 18:16–17, if in time she proves to be unrepentant, you are to have another person join your conversations.) Love her by avoiding gossip at all costs: "Whoever goes about slandering reveals secrets, but he who is trustworthy in spirit keeps a thing covered" (Prov. 11:13). As a faithful friend, you've confronted her sin. Now as a faithful friend, protect her reputation.
7. Confront, and then provide accountability.
If your friend receives what you say to her, recognizes the sin in her life, and repents of it, you now have an opportunity to provide her with accountability. She may struggle with temptation and establishing new, God-honoring choices. She may need encouragement or instruction for how to live a holy life. Consider how you can help her to grow in love and godliness (Heb. 10:24) Pray with her. Share Scripture and biblical insights. Ask questions about her progress. Always point her to Christ, her Savior and Lord.
Keep the Goal in Mind
Always remember the primary goal of confronting your friend in her sin—to restore her to a right relationship with God. When she confesses her sin, God will readily forgive her. As she repents, he'll grow her faith and obedience into greater Christlikeness. Give thanks for the privilege to be used as a vessel of his truth and grace in your friend's life. And even if she doesn't turn from her sin at first, continue to pursue her with gentleness for the Lord's sake: "Be steadfast, immovable, always abounding in the work of the Lord, knowing that in the Lord your labor is not in vain" (1 Cor. 15:58).
Cheryl Marshall and Caroline Newheiser are authors of When Words Matter Most: Speaking Truth with Grace to Those You Love.
---
Encouragement Resource Links:
---
How Are You Encouraging Your Friends?
---
Encourage A Friend Or Family Member Today!
When encouraging someone, there must be trust and respect! Encourage a friend when they reach out to you or even when you see them not being themselves. You know, when they seem occupied with something on their mind. God says we ought to love and encourage one another, which is what we should do! You can help someone by just spending time with them!

Share encouragement with them whenever you have the opportunity. Relate to their struggles by sharing how you dealt with a similar situation you had. ~ Bill Greguska
---
How Do I Become An Encouragement To Others?
There isn't only one "right way" to encourage each other, but here are a few ideas to help you get started.

Pray for God to make you an encourager. Ask him to give you a heart that loves others and the creativity to know how to show it. Ask him to help you die to self-centeredness and grow in a desire to build others up. Because God delights in helping his people obey his commands, we can trust His Spirit will teach us how to bless others for his glory and their spiritual good.

Study Barnabas and ask God to make you like him. Barnabas was nicknamed the "son of encouragement" by the early church (Acts 4:36). He was the kind of guy you wanted to have around as you were serving the Lord. He wasn't just a spiritual cheerleader but a man of great conviction who wanted to see the church flourish and did all he could to make it happen. Ask God to give you and your church a heart like Barnabas.

Make encouragement a daily discipline. For some of us, motivation comes naturally; for others, not so much. I have a reminder in my calendar each day to send someone an encouraging note, email, text, or phone call. I need this reminder to pause, pray, and then intentionally try to spur someone on in Christ.

Pray for God to show you who to encourage. Ask God to bring someone to mind that you should reach out to. One way to do this is by praying through your church's membership directory.


Use Scripture if you're able. Nothing encourages us like promises from God's Word. Make a list of Scriptures that God has used to bless you personally or an excerpt from something you read in your daily devotional. Mine are the Psalms, Romans 8, and the Gospels. Find and share the riches of God's grace with others.

Be specific in what you say. My friend's note Reading them humbled me and reminded meace in my life. When I read them, I was humbled and reminded that God works in and through me. I needed that.

Regularly encourage your pastor. If your pastor says something that God uses, tell him about it. Don't expect him to write you back, but send a few lines in a card or an email. Nothing encourages a pastor like hearing specific ways God used a sermon or counseling session to work in your life.

Pray that God will create a culture of encouragement in your church. Ask God to make your church a community that loves each other in specific, tangible ways like encouragement. Ask God to use you to help fan that flame. Don't get discouraged if people don't return your motivation (Matthew. 6:3-4; Ephesians 6:3-8) or if you don't see fruit from it (Galatians 6:9-10). Creating a church culture that glorifies God takes a long time, prayers, and abundant grace. I encourage you to keep at it.

Be wise. If you want to encourage someone of the opposite sex, use discernment in how best to do it. If I'm going to promote a single sister in the congregation, I will tell my wife and copy her on the email. If I were encouraging a married sister, I would again tell my wife and copy her and the husband of the person I'm encouraging. You can also use that as an opportunity to encourage both the husband and wife.

Get started. Who can you encourage right now? Who has blessed you recently that you can thank? What verse can you share with them? How might God use it?
May the Lord do more than we can imagine through a bit of encouragement (Ephesians 3:20-21).
Editor's note: This article originally appeared on Garrett's site, "All Things for Good."
---
Above All, Find Simple Ways To Honor God And Help Other

s

!
---
Encourage One Another
(This section is from The Book I wrote)
Lord, it is now my life's goal to encourage others any way I can.  Thank you for allowing me to care for my mother during her final eight years, until her passing at 93. I enjoyed encouraging her by meeting her needs, which seemed the right thing to do since she helped me for years when I was going through many difficulties. You teach us to love one another, not be Lone Rangers.
Lord, we know how good it feels to be encouraged – but we often overlook how good it feels to encourage someone else!  After all, if I put perfume on someone, I end up smelling sweet, too! I have been amazed by how my acts of kindness lift my spirits as well. Even better, my actions can also point others to you. I have learned the need to be cautious and to use discretion to know if you are leading me or not. If I cannot help someone physically, I can always lighten their spirits by praying for them.
Help me to never lose sight of the fact that encouraging others and doing good works does not get me automatically into heaven. It is only by your sacrifice that makes me right with you, not by good deeds that I can do or the nice things I can say. I have learned the need to be cautious and to use discretion to know when you are leading me or not. If I can not help someone physically, I can always encourage them spiritually by praying for them. But again, this too does not get me into heaven.
Lord, I don't help others in order to get into heaven. Only my acceptance of your sacrifice makes me right with you, not anything I do or say. Thank you for allowing me to show your love to others as a response to my salvation.
"God has placed within each of us an immeasurable, unique gift. It is our duty to live that out to the full and to encourage one another with gusto." ~ Merle Dandridge is a Japanese-born American actress and singer.
NeedEncouragement.com/encouragement
---
Some Specific Scriptures To Encourage You:
Proverbs 18:24 ESV
A man of many companions may come to ruin, but there is a friend who sticks closer than a brother.
John 15:13 ESV 
Greater love has no one than this that someone lay down his life for his friends.
Proverbs 17:17 ESV 
A friend loves at all times, and a brother is born for adversity.
Proverbs 27:9 ESV 
Oil and perfume make the heart glad, and the sweetness of a friend comes from his earnest counsel.
Proverbs 27:17 ESV 
Iron sharpens iron, and one man sharpens another.
Ecclesiastes 4:9-12 ESV
Two are better than one because they have a good reward for their toil. For if they fall, one will lift up his fellow. But woe to him who is alone when he falls and has not another to lift him up! Again, if two lie together, they keep warm, but how can one keep warm alone? And though a man might prevail against one who is alone, two will withstand him—a threefold cord is not quickly broken.
James 2:23 ESV 
And the Scripture was fulfilled that says, "Abraham believed God, and it was counted to him as righteousness"—and he was called a friend of God.
John 15:12 ESV 
"This is my commandment, that you love one another as I have loved you.
John 15:14-15 ESV 
You are my friends if you do what I command you. No longer do I call you servants, for the servant does not know what his master is doing, but I have called you friends, for all that I have heard from my Father I have made known to you.
Proverbs 16:28 ESV 
A dishonest man spreads strife, and a whisperer separates close friends.
Proverbs 22:24-25 ESV 
Make no friendship with a man given to anger, nor go with a wrathful man, lest you learn his ways and entangle yourself in a snare.
1 Corinthians 15:33 ESV 
Do not be deceived: "Bad company ruins good morals."
Proverbs 22:11 ESV 
He who loves purity of heart and whose speech is gracious will have the king as his friend.
Proverbs 27:5-6 ESV
Better is open rebuke than hidden love. Faithful are the wounds of a friend; profuse are the kisses of an enemy.
Proverbs 12:26 ESV 
One who is righteous is a guide to his neighbor, but the way of the wicked leads them astray.
Matthew 18:15 ESV "If your brother sins against you, go and tell him his fault, between you and him alone. If he listens to you, you have gained your brother.
---
---
For Encouragement, Call 800-633-3446 or Chat
---