Healthy Relationships Don't Just Happen!
Please contact us if you have any questions or comments or would just like some encouragement?
When a person is in healthy relationships, some boundaries are established, such as respect and other things. Here are some encouraging scriptures concerning healthy relationships.
People should accept being single because those are the moments you can really focus on yourself and learning who you are. Then when you get in a relationship, you will be stronger and have a little bit more self-awareness, self-love, and the other ingredients for a healthy relationship. ~ Lauren London
Philippians 2:3  Do nothing out of selfish ambition or vain conceit. Rather, in humility, value others above yourselves.
Here Are Some Helpful Links:
---
How Can I Be More Involved In Healthy Relationships?
---
Are You In Some Healthy Relationships?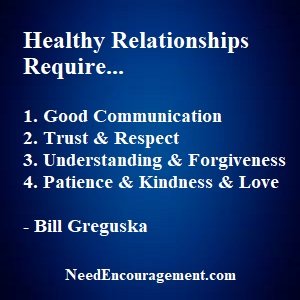 Healthy relationships are fantastic, yet they take a lot of time and energy! How do you build healthy relationships? What do you look for in them? You will find out that they are worth the effort you invest in them!
Being in healthy relationships is one of the best things in life! Sometimes, a relationship is one of the most challenging ships to sail without crashing into the rocks because of poor navigation.
God's word has much to share when it comes to relationships with one another. Do the relationships that you are involved in reflect what Jesus taught in the Bible?
Take time to check out this page and then open your Bible to learn more about healthy relationships. 
Following the teachings of the Bible and considering your friend's interests higher than your own is also important. ~ Bill Greguska
---
Where Do You Stand Concerning Healthy Relationships?
Do you hate being single?

Are you content with being single?

Been married, but are you hoping to be married someday?

Have you been married and divorced, and you never want to get married again?

Have you been married and divorced, and you would like to get married again possibly?
---
Related Pages Of Encouragement:
A Special Link for a Little Extra Encouragement
---
---
---
For Encouragement Call 1-800-633-3446 or Chat
---