Christian Testimonies To Encourage You!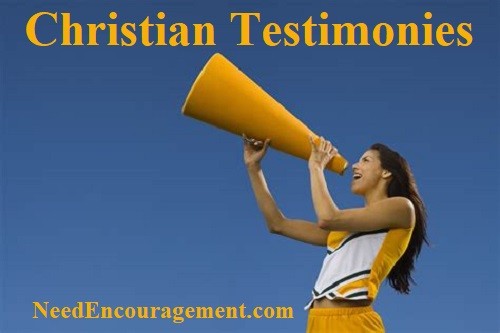 Please contact us if you have any questions or comments or want encouragement.
All Christian testimonies have three things in common! They talk about 1) Where we were before we accepted Jesus Christ as our Lord and Savior. 2) How we came to know Jesus. 3) And the difference that Jesus Christ has made in our lives.
Everyone Who has become a Christian has their own testimony. When was the last time you shared yours? Our testimony (or story of how God impacted your life) is valuable to encourage and strengthen others in their faith in God. When we have good news to share, we tend to want to tell everyone we know; that is what it is like when we have the opportunity to share our Christian testimony with others in our life! ~ Bill Greguska
1 John 4:14 
And we have seen and testify that the Father has sent his Son to be the world's Savior.
.
---
NBA Athletes Are Sharing Christian Testimonies For Jesus Christ!
---
Some Specific Scriptures To Encourage You:
Matthew 15:4 ESV 
For God commanded, 'Honor your father and your mother,' and, 'Whoever reviles father or mother must surely die.'
Matthew 7:1-2 ESV 
Judge not, that you be not judged. For with the judgment you pronounce, you will be judged, and with the measure you use, it will be measured to you.
Hosea 13:16 ESV 
Samaria shall bear her guilt because she has rebelled against her God; they shall fall by the sword; their little ones shall be dashed in pieces, and their pregnant women ripped open.
Psalm 147:4 ESV 
He determines the number of the stars; he gives to all of them their names.
Psalm 8:3 ESV 
When I look at your heavens, the work of your fingers, the moon, and the stars, which you have set in place.
---
---
For Encouragement, Call 800-633-3446 or Chat
---