Lisa Stackpole Reflects God's Love in Words.
---
Hi, I'm Lisa Stackpole, And Welcome To My Page! 
Good Friends Of Mine From My Bible Study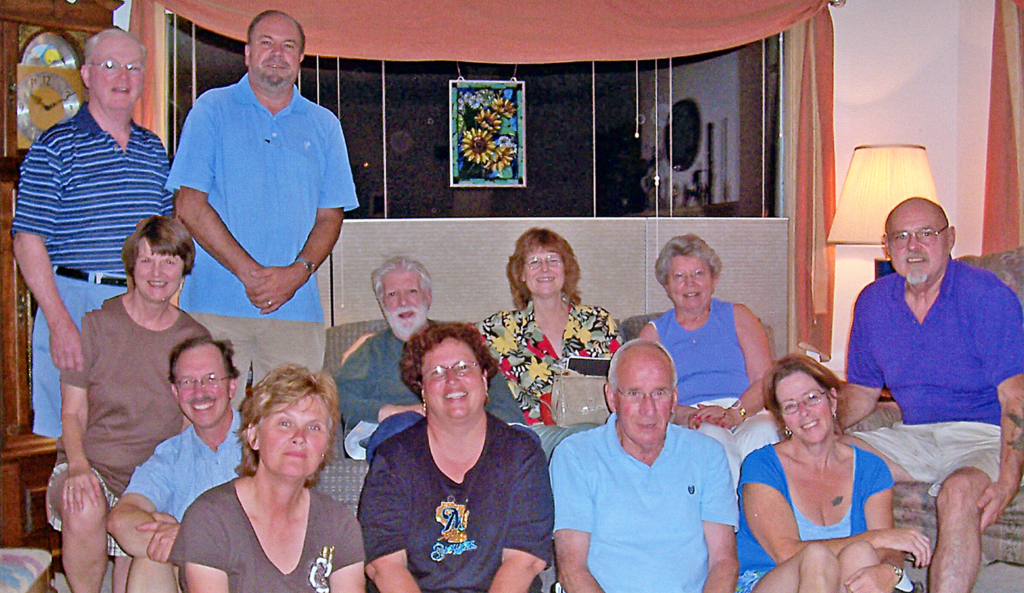 During my years at the University of Wisconsin, I was introduced to the idea of having a personal relationship with Christ through the ministry of Campus Crusade for Christ (now called CRU).  That started my Christian life. 
I taught at a public school for three years after college, and then took a job with a national prison ministry, working first at their national headquarters in the Washington, D.C. area, and then for many years back in my home state of Wisconsin. 
After taking an early retirement, I started sharing through my writing some thoughts I had about Christian life. Some pieces have been published in The Upper Room and A Secret Place.  I thought I'd share some of the non-published ones on this page.  Happy reading and God bless.
---
Encouragement
Read Proverbs 12:15-28
"An anxious heart weighs a man down, but a kind word cheers him up." Proverbs 12:25 (NIV)
Years ago I lived on the East Coast, and after being transferred to the Midwest, I sometimes returned to my former hometown for meetings at our headquarters. On one such trip, made years after I had moved, I visited a church I had attended while living in the area. As the service ended a woman approached me.
"You may not remember me," she said. "I'm Anne Carson. My daughter Laura was in the Junior High Sunday School class you taught here. You really made a difference to her. She loved your teaching, and you were a great role model." Stunned, I stuttered my thanks. (Thinking back, I'm sure I had the classic "Lucille Ball" look of amazement, with mouth gaping and eyes bulging!)
Leaving the sanctuary, I felt as though she had handed me a bouquet. Laura had been a delightful student. "What did I do that made such an impression?" I wondered. I walked on air the rest of the day.
Receiving the praise made me wonder: how many times had I missed the opportunity to encourage someone because I was too busy or feared embarrassment if the person didn't remember me? Those are poor excuses not to bless someone! Many Proverbs exhort us to speak positively; the writer of Hebrews says "…let us encourage one another…" (Hebrews 10:25, NIV).
Since then I have taken more opportunities to thank others. I even wrote a letter to my sixth-grade teacher, a man long since retired. His responding phone call began, "Your letter is the type of thing educators live for."
Today's challenge: Give at least one person the gift of an encouraging word today.
~ Lisa Stackpole
---
Fruitful Living
Read Genesis 39:2-23
"…while Joseph was there in the prison, the LORD…granted him favor…" Gen 39:20-21 (NIV)
"Bloom where you are planted" was a popular catchphrase back in the 1970's. God's people often find it necessary to "bloom where they are transplanted," as they are plucked out of a fruitful life and deposited into harrowing circumstances.
Uprooting even a healthy plant can have a traumatic effect, as the organism struggles to cope with different soil, moisture, and possible damage to its root system. Some do not survive the change, or they become stunted or unfruitful.
Yet scripture tells of many people who thrived in new ways when faced with distressing changes. Unjustly accused and imprisoned, God granted Joseph favor in his new surroundings. Daniel, a youth of great promise, was taken from Jerusalem to serve the Babylonian king, and God blessed him. Ruth, widowed and childless at an early age, left her home and became part of the lineage of Christ–who could beat that! (See the books of Daniel and Ruth.) And Paul's missionary journeys were cut short by imprisonment, during which he wrote some of his most encouraging epistles–Ephesians, Philippians, and Colossians.
In the past, I have experienced life changes that made me feel hurt and unproductive. As I look back carefully, though, I see that when I yielded to the Gardner's hand, I produced fruit of a different kind. I just needed to bloom where I was transplanted.
Today's Challenge: If you have recently undergone a "transplant," keep your eyes open for new ways God can bless and use you. If you have not, come alongside a friend who has, to make their transition less traumatic.
~ Lisa Stackpole
---
God's Timeless Word — His Timeless Forgiveness
Read 2 Samuel 11:1-27
God's Word is as relevant now as it was when it was written.
In my decades of involvement with prison ministry, I have met people convicted of horrible crimes. Many of them struggle to believe they can be forgiven.
During one prison activity, I was approached by Frank, one of the prisoners, who was obviously concerned. "You can talk all you want about forgiveness," he said, "but you don't know what I've done." Troubled, he told me about his past, including his involvement in a scheme that resulted in a man's death. "How can I know God will forgive me?"
"Do you know the Bible's account of David and Bathsheba, and her husband Uriah?" I asked.
He nodded and summarized the story. As he ended the recounting, as told in 2 Samuel 11, he paused, his face lighting up. "Oh, I get it. David arranged a murder, too," he said. A tentative smile appeared on his face. "You know, I learned that story as a child, but it seemed like ancient history. I never connected it to my own life."
Together we turned to Psalm 51, David's prayer of repentance. As we finished reading it, Frank, like David, prayed for God's mercy and forgiveness, and that he too could become "a man after God's own heart." (See Acts 13:22.) That day he became a new man in Christ.
Today's Challenge: Is there a promise in the Bible that you feel isn't relevant to this day and age? Ask the Lord to open your heart to hear what the Holy Spirit will tell you about it. While scripture is set in a specific time and culture, God's promises are timeless and relevant to today.
~ Lisa Stackpole
Here are some encouraging scriptures concerning prison.
---
Love Letters
Read Psalm 119: 97-104
As we feast on God's Word, it sustains us through the day.
Years ago, a new job took me hundreds of miles from my friends and family. In those days before electronic communications, I would anxiously await the daily mail, hoping to get a welcome word from home.
One day before my birthday an envelope arrived showing the return address of a close friend. I tore it open, ready to feast on it as if it were a rich dessert. Inside was a signed birthday card, but no letter or personal note at all.
I sat with mixed emotions. While thankful for the card, I longed for some news from this dear friend—any word of encouragement or update to let me know how she was doing. I felt short-changed.
As I reflected on this, I realized that I needed to have that same strong desire to hear from my Heavenly Father as I did from my far-away earthly friends. God has given me His Word and yearns to have me feast on it with as much delight as I did those treasured letters from home. I will always find encouragement and knowledge there to help me grow in my relationship with my Best Friend.
Today's Challenge: Before you spend any time on the phone or social media each day, spend some time in conversation with God through His Word and prayer.
~ Lisa Stackpole