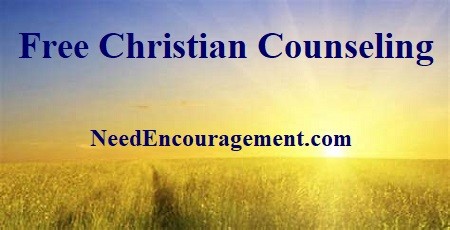 Please contact us if you have questions or if you need some encouragement.
Are you feeling like your problems are weighing you down and that you've hit a dead end? Perhaps it's time to look beyond yourself for the help you need. Free Christian counseling is available, and it can transform your life in amazing ways. I know because I have been there too. When we try to fix everything on our own, we often find ourselves stuck in an endless cycle of disappointment and frustration.
However, when we turn to God in prayer and seek wise counsel from others who share our faith, we open ourselves up to powerful healing and transformation. Free Christian counseling offers support that is grounded in Biblical truth while also providing practical guidance tailored specifically to our unique needs. So if you're feeling lost or overwhelmed right now, don't hesitate! Seek out free Christian counseling services near you today – there is hope for a brighter tomorrow!~ Bill Greguska
Proverbs 27:17 As iron sharpens iron, so one person sharpens another.
* Disclaimer ~ The Need Him Ministry And NeedEncouragement.com Are Not Licensed Counselors, But They We Are Very Helpful Christian Advisors.
---
Five Ways To

Receive

Christian Counseling!
---
---
Talk With Someone Through Ground Wire Ministry!
GroundWire.net
---
Are You Feeling Like You're Stuck In A Rut?
Do you feel you can't seem to find your way out of the darkness? Have you tried everything in your power to solve your problems, but still feel like there's no end in sight? Well, my friend, I am here to tell you that free Christian counseling is available and it can truly make a difference in your life. You don't have to face these challenges alone any longer. With the help of a trained counselor who shares your faith, you will be able to navigate through difficult situations confidently. They will guide you with Biblical principles and offer comfort during times of distress. Remember that God loves us unconditionally, and He wants us all to live our best lives possible. So if you're ready for change, take that first step towards healing by seeking out free Christian counseling services near you today!
---
Would You Like To Chat? Text JESUS (53787)
Free Christian counseling can be what you need. Have you struggled long enough? Sometimes Christian Counseling can be beneficial if you have burdens that are very hard to carry alone. Simultaneously, sharing them with a close friend could overwhelm your relationship with them. Contacting a Christian life coach like myself if you need help. ~ Bill Greguska
1 Thessalonians 5:11  Therefore encourage one another and build each other up, just as, in fact, you are doing.
---
You Came To The Right Place!
Christian Counseling can be just what you need!

Watch Kris Reece's Biblical Solutions Videos
If you could benefit from free Christian Counseling, you have come to the right place to chat; who would love to listen to you with whatever you are going through? ~ Bill Greguska
---
Free Christian Counseling / Coaching
Yes, it is FREE without any obligation.

Our Christian Life Counseling / Coaching will point you in the right direction. Could you give it a try? What do you have to lose? Our goal is to help you help yourself. We have Biblical understanding and much practical life experience to share.

To talk with a Christian life coach from NeedEncouragement.com ~ Click Here!
---
What Is Christian Counseling?
Christian Counseling combines faith with psychological principles to improve a person's mental health and relationships. This approach uses the Bible to help a person deal with many challenges. The main goal of Christian counseling is to help identify behaviors inconsistent with God's teachings in His word so that a person can experience a life of greater joy, peace, hope, and rest in the middle of life's challenges and best navigate through such challenges. God's word is the ultimate authority since He is the creator of this world.
---
Biblical Counseling Vs. Christian Counseling.
(God's Word Is The Final Word In Debate)
---
Here Are Some Helpful Links:
---
DesiringGod.org Counseling Links:
The above links are from DesiringGod.org.
---
Some Specific Scriptures to To Encourage You: 
Proverbs 12:15 ESV
The way of a fool is right in his own eyes, but a wise man listens to advise.
Proverbs 11:14 ESV
Where there is no guidance, a person falls, but in an abundance of counselors, there is safety.
Proverbs 15:22 ESV
Without counsel, plans fail, but with many advisers, they succeed.
Proverbs 24:6 ESV
For by wise guidance, you can wage your war, and in abundance of counselors, there is victory.
Proverbs 13:10 ESV
By insolence comes nothing but strife, but with those who take advice is wisdom.
Proverbs 20:18 ESV 
Plans are established by counsel, by wise guidance wage war.
Psalm 1:1-6 ESV
Blessed is the man who walks not in the counsel of the wicked, nor stands in the way of sinners, nor sits in the seat of scoffers, but his delight is in the law of the Lord, and on his law, he meditates day and night. He is like a tree planted by streams of water that yields its fruit in its season, and its leaf does not wither. In all that he does, he prospers. The wicked are not so but are like chaff that the wind drives away. Therefore the wicked will not stand in the judgment, nor sinners in the congregation of the righteous.
Proverbs 28:26 ESV
Whoever trusts in his own mind is a fool, but he who walks in wisdom will be delivered.
Proverbs 19:20 ESV 
Listen to advice and accept instructions, that you may gain wisdom in the future.
Proverbs 1:7 ESV 
The fear of the Lord is the beginning of knowledge; fools despise wisdom and instruction.
1 Corinthians 15:33 ESV 
Do not be deceived: "Bad company ruins good morals."
Psalm 119:105 ESV
Your word is a lamp to my feet and a light to my path.
2 Timothy 3:16 ESV
All Scripture is breathed out by God and profitable for teaching, for reproof, for correction, and for training in righteousness,
Proverbs 4:13 ESV 
Keep hold of instruction; do not let go; guard her, for she is your life.
James 3:17 ESV 
But the wisdom from above is first pure, then peaceable, gentle, open to reason, full of mercy and good fruits, impartial and sincere.
---
---
For Encouragement, Call 800-633-3446 or Chat
---