How To Deal With Challenging Relationships?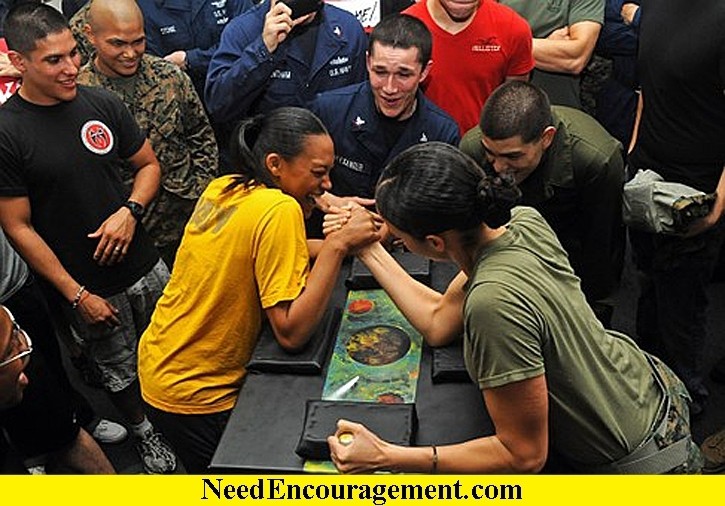 Please contact us if you have questions or comments or want encouragement.
When I mention challenging relationships, most of us think of other people. (Have you ever considered that you or I might be "The challenging relationship for someone else?"). Marriages are an excellent example of how relationships can be complicated sometimes to the point that one or both of the people want a divorce. It would be foolish to believe that all relationships work without problems.
None of us are always on top of our game at all times, so try to keep in mind to treat others as you would want to be treated when you find yourself in stressful moments. Challenging relationships can test a person's walk with the Lord! Difficult relationships can be compared to arm wrestling. Still, in all relationships,  love wins over anger every time because God commands us to love one another! ~ Bill Greguska.
John 13:34-35  "A new command I give you: Love one another. As I have loved you, so you must love one another. By this, everyone will know that you are my disciples if you love one another."
---
Find Solutions To Challenging Relationships!
---
Turn Challenging Relationships Into Good Ones!
Challenging relationships are everywhere!
The first way to get into good relationships with others is to make yourself available. There are many ways to do that: the telephone, emails, text, and even a written letter or card, depending on where the other person lives. 

Whatever you do, make sure you regularly connect with encouraging people, considering that we were created to be relational. Find good friendships, and you will not be disappointed! 

Love others as you would want to be loved.

Do not harm others since you do not want to be hurt, including dealing with toxic relationships!

Practice a little extra patience with the person giving you challenges.

Try not to allow the other person to get under your skin. Ask God to help you in this area.
---
How To Hug A Porcupine? (Loving Difficult People God's Way?)
---
Are You Presently In A Challenging Relationship?
We all have had experiences with challenging relationships in our lives. How do you handle them? An excellent place to start is with prayer! Then try to treat the other person as you want them to treat you. It is easier said than done, but your challenging relationship will remain challenging whether or not you do something about it. But if you are wise, you will take a lot of unnecessary stress off your back. Respect the other person and even ask questions to get to know and understand them better. Another way to break the ice with someone you are struggling with is to offer them a small favor or even buy them a soda or coffee or something. Reaching out to the other person is a great way to show them that you care and want a better relationship. ~ Bill Greguska
---
Here Are Some Helpful Links:
---
Some Specific Scriptures To Encourage You:
Philippians 2:3-4 ESV
Do nothing from selfish ambition or conceit but in humility count others more significant than yourselves. Let each of you look not only to his own interests but also to the interests of others.
Matthew 5:43-48 ESV 
"You have heard that it was said, 'You shall love your neighbor and hate your enemy.' But I say to you, Love your enemies and pray for those who persecute you so that you may be sons of your Father who is in heaven. For he makes his sun rise on the evil and on the good and sends rain on the just and on the unjust. For if you love those who love you, what reward do you have? Do not even the tax collectors do the same? And if you greet only your brothers, what more are you doing than others? Do not even the Gentiles do the same? 
Isaiah 41:10 ESV 
Fear not, for I am with you; be not dismayed, for I am your God; I will strengthen you, I will help you, I will uphold you with my righteous right hand.
Psalm 127:3 ESV 
Behold, children are a heritage from the Lord, the fruit of the womb a reward.
1 John 4:7 ESV 
Beloved, let us love one another, for love is from God, and whoever loves has been born of God and knows God.
1 Peter 5:7 ESV 
Casting all your anxieties on him, because he cares for you.
James 3:1 ESV
Not many of you should become teachers, my brothers, for you know that we who teach will be judged with greater strictness.
James 1:19-20 ESV 
Know this, my beloved brothers: let every person be quick to hear, slow to speak, slow to anger; for the anger of man does not produce the righteousness of God.
James 1:2-4 ESV
Count it all joy, my brothers, when you meet trials of various kinds, for you know that the testing of your faith produces steadfastness. And let steadfastness have its full effect, that you may be perfect and complete, lacking in nothing.
2 Timothy 3:16 ESV
All Scripture is breathed out by God and profitable for teaching, for reproof, for correction, and for training in righteousness,
2 Timothy 1:7 ESV 
For God gave us a spirit not of fear but of power and love and self-control.
1 Timothy 5:1-2 ESV 
Do not rebuke an older man but encourage him as you would a father, younger men as brothers, older women as mothers, younger women as sisters, in all purity.
Colossians 3:13 ESV 
Bearing with one another and, if one has a complaint against another, forgiving each other; as the Lord has forgiven you, so you also must forgive.
Philippians 4:13 ESV
I can do all things through him who strengthens me.
Philippians 4:6 ESV 
Do not be anxious about anything, but in everything, by prayer and supplication with thanksgiving, let your requests be made known to God.
Ephesians 4:32 ESV 
Be kind to one another, tenderhearted, forgiving one another, as God in Christ forgave you.
2 Corinthians 6:14 ESV 
Do not be unequally yoked with unbelievers. For what partnership has righteousness with lawlessness? Or what fellowship has light with darkness?
2 Corinthians 6:14-15 ESV 
Do not be unequally yoked with unbelievers. For what partnership has righteousness with lawlessness? Or what fellowship has light with darkness? What accord has Christ with Belial? Or what portion does a believer share with an unbeliever?
1 Corinthians 15:33 ESV 
Do not be deceived: "Bad company ruins good morals."
---
---
For Encouragement, Call 1-800-633-3446 or Chat
---