Have You Ever Said These Words, "But Why God?"
Please contact us if you have questions or if you need some encouragement.

At some point, each of us has said to ourselves or out loud to someone else, "But why God…" It's a natural response when we find ourselves facing difficulties or challenges that seem overwhelming. We question why certain things happen in our lives, whether it's the result of our own mistakes or circumstances beyond our control. But amidst all these uncertainties, we must remember one fundamental truth – God is in control. He allows both good and not-so-good things to happen according to His divine will. Sometimes, the consequences we face are a direct result of our ignorance, disobedience or sin. Other times, they occur purely by accident or due to someone else's actions.
In moments like these when doubt creeps in and we wonder about life's injustices and hardships, we often hear people ask: "Why do bad things happen to good people?" However, let us also remember another profound statement: "We are all sinners." None of us can claim absolute righteousness because from the beginning of time itself, humanity has been marked by original sin inherited from Adam and Eve. Therefore, this notion of so-called "good people" doesn't truly exist. It is important though for us not to shy away from asking God that very question – "But why God?" It is part of our human nature to seek understanding and clarity during difficult times. Yet even as we pose this question with sincerity and vulnerability before Him, let us also keep in mind that ultimately God is God and we are not.  ~ Bill Greguska
Psalm 42:5  Why, my soul, are you downcast? Why so disturbed within me? Put your hope in God, for I will yet, praise him, my Savior, and my God.
---
Learn Why Bad Things Happen To "Good People?"
---
Here Is A Powerful Prayer That Will Offer You Some Peace Of Mind.
God grant me the serenity to accept the things I cannot change, the courage to change the things I can, and the wisdom to know the difference.
Living one day at a time; enjoying one moment at a time; accepting hardships as the pathway to peace; Taking, as He did, this sinful world as it is, not as I would have it; trusting that He will make all things right if I surrender to His Will; That I may be reasonably happy in this life and supremely happy with Him forever in the next. Amen.
---
But Why God?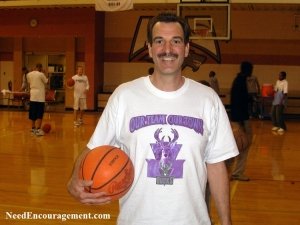 People have heard people say, "If the Lord is so good, why doesn't he stop murder, rape, disease, hunger, poverty, and other bad things?"  You will find out the answers to this question in the video below. I have asked the Lord this question and other issues like it in my personal life before. I realize that the Lord is in control, even though it may not look like it the way our society is.
The main reason for this problem is that the Lord has given us free will because He wants us to love Him instead of like robots. So when God created us, He had to provide us with free will. Ultimately, we choose what we do but can not determine the consequences or benefits. ~ Bill Greguska
---
I Praise You In The Storm And Trust Your Word, Lord!
Here Are Some Helpful Links:
---
Some Specific Scriptures To Encourage You:
Romans 8:28 ESV 
And we know that for those who love God, all things work together for good, for those who are called according to his purpose.
Revelation 21:4 ESV 
He will wipe away every tear from their eyes, and death shall be no more, neither shall there be mourning, nor crying, nor pain anymore, for the former things have passed away."
Romans 3:23 ESV
For all have sinned and fallen short of the glory of God,
John 3:16 ESV 
"For God so loved the world, that he gave his only Son, that whoever believes in him should not perish but have eternal life.
Job 2:10 ESV 
But he said to her, "You speak as one of the foolish women would speak. Shall we receive good from God, and shall we not receive evil?" In all this, Job did not sin with his lips.
Genesis 2:7 ESV
Then the Lord God formed the man of dust from the ground and breathed into his nostrils the breath of life, and the man became a living creature.
Genesis 1:27 ESV 
So God created man in his own image, in the image of God, he created him; male and female, he created them.
1 John 1:8 ESV 
If we say we have no sin, we deceive ourselves, and the truth is not in us.
1 Peter 5:10 ESV
And after you have suffered a little while, the God of all grace, who has called you to his eternal glory in Christ, will himself restore, confirm, strengthen, and establish you.
James 5:11 ESV 
Behold, we consider those blessed who remained steadfast. You have heard of the steadfastness of Job, and you have seen the purpose of the Lord, how the Lord is compassionate and merciful.
Hebrews 13:4 ESV 
Let marriage be held in honor among all, and let the marriage bed be undefiled, for God will judge the sexually immoral and adulterous.
Colossians 1:16 ESV 
For by him, all things were created, in heaven and on earth, visible and invisible, whether thrones or dominions or rulers or authorities—all things were created through him and for him.
Ephesians 2:8-9 ESV 
For by grace, you have been saved through faith. And this is not your own doing; it is the gift of God, not a result of works, so that no one may boast.
Romans 8:22 ESV 
For we know that the whole creation has been groaning together in the pains of childbirth until now.
---
For Encouragement, Call 800-633-3446 or

Chat
---