But Why God?
Please contact us if you have any questions or comments or would just like some encouragement?
When things happen to you in the worst way, you live with it; you go over it, you think, 'What else could I have done?' Cal Ripken, Jr.
Psalm 42:5  Why, my soul, are you downcast? Why so disturbed within me? Put your hope in God, for I will yet praise him, my Savior, and my God.
At some point in time, each one of us has said to ourselves or out loud to someone else, "But why God…" Some things we bring on to ourselves do to ignorance, disobedience, and sin. Other things happen to us by accident or the will of someone else. Remember that God is in control. He allows both good and not-so-good things to happen in His will.

---
Here Is A Powerful Prayer That Will Offer You Some Peace Of Mind.
God grant me the serenity to accept the things I cannot change; courage to change the things I can; and wisdom to know the difference.
Living one day at a time; enjoying one moment at a time; accepting hardships as the pathway to peace; Taking, as He did, this sinful world as it is, not as I would have it; trusting that He will make all things right if I surrender to His Will; That I may be reasonably happy in this life and supremely happy with Him forever in the next. Amen.
---
Learn Why Bad Things Happen To Good People?
---
A ‣ B ‣ C ‣ D ‣ E ‣ F ‣ G ‣ H ‣ I ‣ J ‣ K ‣ L ‣ M ‣ N ‣ O ‣ P ‣ Q ‣ R ‣ S ‣ T ‣ U ‣ V ‣ W ‣Y ‣

Z
What does the Open Bible say about questioning Go

d

?

What does Biblegateway say about questioning God?

---
But Why God?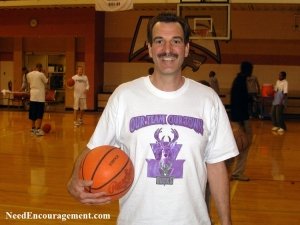 I have heard people say, "If the Lord is so good, then why doesn't he stop murder, rape, disease, hunger, poverty, and other bad things?"  You will find out the answers to this question in the video below. I have asked the Lord this question and other issues like it in my personal life before. I realize that the Lord is in control, even though it may not look like it the way our society is.
The main reason for this problem is that the Lord has given us free will because He wants us to be free to love Him instead of like robots. So when God created us, He had to provide us with free will. Ultimately, we choose what we do, but we can not determine the consequences or benefits. ~ Bill Greguska
Here Are Some Helpful Links:
---
---
---
For Encouragement Call 1-800-633-3446 or

Chat
---