Calendar Goals =

G

ood

O

rderly

D

irection!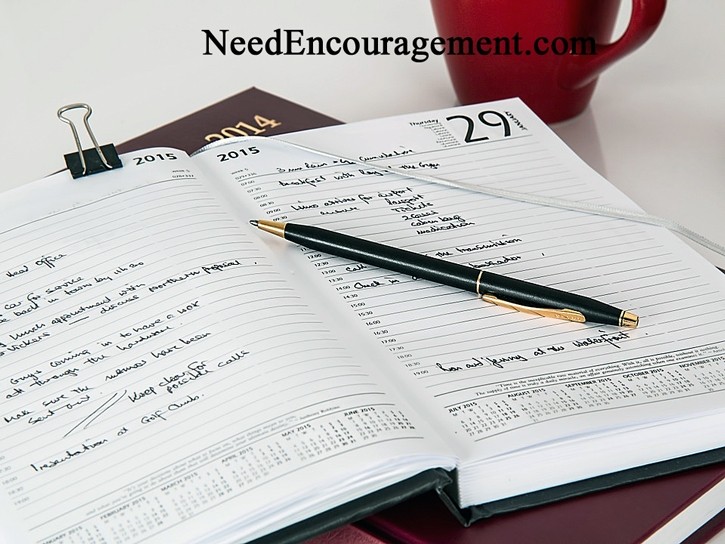 Please contact us if you have questions or if you need some encouragement.
Having calendar goals is a wise practice that can truly transform our lives. It starts with taking the time to think and pray, seeking guidance from God on what He wants us to do. Once we have clarity, it becomes essential to take action and step out boldly into fulfilling those goals. Writing them down on paper or digitally allows us to solidify our commitment and serves as a constant reminder of what we are working towards. Coordinating our to-do list with our calendar ensures that we allocate the necessary time and attention required for each task or goal. Some may not be time-sensitive but others demand immediate attention, so prioritizing becomes crucial in managing our resources effectively.
While seeking advice from others can be helpful, it's important to approach it with discernment and take their suggestions with a grain of salt. Ultimately, each individual journey is unique, and only you know what aligns best with your purpose and calling. Patience is key when striving towards these calendar goals; setbacks are inevitable, but they should never dampen your spirits or discourage you from pushing forward. So let's embrace this encouraging tone as we embark on this journey of pursuing our calendar goals wholeheartedly! With faith in ourselves and trust in God's plan for us, there is no limit to what we can achieve. Let determination be our fuel during challenging times as we persistently work towards turning dreams into reality. Remember that each small step brings us closer to success – every milestone celebrated along the way serves as motivation for even more success down the road. ~ Bill Greguska
Philippians 3:14  I press on toward the goal to win the prize for which God has called me heavenward in Christ Jesus.
---
Calendar Goals Will Help You Organize Your Life!
---
Calendar Goals!
You have to have a plan. Calendar goals are merely goals you put on your calendar to watch how good you are at reaching your goals—a little extra encouragement and motivation to keep you on track. Although you will quickly notice how much it encourages and motivates you, it is not complicated.
I can not say this is my idea, although I thought of it without anyone telling me. Goals are critical to helping you build new good habits or help break old bad habits. It just makes so much sense to have calendar goals. To chat with someone about your faith and goals in your life, click here, or call 1-800-633-3446~ Bill Greguska.
---
Here Are Some Helpful Links:
---
Principles Behind How The Calendar Goals Work:
Find a calendar and pray that God will direct your steps. 

Please place it in a busy traffic area such as a bathroom, kitchen, or somewhere you spend much time at home.

Get a marker (a different colored one if you are doing more than one goal)

Determine the purpose you would like to try to accomplish, such as exercising, eating, Bible reading, not gossiping, not swearing, etc.

You can use one calendar per goal or one calendar for multiple purposes if you use a big enough calendar.

Each night before bed, mark a smiling face, a straight face, or a frowning face depending on how you did with your goal for the day.

Be sure, to be honest with your grading of the day; otherwise, you will not know how you are progressing.

The calendar will remind you daily how you are doing. Your progress will encourage you to keep up the excellent work!

On the other hand, it motivates you to start to succeed after marking too many frowning faces in a week!

Commit to 3 months to track your calendar goals progress.
---
Following God's Schedule     
Romans 11:33-36     Dr. Charles Stanley
Most of us enjoy feeling in control of our schedule and grow frustrated when things don't go according to plan. If we genuinely desire to walk in the center of God's perfect will, we must become willing to cooperate with His time frame.
Please take a look at how you pray about situations in your life. Without realizing it, you may demand that God follow the schedule you've constructed according to your insufficient human wisdom. If we believe He is who He says He is, how can surrender to His way not benefit us? Think about His unique, praiseworthy qualities:
His all-encompassing knowledge. Unlike us, the Lord has complete awareness of our world and the details of every individual life–past, present, and future.

His complete wisdom. God understands man's every motive, but we cannot accurately discern people's intentions. We make choices based on partial information, whereas He has the wisdom to take action based on truth.

His unconditional love. Our Creator is motivated by love and continually has our best in mind. Unless we trust His heart, our view of reality will be distorted.

His perfect sufficiency. God will provide us with everything necessary to carry out His plan at the right time.
Submitting to God's timetable requires faith and courage. Believe in the goodness of His heart and His plans–and determine to wait until He gives the signal to move forward. Then, as you follow His schedule, you'll experience the joy of watching Him make all things beautiful in His timing.
---
How Google Can Help You Set Calendar Goals
---
Some Specific Scriptures To Encourage You:
Ecclesiastes 3:1-8 ESV
For everything, there is a season and a time for every matter under heaven: a time to be born, and a time to die; a time to plant, and a time to pluck up what is planted; a time to kill, and a time to heal; a time to break down, and a time to build up; a time to weep, and a time to laugh; a time to mourn, and a time to dance; a time to cast away stones, and a time to gather stones together; a time to embrace, and a time to refrain from embracing. a time to seek and a time to lose; a time to keep, and a time to cast away; a time to tear, and a time to sew; a time to keep silence, and a time to speak; a time to love, and a time to hate; a time for war, and a time for peace.
2 Peter 3:8 ESV 
But do not overlook this one fact, beloved, that with the Lord, one day is as a thousand years and a thousand years as one day.
Psalm 90:12 ESV 
So teach us to number our days that we may get a heart of wisdom.
Ephesians 5:16 ESV 
Making the best use of the time because the days are evil.
Proverbs 16:9 ESV 
The heart of man plans his way, but the Lord establishes his steps.
James 4:13-15 ESV
Come now, you who say, "Today or tomorrow we will go into such and such a town and spend a year there and trade and make a profit"— yet you do not know what tomorrow will bring. What is your life? For you are a mist that appears for a little time and then vanishes. Instead, you ought to say, "If the Lord wills, we will live and do this or that."
James 4:14 ESV 
Yet you do not know what tomorrow will bring. What is your life? For you are a mist that appears for a little time and then vanishes.
Jeremiah 29:11 ESV
For I know the plans I have for you, declares the Lord, plans for welfare and not for evil, to give you a future and a hope.
Colossians 4:5 ESV 
Walk in wisdom toward outsiders, making the best use of the time.
Proverbs 16:3 ESV 
Commit your work to the Lord, and your plans will be established.
Ecclesiastes 3:1 ESV 
For everything, there is a season and a time for every matter under heaven:
Mark 13:32 ESV
"But concerning that day or that hour, no one knows, not even the angels in heaven, nor the Son, but only the Father.
Ecclesiastes 3:11 ESV 
He has made everything beautiful in its time. Also, he has put eternity into man's heart, yet so that he cannot find out what God has done from the beginning to the end.
John 9:4 ESV 
We must work the works of him who sent me while it is day; night is coming when no one can work.
Ephesians 5:15-17 ESV
Look carefully then how you walk, not as unwise but as wise, making the best use of the time because the days are evil. Therefore do not be foolish, but understand what the will of the Lord is.
---
---
For Encouragement, Call 800-633-3446 or Chat
---