FIND ENCOURAGEMENT AND HOPE FROM SIMPLE PRINCIPLES

THAT OUR COUNTRY WAS FOUNDED UPON…
VIEW OVER 400 PAGES HERE!
Ten excellent short videos packed with encouragement to inspire you!
---
"Life is 10 percent what happens to me and 90 percent how I react to it." ~ Charles Swindoll
Joshua 1:9  Have I not commanded you? Be strong and courageous. Do not be afraid; do not be discouraged, for the Lord your God will be with you wherever you go." NIV
Please contact us if you have any questions or comments or would just like some encouragement.
---
---
When we are struggling with stress, anger, depression, or whatever it may be, my encouragement for is to focus on God to help you through all of our problems in life.
If you are battling alcohol or a drug problem, or any other type of addiction, I encourage you also to pray to God and ask Him to help you in the area of your weakness.
No matter what you are going through right now in your life, encouragement is available if you reach out for it!
Check out the many pages of encouragement we have here on our website which I am sure they will be of help to you too. Remember always to keep God first, and in His time and His wisdom and grace, He will show you the way. ~ Bill Greguska
---
---
Discover Christian Topics For Encouragement From A – Z

!
1 Thessalonians 5:11 Therefore encourage one another and build each other up, just as in fact you are doing. NIV

Also, click on any red letter in the alphabet below, to learn about corresponding topics for more encouragement.
For example, if you click on the letter "A" below, you will find issues such as:
Anger – Anxiety – Arguments – and so on. The same applies to the other letters.
A ‣ B ‣ C ‣ D ‣ E ‣ F ‣ G ‣ H ‣ I ‣ J ‣ K ‣ L ‣ M ‣
N ‣ O ‣ P ‣ Q ‣ R ‣ S ‣ T ‣ U ‣ V ‣ W ‣ Y ‣ Z
Also, to view topics to encourage you and give you insights into different areas of your life, click here.
---
There Is Pleasure In Sin For A Short Time, But It Is Soon Over!
---
---
Where To Look?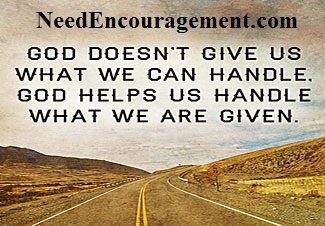 More and more encouragement will come your way as you keep trusting in God, not only in yourself. Here are some topics to encourage you:
Alcohol – Anxiety – Drugs – Encouragement – Faith –  Fear –  Forgiveness –  God – Grace – Gratitude – Holy Spirit – Honesty – Integrity – Jesus – Joy – Kindness – Love – Lust – Money – Patience – Peace – Prayer – Temptation – Trust – Sex – Sin – Strength – Stress –Wisdom – Worry
---
For More Encouragement Call 1-800-633-3446 or

Chat
---
Contact Us Via Social Media And Get On Our Email List.
Each week you will receive uplifting emails of encouragement. Feel free to forward them to your friends and have them sign up. If we have encouraged you in any specific way, please spread the word on social media!

---
Fill Out This Simple Form Below To Talk With Us!

Fill out the form below if you have a prayer request, question, or comment. We will try to get back to you as promptly as possible.
Also, if you feel our website is worthy of sharing, please consider doing an "Encouragement Email Blast" to your friends by telling those who are on your email list about our ministry. Thank you very much!