Prayer = A Conversation Between You And God!
There is no wrong way to pray, just as long as your prayers are in God's will, and you honorably direct your devotion to God, Jesus, Holy Spirit. (The Trinity)
Here are some simple guidelines you may want to follow.



---
Praying Each Day Is As Important As Breathing!
---
Teach Me How To Pray, Lord!
---
Here Are Seven Reasons Why We Need To Pray:
Prayer Builds Our Relationship With Jesus Christ.

It Helps Us Overcome Temptation.

When We Pray, It Helps Us Determine God's Will In Our Life.

When We Pray It Helps Us To Accomplishes God's Work.

We Can Think Of Prayer As A Weapon of Spiritual Warfare Against Satan.

It Is A Prerequisite To Having A Spiritual Awakening.

Prayer Is Valuable To Have A Close Relationship With God.
---
Ten Tips On How To Pray
Decide on a quiet place to pray and read. Try to pray in the morning if possible. (or at least the same time and place daily). Maybe in your favorite chair?

Engage Bible verses to help you pray specificall

y

.

Put your thoughts on paper on what you want to say to God.

Figure out a way to write down prayers and follow up with answered prayers.

Find your way to express your love for God and God's word.

Do not pretend that there is a certain way to impress God or others with your prayers.

Talk with others about their prayer life and read up on prayer too.

Keep your Bible studying fresh and exciting. Change up once in a while how you do things.

Remember, you are a work in progress, be patient with yourse

lf

.

Try to talk less and listen more; do not let things distract you.
---
What Are You Going Through At This Time?
Perhaps a broken relationship, divorce, depression, or possibly anger, anxiety, addiction, loss of a loved one, loss of a job, also Covid 19, plus emotional difficulties, spiritual concerns, mental health,  physical pain, etc.
You need to try to get out of your problems by searching for solutions instead! Believe me when I say, "When you encourage others, you will be encouraged yourself."
~ Bill Greguska – Search For Encouragement Ideas Here
Which Of The Three Below Are You?
James 5:16 Therefore confess your sins to each other and pray for each other so that you may be healed. The prayer of a righteous person is powerful and effective.
---
How To Pray, And Why It Is So Important!
I have never been a person who could pray eloquently, but God does not make that a prerequisite to talk with or listen to God.  I have always believed in prayer, yet I have not always been faithful to pray regularly.
It was not until several years ago that I started to pray regularly each morning after reading my devotional and Bible. At first, it was somewhat of a choir, but then it became a daily habit that I cheerfully do each morning when I wake up.
You, too, can make prayer a part of your life, and trust me that it will make a difference in your life. You will notice almost right away. It will be your connection to God and a lamp unto your feet to know better what His will for you and your life is. ~ Bill Greguska
---
How To Pray? And Why It Is So Important To Do So?
If you have never prayed before, the best way to describe prayer is that it is like talking to someone who you can see as someone on a cell phone. The purpose of prayer is to grow a relationship between you and God. It is your way of talking to God and asking for help in certain areas of your life, such as relationships, finances, health, wisdom, comfort, to name a few ways.
I will repeat that before one starts to pray. It is wise to give God some praise and thank Him for what He has done for you recently. After you are done praying to God, make sure you take a few moments to understand what God is trying to teach you.
Anyone who believes that God hears and answers prayers can learn how to pray with minimal effort. Prayer is not meant to be something so very complicated that only a few select people can do. Still, rather it is intended for everyone to be able to communicate with our heavenly Father.
When you pray, do not only ask God to do things for you (He is not a magic genie). But when you pray, thank God for what He has already done for you and answered prayers in the past.  Try to pray and listen to God, speak to you in His quiet voice with gentle nudges and your spirit's prompting.
Psalm 86:6 Hear my prayer, Lord; listen to my cry for mercy.
---
Please contact us if you have any questions or comments or would just like some encouragement?
I pray every night, sometimes long prayers about a lot of things and a lot of people, but I don't talk about it or brag about it because that's between God and me, and I'm no better than anybody else in God's sight. ~ Peyton Manning
Matthew 6:9-13  "This, then, is how you should pray: "'Our Father in heaven, hallowed be your name,  your kingdom come, thy will be done, on earth as it is in heaven. Give us today our daily bread. And forgive us our debts, as we also have forgiven our debtors. And lead us not into temptation, but deliver us from the evil one.'
Prayer is a perfume you cannot pour on others without getting a few drops on yourself.
---
Learn How To Pray With Help From Billy Graham!
---
Billy Graham Talks About Prayer!
Prayer is directly talking to God—and the most important thing I can say about this is that God wants you to speak to Him! He loves us, and He has promised to hear us when we pray. How can you learn to pray? First, understand why prayer is possible.
Prayer is possible because Jesus Christ has removed the barrier between us and God—a barrier caused by our sins. You see, sin separates us from God, and because of that, we have no right to come before Him. But by His death on the cross, Christ paid the penalty for our sins and removed the barrier. God then gives us the privilege of coming into His presence when we commit our lives to Christ.
The Bible says, "Let us then approach the throne of grace with confidence, so that we may receive mercy and find grace to help us in our time of need" (Hebrews 4:16). If you have never done so, ask Christ to come into your life today.
Then understand that God now welcomes you into His presence and promises to hear you—and He cannot lie. The Bible says, "This is the confidence we have in approaching God: that if we ask anything according to his will, he hears us" (1 John 5:14). Trust His promises and learn to bring every concern to Him in prayer.
---
The Definition Of Prayer:
Prayer is communion with God. It takes different forms, but basically, it occurs when a man or a woman talks with God, and God talks with them. It is not that complicated.
Prayer Is Described As:
Calling upon the name of the Lord: Genesis12:8

Crying unto God: Psalms 27:7; Psalms 34:6

Drawing near to God: Psalms 73:28; Hebrews 10:22

Looking up: Psalms 5:3

Lifting the soul: Psalms 25:1

Lifting the heart: Lamentations 3:41

Pouring out the heart: Psalms 62:8

Pouring out the soul: I Samuel 1:15

Crying to Heaven: II Chronicles 32:20

Beseeching the Lord: Exodus 32:11

Seeking God: Job 8:5

Seeking the face of the Lord: Psalms 27:8

Making supplication: Job 8:5; Jeremiah 36:7
Be true to yourself, help others, make each day your masterpiece, make friendship a fine art, drink deeply from good books – especially the Bible, build a shelter against a rainy day, give thanks for your blessings and pray for guidance every day. ~ John Wooden
Mark 1:35  Very early in the morning, while it was still dark, Jesus got up, left the house, and went off to a solitary place, where he prayed.
---
Learn That There Are Different Ways To Pray!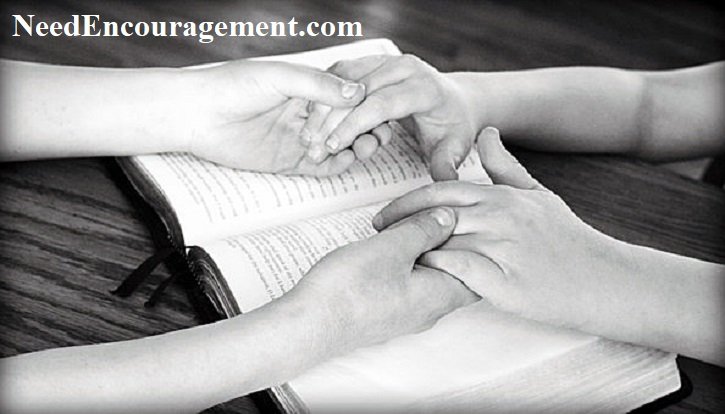 There is no right way to pray because you communicate with God, Jesus, and Holy Spirit when you pray.
When you talk, talk as though you are talking to a friend sitting right next to you. Because in all reality, God is your friend and loves you more than any friend you have ever known.
Some people like myself prefer to pray quietly by myself in the morning or with others in a group setting.
Your prayers do not have to be polished or eloquent to have God hear them. Some people lift their hands, others fold them, but what is most important is your heart's position to be sincere with God.
Make sure you stop to listen to God to hear if He has an answer right away or if you need to wait on the Lord?
---
Learn How To Pray More Effectively
Learn how to pray more efficiently and powerfully? Have you ever wondered the best way how to pray? I found that the best way to is to share with God something I am thankful for. Then confess a sin or sins that I committed. Then ask God to forgive me for my sin or sins.  
The best way to pray is to intimately confess any sin, ask for forgiveness, thank God for blessings, others' needs, and yourself. When we meditate, we are personally listening to God and trying to understand God's will in our life. Prayer is our connection with God.
I also pray for all the victims that I hear about on the news and even for others in my personal life who are struggling with health issues, relationship issues, stress, depression, etc. When I do this right, I pray for things for myself at the end. ~ Bill Greguska
---
Learn How To Turn Almost Any Scriptures Into A Prayer!
There are many commands God gives us in His Word.  If God wants us to do these things, then I think it would make sense for us to pray for God to make these things real in our life. We need to start using the scriptures when praying more like this:

Lord, you have commanded me to be strong and courageous, you are my shield of protection, and you have promised me that you will be with me where ever I go to help me fight my battles. I need not be afraid.  (Similar to Joshua 1:9)
Lord, I trust you and believe that you when you tell me to cast my worries and fears onto you. I know you will hear my prayers when I cry out to you because you care for me. (Similar to 1 Peter 5:7)
Lord, sometimes there are others with who I have problems getting along. Open my eyes to let me see if the problem lies within me. Otherwise, please bless ______ (the other person) and help me live at peace with everyone if possible as far as it depends on me. (Similar to Romans 12:18)

Lord, I have been battling inside my mind like a pit bull. Please help me submit all my ways to you, and please keep the devil far away from me. I know you can do this, so I thank you ahead of time for answering my prayer. (Similar to James 4:7)
---
More Examples In How To Turn Scripture Into Prayer!
Lord, I thank you for being here for me whenever I have a need or problem. When I need wisdom, you are always a prayer away, and you always answer my cries for help. You tell us if we lack understanding, we ought to come to you, and you will give us what we need without any shame. Thank you so much. (Similar to James 1:5)

Lord, sometimes women do not dress appropriately. Please help convict their hearts, and in the meantime, guard our hearts so that we men do not lust after their beauty or become captivated by their eyes. (Similar to Proverbs 6:25)
Lord, help us trust in you even though ________ (is happening) give us the confidence to know that you always meet our needs somehow or another, help us not to trust our judgment until after we pray about it to you, and you give us the green light.  Help us always go to you for our directions in life, and we thank you for your faithfulness. (Similar to Proverbs 3:5-6)
Lord, I pray for ________. Would you please rescue him/her from the things that hinder them, be it a false religious system, poor relationships, or a troubled past? Open their eyes and turn them from darkness to light and from Satan's power to God so that they may receive forgiveness of sins and a place among those who are sanctified by faith.  (Similar to Acts 26:17-18)
---
Is Your Prayer Life Is Non-Existent? 
Ask God For What His Will Is For You!
Think About Getting On Your Knees! 
---
God's Word Of Encouragement:
James 5:16 Therefore, confess your sins to each other and pray for each other so that you may be healed. The prayer of a righteous person is powerful and effective.
A Quote About Prayer:
Seven days without prayer makes one weak. ~ Author Unknown
---
---
---
For Encouragement Call 1-800-633-3446 or Chat
---