How Does Your Religion Influence Your Politics?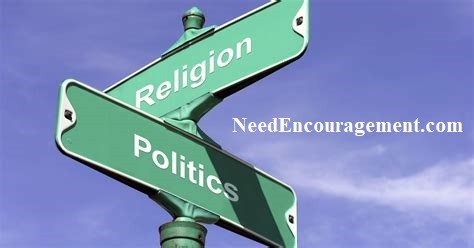 Please contact us if you have any questions or comments or want encouragement.
Everyone has their own political and religious beliefs. So when I was growing up, my mom told me not to talk about politics or religion because the discussion can become heated and pull people apart. Religion and Politics often only can get along well if the truth is spoken and agreed upon. Every man and women in the United States get to vote for who God leads them to vote for. It is foolish to argue and become angry with others, it only pulls people apart.
Sometimes it is best not to talk about politics and pray that God gives you the wisdom to love your "enemy," as Jesus taught us. And allow the Holy Spirit to work on your and your neighbor's hearts. I did not listen to my mom's advice, but I used it partially by getting a feel for others and their beliefs and sharing mine. If we agreed, then we could talk. If we were not in agreement, I have learned to back out of the conversation gracefully by changing the subject by saying something like, "How are those Brewers doing?" And then do what my mom taught me: stop talking about it and talk about something else. I agree with her to a point, but how can someone know if nobody tells them.  The answer I would say is by asking the Holy Spirit to lead you, and to show respect to all people. ~  Bill Greguska
Romans 12:18 If it is possible, as far as it depends on you, live at peace with everyone.
---
How Should Christians Vote?
---
Tony Evans Christians And Politics!
---
Billy Graham On Mixing Religion And Politics!
---
Praying For Politics With Janet Parshall
---
John MacArthur – The Christian And Politics!
---
Some Specific Scriptures To Encourage You:
Titus 3:9 ESV 
But avoid foolish controversies, genealogies, dissensions, and quarrels about the law, for they are unprofitable and worthless.
Acts 5:29 ESV 
But Peter and the apostles answered, "We must obey God rather than men.
Psalm 33:12 ESV 
Blessed is the nation whose God is the Lord, the people whom he has chosen as his heritage!
Matthew 22:17-21 ESV 
Tell us, then, what you think. Is it lawful to pay taxes to Caesar, or not?" But Jesus, aware of their malice, said, "Why put me to the test, you hypocrites? Show me the coin for the tax." And they brought him a denarius. And Jesus said to them, "Whose likeness and inscription is this?" They said, "Caesar's." Then he said to them, "Therefore render to Caesar the things that are Caesar's, and to God the things that are God's."
Philippians 3:20 ESV 
But our citizenship is in heaven, and from it we await a Savior, the Lord Jesus Christ,
Daniel 2:21 ESV 
He changes times and seasons; he removes kings and sets up kings; he gives wisdom to the wise and knowledge to those who have understanding;
1 Peter 2:17 ESV 
Honor everyone. Love the brotherhood. Fear God. Honor the emperor.
Matthew 28:18 ESV
And Jesus came and said to them, "All authority in heaven and on earth has been given to me.
Matthew 6:24 ESV 
No one can serve two masters, for either he will hate the one and love the other, or he will be devoted to the one and despise the other. You cannot serve God and money.
Proverbs 29:2 ESV
When the righteous increase, the people rejoice, but when the wicked rule, the people groan.
Proverbs 29:12 ESV
If a ruler listens to falsehood, all his officials will be wicked.
---
---
For Encouragement, Call 800-633-3446 or Chat
---