With Help Ben Hersh Living A Good Life!

 

---

Ben Hersh Is A Remarkable Man And Good Friend Of Mine!

I refer people like Ben Hersh, and all people with disabilities as "Differently-abled" because each person has been truly blessed with so many other wonderful qualities! ~ Bill Greguska


---
Let Me Tell You About Ben Hersh!
---
My Good Friend Ben Hersh
I have experienced first hand that Ben Hersh is indeed an amazing man! Often, I think people with a disability like Ben would be better off referred to as, "Differently-abled." I am sure if you would ask them yourself. 
Being Ben's caregiver for over six years has been a blessing for me.  My friend Ben is a great guy who just happens to have Cerebral Palsy, and in my humble judgment of character, Ben Hersh is a true champion.
Ben is a fantastic guy with an excellent outlook on life and has a super great sense of humor! Ben has become a terrific friend of mine, and I am a good friend of his while also being his caregiver! Without a doubt, Ben Hersh is "Differently-abled."
The world judges ability by how many points a man can score in an NBA basketball game, or how many touchdowns a man can make in an NFL football game. But real ability ought to be measured in one's heart, not in their stats. Ben Hersh does not have big impressive stats, but he has the heart of what I call a great man! ~ Bill Greguska
---
Ben Has A Terrific Sense Of Humor And Outlook On Life!
---
Here Are Some Helpful Links:
---
Ben Hersh Has A Similar Situation Like Adam 
---
Ben Is A Wonderful Person And A Good Friend!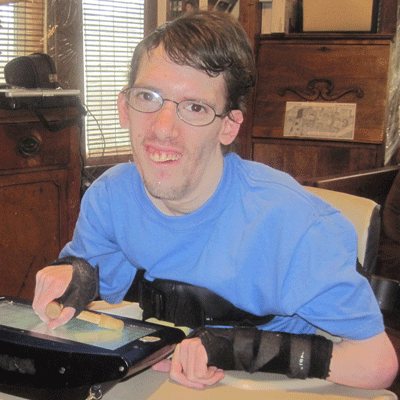 ---
Do You Have A Disability?
If you have a disability that you are dealing with, take an example from Ben Hersh, and determine what you can do it, and do it well, and what you can not do, do not worry about it. That has been Ben's motto for as long as I have known him.
God created us all "Differently-abled" to some degree or another! If you want to learn about a few particular people who learned to overcome a disability that they learned to live with, then read on! 
Being Ben's caregiver for over six years. The scripture that I think of when I think of Ben is Matthew 22:37-39 because Ben and I have talked about if by chance that our roles in life were changed, and he was my caregiver, that Ben always told me that he would take care of me like I take care of him. I know he means it because I treat Ben very good and I know Ben well too. ~ Bill Greguska
---
Shannon Story Is Positive Just Like Ben Hersh's Story!
---
Put GO in Front of The Word DISABLED = GOD IS ABLED.
Matthew 22:37-39  Jesus replied: "'Love the Lord your God with all your heart and with all your soul and with all your mind.'  This is the first and greatest commandment. And the second is like it: 'Love your neighbor as yourself.'
---
Ben Is Proud Of His Jewish Faith!
---
Being Jewish Is Very Important To Ben
Although he has Cerebral Palsy, that does NOT stop him from living a good, productive life, as he learned to live with a disability he did not ask for.
He and his family have a strong faith in God which has helped them through some difficult times in their lives. Ben's dad Herman, has a strong faith and is very Knowledgeable about the Bible, and he and his family live out their lives.
---
Ben Makes Greeting Cards
Ben has created greeting cards on his computer since 2009. He sells his cards at both St. Joseph's Hospital and the Jewish home in Milwaukee, Wisconsin. Ben's parents, Jolie, and Herman have encouraged him, both in his life and with his card business.
As long as I have known and worked with Ben, I have realized that Ben is impaired yet he is so hopeful and positive! I would consider Ben disabled no more because of all Ben can do very, very much despite his disability.
---
Realize That Ben Hersh Is Quite A Fun Guy!
I feel that is also a beautiful thing that Ben also donates a portion of the cards that he makes to the inmates in Milwaukee County jail.
Besides making greeting cards, Ben has delivered mail at St. Joseph's Hospital and the Jewish home for more than seven years.
Now, he's providing the Milwaukee Journal, USA Today, and Wall Street Journal at St. Luke's hospital since May 8, 2014.
Ben's parents encouraged Ben to be productive and stay active; otherwise, he would not have seen and done as much as he has in his life that Ben already has done!
---
Rabbi David Aaron On Jewish Pride
---
Ben Hersh Learned To Deal With A Disability
---
Ben Hersh And His Dynovox Computer

Even though Ben has had Cerebral Palsy since birth, he sure makes his mark in his community. Back in 2009, his mother had the idea of keeping Ben productive and creative at the same time, which has been a great thing for both him and the others that he serves so faithfully!
Ben is now is 29 years old and was born with Cerebral Palsy. He can not walk or talk, but he has a personal Dynovox computer that enables him to communicate with a hand-held probe.
Ben has learned to make the most of what he has which has given him the ability to have a good life with the help of his devoted parents, dedicated caregivers, plus Independence First and IRIS programs to help meet some of his basic needs.
---
Conner Helps His Brother Who Has Cerebral Palsy!
---
Ben Being In A Wheelchair Became Dependent On Using Ramps Which Is Understandable!

---
Ben Hersh Graduated From Riverside High School
He began delivering mail and newspaper as a volunteer at both St. Joseph's and St. Luke's Hospital, and the Jewish home care center in Milwaukee, Wisconsin.
Ben has used his abilities, with encouragement from his mother, father, and others, to start creating greeting cards that he both sells and gives away. Ben said, "I like to help people get their US mail, and I like to make them happy."
Related Pages Of Encouragement: 
A Special Link for a Little Extra Encouragement
---
Incredible Love For His Son With Cerebral Palsy!
Another amazing story Team Hoyt
---
Photo of Mom, Sylvia, Ben, Herman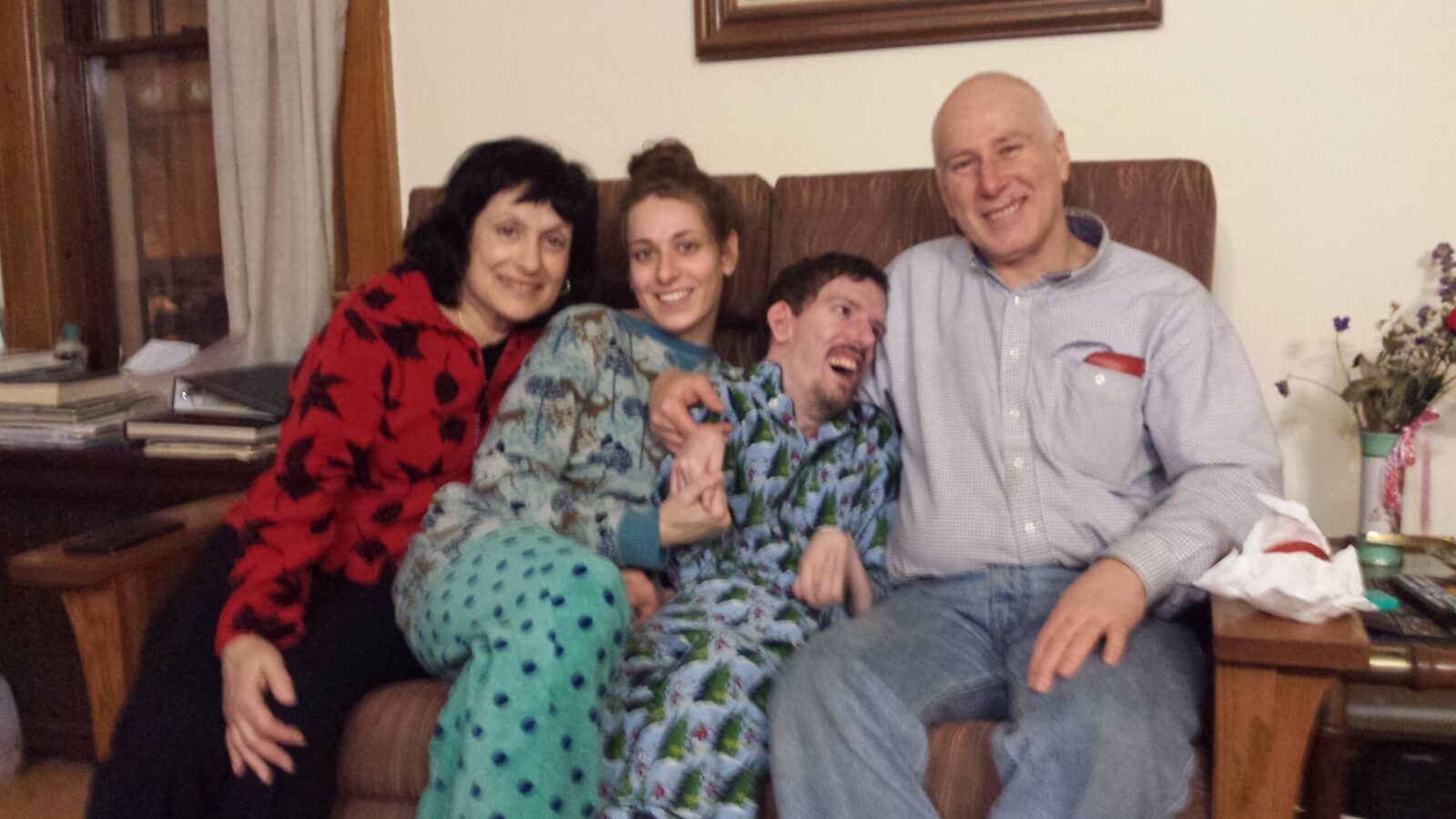 ---
I Have Personally Known And Cared For Ben Hersh Since April 2011
Ben is both a friend and I am his personal caregiver, and it is amazing how he has overcome his disability. 
Ben has an excellent sense of humor and a great outlook on life. He is a thinking man, and he has a lot of ambition to attempt more than most people I know would attempt.
Ben loves his family a great deal, and I would consider family to be one of his highest priorities in life! 
---
Sure, There Are Some Things Ben Cannot Do For Himself!
But that is where God comes into the picture by providing wonderful, loving parents, Herman and Jolie Hersh, brother Murray, two sisters – Clara and Sylvia – and dedicated caregivers and relatives and friends.
Ben (like many of us) loves watching comedy videos, spending time with family, shopping for comedy videos at Goodwill, surfing the Internet, helping others, and enjoying a good meal with family or a friend.  
One of Ben's favorite things to say is, "Are you a thinking man?" For Ben, the answer is yes, he is a thinking man, a very intelligent caring man if I must say myself!
Looking at Ben and his life, you can see why I titled this story, "Being disabled has NOT stopped Ben Hersh from living a good, productive life." 
With support, encouragement, and God, Ben Hersh has victory over Cerebral Palsy and has learned to deal with a disability that Ben never asked for yet God has been faithful to this man who I call my friend!
---
More Encouraging Testimonies
---
Ben Dressed In His Favorite Suit Coat!
---
---
---
For Encouragement Call 1-800-633-3446 or Chat
---
Please contact us if you have any questions or comments?
I use my Dynovox talking machine to talk with others about how I feel and what I am thinking about. I have a good life, and I love my family, and my family loves me! ~ Ben Hersh
Genesis 1:27 So God created man in his own image, in the image of God he created him, male and female he created him.