You Can Encourage Someone Today!
---
Learn Why We Need To Encourage Someone?
---
Pray For One Another!
---
What We're Willing To Do To Help Others During Difficult Times?
Here are just a few ideas:
Be willing to go grocery shopping for someone who isn't able to make it to the grocery store or who can't afford it at the moment.

Be willing to clean someone's house. To take the load off someone who is struggling with daily life.

Be willing to provide rides to doctors' appointments. If your friend is ill, take her to her doctor appointments. Wait with her, comfort her. Don't turn away from her discomfort.

Be willing to do some cooking. Make regular meals for someone who is ill, or is otherwise unable to cook for herself.

Be willing to be available for babysitting. If you know a couple whose marriage is in an awkward place, offer to watch their children so they can have some time together, just the two of them, or maybe you know someone who needs an hour or two on their own to regain their sanity.

More Helpful Ideas

Be willing to spend time one on one in a personal Bible study. If you have a friend, who is struggling with her faith or wants to build a deeper relationship with the Lord, meet with them weekly.

Be willing to make regular phone calls to let the person know that they are being thought of and cared about by someone.

Be willing to go for walks with someone and to spend time together. Sometimes just being there and being willing to listen is what we all need.

Be willing to share about yourself and to open up. Be prepared to let go of the "perfect Christian" façade and be willing to share your struggles and faults. Let your friend know that they are not alone.

Be willing to ask your friend what their needs are? Ask them, "How can I help?" Be ready and willing to follow through.
God will multiply whatever small offerings of willingness that you have for someone in need. He will use you to bless many; you need only to be willing.
---
We All Know Life Can Be Difficult Sometimes —
Let Us Help Point You To Some Practical Solutions. ~ Bill Greguska
Encouragement can be compared to being offered a refreshing glass of water while trying to make it through life's desert. As you look through this site, you will find over 270 pages that will point you to the living water of God's Word that can refresh you, and restore your life.
It is possible that you need encouragement for something that you have regretted doing, or you are regretting something wrong someone else did to you, or just by the way life situations sometimes unfold that are out of our control.
Keep in mind that sometimes the best way to be encouraged is to reach out to help others yourself. Give it a try, and you will see what I mean, believe me, it works.
God's Word Of Encouragement: Matthew 7:7-8 Ask, and it will be given to you; seek, and you will find; knock, and the door will be opened to you. For everyone who asks receives; the one who seeks finds; and to the one who knocks, the door will be opened.
---
12 Related Pages To Encourage Someone Today:
---
I believe you reap what you sow. If you love others, you will receive love in return.
Jesus loved me when no one else did, so I should be pleased to love others!
God loved me and did not judge me, so I should follow His perfect example
I'm motivated to love others just like Jesus loved me, and I try to mirror His love.
Should motivate me much to do that, and I ask Him daily to help me do just that.
Motivates me daily to do the same to others just as Jesus loved me.
Highly motivated to love others because Jesus loved me when I was cold-hearted.
Jesus gave His life up for all of us, so we should do the same as Jesus.
God is love, and His love compels and enables us to love one another.
Trying to share God's love with others that He has given to me!
God has motivated me through prayer to love others just as He has loved me.
When I drift and go my way, Jesus loves me and brings me back to Himself!
Mark Mallwitz of BASICS comments from fellow believers
---
Encourage Someone Today!
Encourage someone with a random act of kindness! Sounds like a beautiful idea. God's word commands us to encourage one another.  A side benefit of when you encourage someone, you will be helping yourself because of your obedience to God.
A word of encouragement or act of kindness shared by any of us can influence someone's life for the better.
Even if it is only in a small way, it is still worth it. Encourage someone today, believe me, that you will help lift them up and also be uplifted up yourself by doing so at the same time!
---
Discernment Is Needed When Helping Others
Derek Prince understands the spirit of God. Listen to what he has to say. My instinct is to want to help everyone, but Derek Prince has some solid wisdom that he shares in this video.
---
How We Encourage Someone Reflects On How We Love God!
---
Here Are Some Helpful Links:
---
How To Encourage Someone?
Point out to someone a quality you appreciate in him or her. 

Be sensitive to others' need for encouragement, and offer supportive words or actions. 

Who comes to mind that you could encourage? 

You can phone, email, text, send a card or make arrangements to meet with that person. 

Ask the Holy Spirit to direct you. 
---
Random Acts of Kindness Can Encourage Someone!
---
Encourage Someone A

t The Same Time Encourage Yourself!
---
Make cards for nursing house residents and spend some time with them. 

Hide dollars in a dollar store with a kind note attached.

Donate a new stuffed animal to your local children's hospital.

Buy a book or gift for someone you know that could use some cheering up.

Order an appetizer or dessert for another family while out eating.

Leave a few kind words or a funny note or some cash in a library book.

Run an errand or do a chore for someone to be a blessing. 

Smile at everyone you come across and make that a regular habit.

Text ten of your friends letting them know you're just thinking of them.

Send anonymous flowers or cookies to someone in your life that you care about. 

Write a letter and send by US mail, it is more special than an email.

Say something kind to someone even if it is that you like their shirt.

Take a friend out for coffee or soda and share some good news with them. 

Talk to someone new as a regular habit.

Tell someone you love precisely why you like them.
---
More Acts Of Kindness!
Make it your goal each day to encourage someone!

Leave a friendly note where someone will find it to brighten up their day. 

Hold the door open for multiple people while saying hi to each of them.

Leave a big tip for a waitress with an encouraging note.

Bake or buy extra cookies and take to your local fire or police department

Pay for the car behind you at a drive-thru and to encourage them. 

Call someone you know who is down, with the purpose to try to feel loved and to cheer them up.

Offer to shovel a neighbor's driveway and sidewalk, or offer to cut their grass. 

Donate a toy to a local charity.




Mail a surprise package to someone you know, the value of the package is irrelevant. 

Leave a positive note for your child, or spouse's lunch box with words of love. 

Let someone have your parking space or place in line instead of fighting for it. 

Bake cookies for your neighbors on a semi-regular basis. 

Pick up litter no matter where you are.

Put positive sticky notes on your bathroom mirror with words to encourage yourself daily. 

Make eye contact with more people and smile at them more too.
---
Make Someone's Day Special For Them!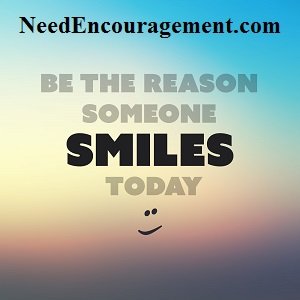 ---
 "A lot of people, when a guy scores a lot of goals, think, 'He's a great player because a goal is very important, but a great player is a player who can do everything on the field. He can do assists, encourage his colleagues, give them the confidence to go forward. It is someone who, when a team does not do well, becomes one of the leaders." Pele
1 Thessalonians 5:11 Therefore encourage one another and build each other up, just as in fact you are doing.
---
How To Encourage Someone By Pastor Chip Ingram
---
Ideas How To Encourage Someone! 
See how many acts of kindness you can do today!
Send an email, card, or letter to someone just to let them know that you care.

Show your appreciation to someone who helped you when you needed help recently.

Tell your friend or family member you love them. 

Cheer up someone who is discouraged with a hug.

Try to understand where another person is at with their emotions.

Spending time with the someone to encourage them and be with them.

Share the truth of God's word.

Giving hope to someone that you know who needs it.
More Helpful Ideas
Tell a joke to make them make them laugh.

Make it a point to do nice things for everyone.

Put others' needs before your own.

Some people are most encouraged when they receive a gift of service.

Leave Post-it notes with words thoughtful words of gratitude and care.

Remind one who is in a complicated relationship that God loves them with an everlasting love.

Love on those who have been a spiritual leader to you, by sending her a card or note in the mail, asking that person to go out for breakfast or lunch, or you can kindly offer your time.
---
How Would You Like To Be Encouraged?
Compliment someone at work or someone you meet during the day.

A simple smile can make a friend or a stranger feel excellent inside for free.

Take time to call someone you know who is going through some hard times lately.

Let someone know that you are thinking about them and praying for them also.

Tell someone who you like their shirt, hat, or something they are wearing.

Offer to take a friend out for soda, a cup of coffee, or even lunch and catch up on life.

Do something kind for either a friend or even a stranger.

Make time to listen to someone who seems to be lonely or sad.
More Helpful Ideas
Thank someone who has gone out of their way to help you in your life recently or in the past.

Be patient with the clerk at the store by being extra cheerful to them.

Look out for a co-worker.  Everyone needs someone to be in their corner, to have their back.

People are more blessed when you pray with them immediately, don't just say I'll pray for you.

Listen to a young person and let them see that you value their ideas.

Choose to live a life of character and integrity. It makes it easier for them to follow your example.

Give someone special a gift handmade by you.

Encourage a friend to put her hope in God.
---
---
How Can You Encourage Someone?
When we say to encourage someone, that doesn't mean it has to be a large type of encouragement even a small compliment given to someone who needs desperately to hear something positive is a blessing. Make it a goal in your life to encourage someone every day. 
Anything you do for someone else can be considered a form of encouragement. Think about what the other person needs, and try to be of help to them with your time, money, energy, to help make their day a little better. Get out and encourage someone today!
---
Acts Of Kindness To Share!
See how many acts of kindness you can do this week?
Pick up the phone and take the time to listen and help someone who lives far away, keep in mind not do all the talking and let them talk more.

Send a short note on Facebook or text message a friend with a few encouraging words.

Tell your Pastor, friend, boss, or other someone else in your life that you appreciate them.

Make the person that you are talking about actually feel that you are entirely paying attention to them and that you genuinely care.

Do you know someone who is having a hard time?  Secretly send them a card or note every day for a week.

Offer to watch a young couple's children free them up to enjoy themselves and each other.

People do not get letters in the mail too often anymore, so decide to write a letter to someone that could use a letter.

Catch a parent doing something positive in their parenting.
More Helpful Ideas
Catch a child doing something in the act, that their parents would make them happy.

Be sure to have a couple of small gifts and birthday cards on hand to give someone, just to be prepared.

Be quick to listen and slow to talk.  Sometimes, the best encouragement is someone who is a good listener.

Let your friends that you pray to know you pray for them regularly.

Buy a small thoughtful gift for someone that you know needs some encouragement.

Always try to be encouraging to everyone you meet. You never know who is having a crisis kind of day.

Many people are starving for human touch. Just a hand on the shoulder or same touch that is appropriate can be very encouraging.  For some, a hug could be life-changing.
---
How Can You Share An Act Of Kindness
Keep in mind when talking to someone, ask them about themselves and their situation, don't insist on talking about yourself.

If your friend is grieving a loved one, encourage them to talk to the person and listen well.

Give words of blessing.  When we bless others, we release God's grace on them.

Put together a care package. A unique collection of items put together in a box of love and encouragement?

Share neighborly kindness by baking them something or helping on a small project.

Be an active, joyful person.  We can only encourage, love, and bless others with what we already have available ourselves.

Fill jelly jars with flowers picked from your garden.  Drop by a nursing home with them and bless the residents there.

Ask someone for information on something they love or are excellent at and sit back and listen.
More Helpful Ideas
Treat a co-worker or friend with something small now and then. Something like a candy bar or their favorite coffee, etc.

Give a sincere compliment to someone when you see the opportunity.

Write down a Bible verse that meets the needs of your friend's heart, and send it in the mail, or text it, or post it on their Facebook wall for encouragement.

Do something nice for your pet or your friend or neighbors pet.

Find a way to remember to pray for a friend.  One gal who doesn't get to see her friend has a pact with that friend to listen at night for the train whistles. It's their signal to pray for each other.

When we do acts of kindness, it has a powerful ripple effect on others in the area.

Try to have a playful light-hearted spirit with everyone you come in contact.



---
Even A Little Two Year Old Can Encourage Someone!
---
---
---
For Encouragement Call 1-800-633-3446 or Chat
---
Please contact us if you have any questions or comments or would just like some encouragement?
There are many reasons to encourage someone. The biggest reason is that God tells us to love one another. God also provides a bonus that when we encourage someone, we too become encouraged by our act of kindness and love. ~ Bill Greguska
Hebrews 3:13  But encourage one another daily, as long as it is called "Today," so that none of you may be hardened by sin's deceitfulness.