Jesus Information!
Do You Want To Know Jesus Christ?  Yes – No
Please contact us if you have any questions or comments or would just like some encouragement?
I know that all things are possible through Jesus Christ. ~ Jason Derulo
The name of Jesus is a name known throughout all of history. Either He is a liar, lunatic, or He is the Lord Jesus Christ. Do you know Jesus or know about Him? Know Jesus, Know Peace! No Jesus, No Peace! Here are some encouraging scriptures about how to know Jesus?
Jeremiah 10:12  But God made the earth by his power; he founded the world by his wisdom and stretched out the heavens by his understanding.
Here Are Some Helpful Links:
Know God – Know Peace / No God – No Peace
---
Do You Want To Know Jesus?
Psalm 121:1-2

I lift up my eyes to the mountains—where does my help come from?

My help comes from the Lord,

the Maker of heaven and earth.

---
Who Is Jesus?
Jesus had no servants, yet they called Him Master.

Had no degree, yet they called Him Teacher.

Had no medicines, yet they called Him Healer.

Had no army, yet kings feared Him.

He won no military battles, yet He conquered the world.

He committed no crime, yet they crucified Him.

He was buried in a tomb, yet He lives today.
Jesus lived, died, and rose from the dead, and He left His Holy Spirit to comfort us and guide those of us who believe in Him.
---
The more you come to know Jesus for who He really is, loving Him is not a problem. ~ John Eldredge
Deuteronomy 7:9 Know therefore that the Lord your God is God; he is the faithful God, keeping his covenant of love to a thousand generations of those who love him and keep his commandments.
---
Do You Want To Know Jesus?
Here is something I would like you to consider: Most of us would probably say that we would want to know Jesus better. If Is this true for you? Here is a chance to sign up for this free course on how to know Jesus.
It is intended for people who are newer to their faith, who want to have someone coach you with the basics! An excellent way to start is talking to a pastor or someone secure in their belief. They will direct you to the Bible and to pray to God.
You can start this today, although you will soon understand that it is a lifelong process.  Like any relationship, how to know Jesus better is to spend time with Him and share your life with Him, asking Jesus to help guide your days!
An excellent way to be sure what you believe is based on what the Bible teaches.  There are many essential things to know in this world, but the most important thing to remember is your relationship with Jesus Christ and his plan for you here on earth and with Him in heaven for eternity. ~ Bill Greguska
---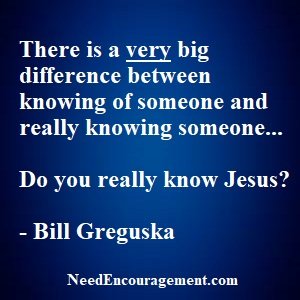 James 4:7
Submit yourselves, then, to God. Resist the devil, and he will flee from you.  NIV
Mark 12:30-31 

Love the Lord your God with all your heart and with all your soul and with all your mind and with all your strength.'

The second is this: 'Love your neighbor as yourself.' There is no commandment greater than these." NIV

Hebrews 3:13  But encourage one another daily, as long as it is called "Today," so that none of you may be hardened by sin's deceitfulness.

---
Do You Want To Change The Way You Are Living?
After you watch the video on the right, you are invited to pray!
Lord, thank you for creating me and also loving me. I am sorry that my thoughts, words, and actions have hurt you and others. Please forgive me. I realize that there is an emptiness in my life that only a relationship with you can fill. Thank you for loving me so much that you sent Jesus to free me from my sins and to give me eternal life and abundant life.
Right now, by faith, I invite Jesus Christ into my heart to be my LORD and Savior. Please fill me with your Holy Spirit, and let me genuinely experience your Presence, Peace, Power, and Purpose in my life always. I pray this in Jesus' Name. Amen
Encouragement For You to Do Two Important Things!
Start or rekindle your relationship with God.

Encourage as many people as you can when you run into them as a part of your daily life. You will discover that when you encourage others, you will be encouraged yourself! If you have been inspired because of this website, then now you want to pass it on by helping someone in return. Call 855-975-4673 to learn more about how hope can change your life or the life of someone you know!
---
---
---
For Encouragement Call 1-800-633-3446 or Chat
---