Pastor Adrian Rogers And His Words Of Wisdom!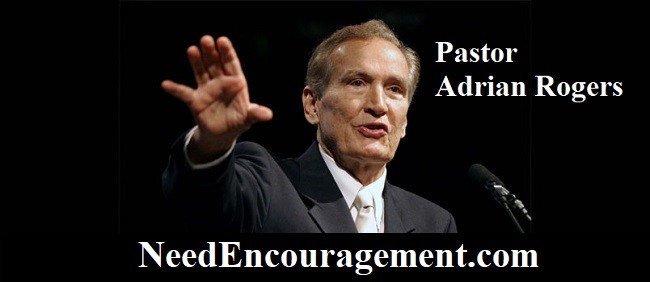 Please contact us if you have any questions or comments or want some encouragement.
Adrian Rogers was an outstanding Southern Baptist pastor who used wit and wisdom to get God's word to countless people. I like what Adrian Rogers said, "You can't just tip your hat to Jesus—you must bow your knee." ~ Bill Greguska
Nature forms us, sin deforms us, education informs us, and society reforms us, but only Jesus Christ can transform us. There is no one so bad—that he cannot be saved. There is no one so good—that he need not be saved.  ~ Pastor Adrian Rogers.

Romans 12:12  Be joyful in hope, patient in affliction, faithful in prayer.
---
Adrian Rogers Teaching Lives On!
---
WIT AND WISDOM FROM PASTOR ADRIAN ROGERS BELOW!
Justice is God giving us what we deserve.
Mercy is God not giving us what we deserve.
Grace is God giving us what we don't deserve.
---
Preachers need to stop trying to win the popularity contest—and just preach about Jesus!
I'm firmly convinced that if we would clean up the pulpits of America—we'd go a long way to cleaning up America!
Knowledge is proud that it knows so much. Wisdom is humble that it knows so little!
God promises a safe landing—not a calm passage!
Signs of the end times: secular society, scientific progress, social plagues, selfish prosperity, sexual perversion!
---
Where God leads—He feeds.
And Where God directs—He protects.
And Where God guides—He provides.
---
Where we cannot trace God's hand—we can trust His heart!
The test of my preaching is, "Are others becoming more like Jesus?"
Happiness depends on what happens.  Joy depends on the Lord.
Happiness is like a thermometer—it registers conditions. Joy is like a thermostat—it controls conditions.
He who angers you controls you!
Obedience is the greatest proof of devotion. 
---
To know Him—is to love Him.
And to love Him—is to trust Him.
To trust Him—is to obey Him.
And to obey Him—is to be blessed by Him.
---
Faith is not so much receiving from God what we want, but accepting God what He gives.
Sorrow looks back; worry looks around, but faith looks up.
The reason that God honors faith—is that faith honors God.
We are closer now than ever—to the return of Christ!
Let go of the world—and take hold of God with both hands.
---
Jesus came the first time to die.
He is coming again to raise the dead!
---
On false prophets: When you look for the devil—never fail to look in the pulpit!
Men throw broken things away—but God never uses anything until He first breaks it!
You cannot legislate morality—you can only legislate against immorality!
God isn't your Father—just because He is your Creator.
Reputation is what others think about you. Character is what God knows about you.
---
Guilt imprisons us.
Bitterness poisons us.
Forgiveness is the only answer!
---
The Gospel of Jesus Christ
—John 3:16 For God so loved the world that he gave his one and only Son, that whoever believes in him shall not perish but have eternal life.
—Isaiah 12:5 Sing to the LORD, for he has done glorious things; let this be known to all the world.

Preamble
The Gospel of Jesus Christ is news, good news: the best and most important news that any human being ever hears.
This Gospel declares the only way to know God in peace, love, and joy is through the reconciling death of Jesus Christ, the risen Lord.
This Gospel is the central message of the Holy Scriptures and is the true key to understanding them.
This Gospel identifies Jesus Christ, the Messiah of Israel, as the Son of God and God the Son, the Second Person of the Holy Trinity, whose incarnation, ministry, death, resurrection, and ascension fulfilled the Father's saving will. His death for sins and his resurrection from the dead were promised beforehand by the prophets and attested by eyewitnesses. In God's own time and in God's own way, Jesus Christ shall return as glorious Lord and Judge of all (1 Thessalonians 4:13-18; Matthew 25:31-32). He is now giving the Holy Spirit from the Father to all those who are truly his. The three Persons of the Trinity thus combine in the work of saving sinners.
This Gospel sets forth Jesus Christ as the living Savior, Master, Life, and Hope of all who put their trust in him. It tells us that the eternal destiny of all people depends on whether they are related to Jesus Christ.
This Gospel is the only Gospel: there is no other, and to change its substance is to pervert and indeed destroy it. This Gospel is so simple that small children can understand it, and it is so profound that studies by the wisest theologians will never exhaust its riches…
An Evangelical Celebration: Drafting and Endorsing Committees
---
The Drafting Committee
John N. Akers, John Ankerberg, John Armstrong, D.A. Carson, Keith Davy, Maxie Dunnam, Timothy George, Scott Hafemann, Erwin Lutzer, Harold Myra, David Neff, Thomas Oden, J.I. Packer, R.C. Sproul, John Woodbridge.
Confirmed Endorsing Committee (as of May 19, 1999) Eric Alexander, C. Fitzsimmons, Allison Bill, Anderson J. Kerby, Anderson Don, Argue, Kay Arthur, Myron S. Augsburger, Theodore Baehr, Joel Belz, Henri Blocher, Donald G. Bloesch, Scott Bolinder, John Bolt, Gerald Bray, Bill Bright, Harold, O.J. Brown, Stephen Brown, George Brushaber, David Cerullo, Peter Cha, Daniel R. Chamberlain, Bryan Chapell, David K. Clark, Edmund Clowney, Robert Coleman, Chuck Colson, Clyde Cook, Dennis David, S. Dockery, Stuart Epperson, James Erickson, Tony Evans, Jerry Falwell, Sinclair Ferguson, Dwight Gibson, Wayne Grudem, Stan N. Gundry, Brandt Gustavson, Corkie Haan, Mimi Haddad, Ben Haden, B. Sam Hart, Bob Hawkins, Jr., Wendell Hawley, Jack W. Hayford, Stephen A. Hayner, Jim Henry, Roberta Hestenes, Oswald Hoffman, R. Kent Hughes, Bill Hybels, Kay Cole, David Jeremiah, Arthur P. Johnston, Howard Jones, Walter C. Kaiser Jr., Kenneth Kantzer, D. James Kennedy, Jay Kesler, In Ho Koh, Woodrow Kroll, Beverly LaHaye, Tim LaHaye, Richard Land, Richard G. Lee, Duane Litfin, Crawford Loritts, Max Lucado, John MacArthur, Marlin Maddoux, Bill McCartney, David Melvin, Jesse Miranda, Beth Moore, Peter C. Moore, T.M. Moore, Richard J. Mouw, Thomas J. Nettles, Roger Nicole, Luis Palau, Earl R. Palmer, Hee Min, Park Phillip, Porter Paul, Pressler Ray, Pritchard Robert, Pat Robertson, John Rodgers, Adrian Rogers, Doug Ross, Joseph F. Ryan, John Scott, David Short, Ronald J. Sider, Russell Spittler, James J. Stamoolis, Charles F. Stanley, Brian Stiller, John Stott, Joseph Stowell, Stephen Strang, Charles Swindoll, Joni Eareckson…
---
For Encouragement, Call 1-800-633-3446 or Chat
---