Pastor Adrian Rogers And His Words Of Wisdom!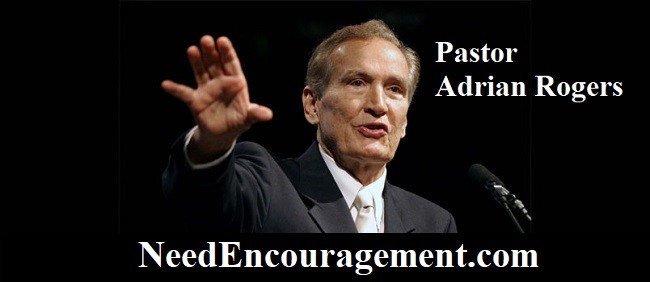 Please contact us if you have questions or comments or want encouragement.
Adrian Rogers was an outstanding Southern Baptist pastor who used wit and wisdom to get God's word to countless people. I like what Adrian Rogers said, "You can't just tip your hat to Jesus—you must bow your knee." Adrian Rogers speaks clearly and to the point on every topic he teaches in his sermons.
I wish I had been aware of Adrian Rogers years ago. Adrian became my 7:30 am wake-up word from God out of my radio that has started many wonderful mornings off on the right foot, which I am so thankful for! I pray that you, too, can use his brilliant teaching and preaching to help you. ~ Bill Greguska
Romans 12:12  Be joyful in hope, patient in affliction, faithful in prayer.
---
Adrian Rogers Teaching Lives On!
---
WIT AND WISDOM FROM PASTOR ADRIAN ROGERS ARE BELOW!
Justice is God giving us what we deserve.

Mercy is God not giving us what we deserve.

Grace is God giving us what we don't deserve.
---
Preachers must stop trying to win the popularity contest—and preach about Jesus!
I'm firmly convinced that if we would clean up the pulpits of America—we'd go a long way to cleaning up America!
Knowledge is proud that it knows so much. Wisdom is humble that it knows so little!
God promises a safe landing—not a calm passage!
Signs of the end times: secular society, scientific progress, social plagues, selfish prosperity, sexual perversion!
---
Where God leads—He feeds.
And Where God directs—He protects.
And Where God guides—He provides.
---
Where we cannot trace God's hand—we can trust His heart!
The test of my preaching is, "Are others becoming more like Jesus?"
Happiness depends on what happens.  Joy depends on the Lord.
Happiness is like a thermometer—it registers conditions. Joy is like a thermostat—it controls conditions.
He who angers you controls you!
Obedience is the most significant proof of devotion. 
---
To know Him—is to love Him.
And to love Him—is to trust Him.
To trust Him—is to obey Him.
And to obey Him—is to be blessed by Him.
---
For More Encouraging Testimonies
---
Faith is not so much receiving from God what we want but accepting God what He gives.
Sorrow looks back; worry looks around, but faith looks up.
The reason that God honors faith—is that faith honors God.
We are closer now than ever—to the return of Christ!
Let go of the world—and take hold of God with both hands.
---
Jesus came for the first time to die.
He is coming again to raise the dead!
---
On false prophets: When you look for the devil—never fail to look in the pulpit!
Men throw broken things away—but God never uses anything until He first breaks it!
You cannot legislate morality—you can only legislate against immorality!
God isn't your Father—just because He is your Creator.
Reputation is what others think about you. Character is what God knows about you.
---
Guilt imprisons us.
Bitterness poisons us.
Forgiveness is the only answer!
---
The Gospel of Jesus Christ
—John 3:16 For God so loved the world that he gave his one and only Son, that whoever believes in him shall not perish but have eternal life.
—Isaiah 12:5 Sing to the LORD, for he has done glorious things; let this be known to all the world.
Some Specific Scriptures To Encourage You:
2 Timothy 4:2 ESV 
Preach the word; be ready in season and out of season; reprove, rebuke, and exhort with complete patience and teaching.
2 Timothy 3:16 ESV 
All Scripture is breathed out by God and profitable for teaching, for reproof, for correction, and for training in righteousness,
Acts 10:34 ESV 
So Peter opened his mouth and said: "Truly I understand that God shows no partiality,
Matthew 28:19 ESV 
Go therefore and make disciples of all nations, baptizing them in the name of the Father and of the Son and of the Holy Spirit,
Galatians 3:28 ESV
There is neither Jew nor Greek, there is neither slave nor free, there is no male and female, for you are all one in Christ Jesus.
1 John 4:1 ESV 
Beloved, do not believe every spirit but test the spirits to see whether they are from God, for many false prophets have gone out into the world.
1 Peter 3:15 ESV
But in your hearts honor Christ the Lord as holy, always being prepared to make a defense to anyone who asks you for a reason for the hope that is in you; yet do it with gentleness and respect,
Acts 3:19 ESV 
Repent, therefore, and turn back, that your sins may be blotted out,
Acts 2:38 ESV 
And Peter said to them, Repent and be baptized every one of you in the name of Jesus Christ for the forgiveness of your sins, and you will receive the gift of the Holy Spirit.
John 3:16 ESV 
For God so loved the world, that he gave his only Son, that whoever believes in him should not perish but have eternal life.
Luke 16:13 ESV
No servant can serve two masters, for either he will hate the one and love the other, or he will be devoted to the one and despise the other. You cannot serve God and money."
Luke 10:2 ESV 
And he said to them, "The harvest is plentiful, but the laborers are few. Therefore pray earnestly to the Lord of the harvest to send out laborers into his harvest.
Matthew 6:33 ESV 
But seek first the kingdom of God and his righteousness, and all these things will be added to you.
Matthew 5:27-28 ESV 
"You have heard that it was said, 'You shall not commit adultery.' But I say to you that everyone who looks at a woman with lustful intent has already committed adultery with her in his heart.
Matthew 4:17 ESV
From that time, Jesus began to preach, saying, "Repent, for the kingdom of heaven is at hand."
Daniel 12:3 ESV
And those who are wise shall shine like the brightness of the sky above; and those who turn many to righteousness, like the stars forever and ever.
---
---
For Encouragement, Call 1-800-633-3446 or Chat
---