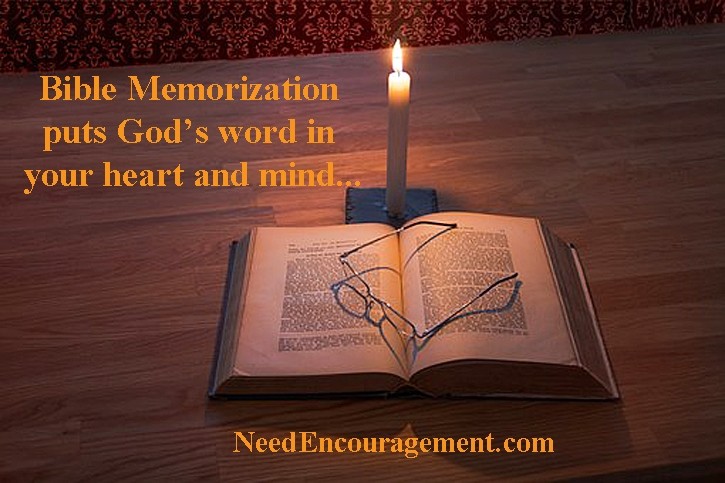 Please contact us if you have questions or if you need some encouragement.
Bible memorization is a wise investment. Think of it as going to the hardware store and picking out whatever tool you need to do the job. In Bible memorization, the tools you pick up will help you or someone else. Imagine having a toolbox filled with scriptures that can guide you in times of doubt or confusion, providing direction when you need it most. And it doesn't stop there; these verses can also be a source of comfort and wisdom for others when they turn to you seeking advice or solace.
The beauty of Bible memorization lies in its practicality. The scriptures that are easiest for me to memorize are often the ones that hold great relevance and applicability in my life. One example comes to mind – I've noticed that sometimes I struggle with maintaining healthy relationships with others. It was during one such period when the Lord put on my heart to commit Romans 12:18 to memory: "If it is possible, as far as it depends on you, live at peace with everyone." This verse serves as a constant reminder for me, urging me towards patience, forgiveness, and understanding in all my interactions. I encourage each one of you to take a moment and reflect upon your own life journey. Ask yourself which particular scriptures resonate deeply within your heart? Which verses have the potential to bring about positive change not only within yourself but also among those around you? Take hold of these precious words and commit them into your memory banks so that they become readily available whenever needed. ~ Bill Greguska
Deuteronomy 11:18 Fix these words of mine in your hearts and minds; tie them as symbols on your hands and bind them on your foreheads. 
---
---
Very Helpful Bible Memorization Principles!
.I strongly suggest that before you start memorizing Scripture, you first take time to pray.

There are so many benefits of memorizing Scripture

. Knowing what God has told you can help you overcome any obstacle in a challenging situation. Scripture memorization is the key to growing in Christ and is a biblical command repeated over 17 times. So, how do you make sure those verses stick with you?

Go to a quiet place, such as your bedroom, where others won't interrupt you. Get comfortable. Try to avoid any potential distractions. Turn off your music. Ask God in prayer to help you with your memorizing.

Ask God to help you understand what the Scriptures mean and to help you to be able to apply them to your life. Be prayerful and severe as you call on the Lord to help guard His word in your heart.   

Memorize the Bible address. Could you say it aloud with the reference (for example, John 3:16) once at the beginning of the verse and once at the end? With the numbers, you'll memorize the reference easier and faster.

Repeat the verse out loud. Vary the speeds of your recitation. Focus on pronouncing each word, and be sure you are not just going through the motions but hiding God's word in your heart and mind.

Focus on all of the keywords. If you are memorizing John 3:16, "For God so loved the world that He gave His one and only Son and that whoever believes in Him will not perish but have eternal life," the keywords would be "God," "loved," "world," "Son," "whoever," "believes," "perish," "eternal," and "life." Now put them back together with the whole verse. Stay calm. This takes work at first; it will get better with help from the Holy Spirit.

Play a memory game. Using dry-erase markers, write the verse on a dry-erase board. Make sure you can read what you wrote. Read the verse a few times, then erase two words at a time. Keep saying the verse until all the words are deleted. If you could say the Scripture perfectly without words on the board, pat yourself on the back.
Repeat these steps every day. Recite verses in your head while you're at the supermarket. Say them out loud as you do your daily activities. When you think you have it down, recite the verse(s) for your family and friends, this will help you and the children memorize Scripture and assist you and the children in learning scripture, but it will be a blessing to others.

Write the verses on index cards with colored markers. Post these around your room in places you go most (your bed, above your light switch, your bathroom mirror, etc.

Study verses that promise you specific good, like John 14:26, I Corinthians 1:5, Proverbs 10:7, I Corinthians 2:16, and Hebrews 8:10.

---
Make Bible Memorization So Much Easier!
---
Some Specific Scriptures To Encourage You:
2 Thessalonians 2:15 ESV
So then, brothers, stand firm and hold to the traditions that you were taught by us, either by our spoken word or by our letter.
Psalm 25:7 ESV 
Remember not the sins of my youth or my transgressions; according to your steadfast love, remember me, for the sake of your goodness, O Lord!
Deuteronomy 6:12 ESV 
Then take care lest you forget the Lord, who brought you out of the land of Egypt, out of the house of slavery.
1 Corinthians 11:2 ESV 
Now I commend you because you remember me in everything and maintain the traditions even as I delivered them to you.
Nehemiah 5:19 ESV
Remember for my good, O my God, all that I have done for this people.
1 John 1:9 ESV 
If we confess our sins, he is faithful and just to forgive us our sins and to cleanse us from all unrighteousness.
John 3:16 ESV 
"For God so loved the world, that he gave his only Son, that whoever believes in him should not perish but have eternal life.
Hebrews 8:12 ESV 
For I will be merciful toward their iniquities, and I will remember their sins no more."
Romans 8:28 ESV 
And we know that for those who love God, all things work together for good, for those who are called according to his purpose.
Psalm 119:105 ESV
Your word is a lamp to my feet and a light to my path.
Psalm 25:6 ESV 
Remember your mercy, O Lord, and your steadfast love, for they have been from of old.
---
---
For Encouragement, Call 800-633-3446 or Chat
---