Grief Is A Necessary Part Of Healing!

Check out GriefShare.org. There is a season for all things, including grief. Here are some encouraging scriptures about grief.
Please contact us if you have any questions or comments or would just like some encouragement!
During my days of deepest grief, in all of my shock, sorrow, and struggle, I sat at the feet of God. I spent hours each day reading God's word, meditating on scripture, and praying. I intentionally spent a significant amount of time being still before God. Rick Warren
2 Corinthians 1:3-4   Praise be to the God and Father of our Lord Jesus Christ, the Father of compassion and the God of all comfort, who comforts us in all our troubles so that we can comfort those in any trouble with the comfort we ourselves receive from God.
---
Understand Why Christians Grieve!
---
The Experience And Symptoms Of Grief
By: Dan Green, Ph.D.
PHYSICAL
Anxiety

Heart Palpitations

Sleep Disturbances

Headaches

Dry Mouth

Fatigue

Tight Chest/Throat

Choking Sensations

Sweating

Muscle Weakness

Psychomotor Retardation

Chills

Gastro-Intestinal Distress

Eating Disorders

Loss of Appetite

Ringing in Ears

Muscular Pain

Noise Sensitivity

Breathlessness

Loss of Sexual Desire

Hyper-Sexuality

Dizziness
BEHAVIORAL
Absentmindedness

Social Avoidance or Withdrawal

Avoidance of Reminders

Silent or Excessive Talkative

Avoidance of School Work

Perfectionism

Searching/Calling Out

Restless Hyperactivity

Crying

Clinging to Reminders

Inability to Initiate and Maintain Organized Activity

Alcohol or Other Substance Abuse

Treasuring or Discarding Objects
COGNITIVE
Memory Loss

Denial

Confusion

Obsessive Thoughts

Sense of Presence

Impaired Concentration

Intrusive Memories

Visual or Auditory Hallucinations

Thoughts of Guilt

Self Reproach

Depersonalization

Preoccupation with the loss

Searching

Despair – Hopeless about future

Disorientation

Escape into Fantasy

Nightmares

Thoughts of Suicide

Questions of "What if…"

Impaired problem solving
EMOTIONAL
Numbness

Shame

Fear

Sadness

Anger – Irritability -Frustration

Hopelessness -Helplessness

Loneliness

Yearning

Abandonment
SPIRITUAL
Loss of Faith and Belief System

Questioning Faith/Belief

Strengthing -Transforming Faith/Belief

Hopelessness -Fatalism

Feelings/Thoughts of Abandonment

Anger with God

Fears

Spiritualizing

Sensations/Perceptions of God's Presence
Blessed are those who mourn, for they will be comforted.  Matthew 5:4
It doesn't seem fair – if you want the love, you have to have the pain. C.S. Lewis
---
There Is No Way To Avoid Grief!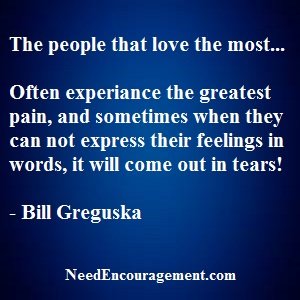 Learn how grief can help people heal!
Grief can wash over us like a title wave. Sometimes it can be very damaging emotionally and physically. Learn how to better cope with pain.
Deep feelings can overcome us like a title wave, and sometimes it can be very damaging to a person emotionally, physically, and mentally.
Many people do not do what they ought to do to deal with it so they can grow through it.
The feeling people experience while going through traumatic type experiences can affect them in ways they never thought possible.
These types of emotions can affect our overall performance and daily functioning in life. Grief can happen anytime because of loss of any kind such as divorce, the breakup of a significant relationship, the death of a loved one, loss of physical health, diagnosis of a medical situation such as cancer, etc.
---
Christians Do Not Grieve As Those Who Have No Hope!
---
We All Need Help At Times
During potentially sad times, a person needs comfort, support, and help. The first place to look for this type of advice is from God, who created us and sustained us to make it through every situation we find ourselves.
I had experienced a significant amount of grief, tears, depression, sadness, and anger when my ex-wife moved out so that she could "find herself," which ripped a massive hole in my life! It was very peculiar because she and I were not getting along for years (basically since our honeymoon), but there was a deep sadness for me for her breaking our vows in front of God and all our family and friends.
Our marriage lasted ten years. This loss devastated me emotionally, so I reached out for help from Pastor Ron and his wife, Sue Sauer. They pointed me to Jesus and His teachings to get me back on the right path. God puts the right people in our lives to help us in times of great sadness and need. ~ Bill Greguska
---
Here Are Some Helpful Links:
---
7 Things You Can Do To Get Through Grief Or Loss!
Express your thoughts and feelings to God through prayer.

Contact a close friend, counselor, pastor for emotional, spiritual, and mental support.

Allow yourself a reasonable amount of time to feel sad and process your thoughts and feelings.

Keep your routine generally going as possible such as work, social, and daily self-care.

Sleep 7-8 hours per night, keep a healthy routine overall.

Avoid unnecessary medications or alcohol.
Eat healthily drink plenty of water, avoid overeating or under eating.
---
There Will Be No More Tears In Heaven Revelation 21:4
We will face many painful things on this side of Heaven. We will face tears, death, sorrow, grief, pain, loss, sickness, and loss, and many problems here on earth.
But we know when we are in Christ, that in the end, we serve a God who will wipe away every tear we have shed on this side of Heaven.  
Revelation 21:4 Promises That!  We can stand on His WORD!  Look forward to the hope of knowing one day all we have faced on this side of heaven will be wiped away.
---
Grief Needs To Be Shared Properly!
We Can Stand On God's Promise That:
God is with us.

Will sustain us

He is and will carry us through each circumstance we face in this life and forever. '

Will NEVER Leave us nor forsake us
Stand on that truth this morning! ~ Peg

Gogonelis
Revelation 21:4  'He will wipe every tear from their eyes. There will be no more death' or mourning or crying or pain, for the old order of things has passed away."
---
The Five Stages Of The Grief Prosses!

Denial

Bargaining

Acceptance
---
What Not To Say To Someone Who Is Grieving!
---
---
---
For Encouragement Call 1-800-633-3446 or Chat
---