Who Am I? And What Is My Purpose In Life?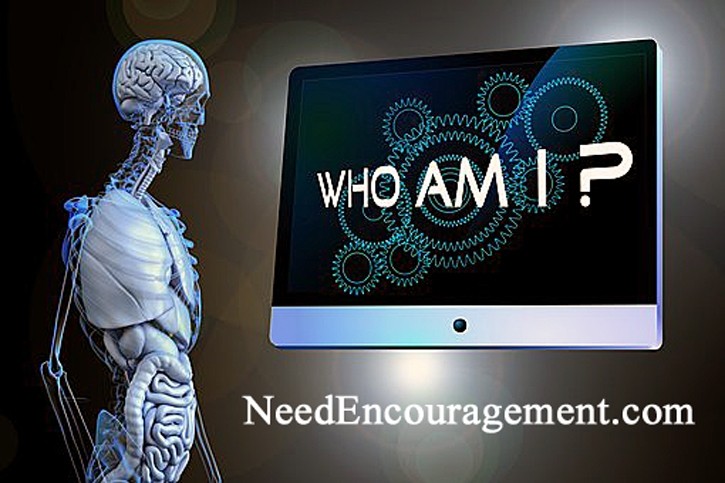 Please contact us if you have questions or if you need some encouragement.
When we ask the question, "Who am I?" it's easy to fall into the trap of comparing ourselves to others or trying to fit in with societal norms. But let me encourage you today by reminding you that none of that matters in the grand scheme of things. You are a creation of God, made in His image and loved beyond measure.
If you have accepted Jesus as your Lord and Savior, then you are a child of God and nothing can change that. You have purpose and meaning simply because He created you for such a time as this. So don't let anyone else define who you are or what your worth is – look to God for the answer and trust that He sees something beautiful in you that no one else can replicate. Keep seeking Him, keep growing in your relationship with Him, and know without any doubt: You are a beloved child of God! ~ Bill Greguska
John 1:12  Yet to all who did receive him, to those who believed in his name, he gave the right to become children of God.
---
Who Am I, And What Is My Identity In Christ?
---
Who I Am In Christ
(Originally Compiled By Neil Anderson
I AM ACCEPTED…
I am God's child. John 1:12

As a disciple, I am a friend of Jesus Christ. John 15:15  

I have been justified (declared righteous). Romans 5:1 

I have been bought with a price, and I belong to God. 1 Corinthians 6:19-20


I am a member of Christ's body.  1 Corinthians 12:27

I have been chosen by God and adopted as His child. Ephesians 1:3-8

I have been redeemed and forgiven of all my sins. Colossians 1:13-14

I am complete in Christ. Colossians 2:9-10


 I have direct access to the throne of grace through Jesus Christ.  Hebrews 4:14-16
I AM SECURE…
I am free from condemnation. Romans 8:1-2

I am free from any condemnation brought against me, and I cannot be separated from the love of God. Romans 8:31-39

I have been established, anointed, and sealed by God. 2 Corinthians 1:21-22

I am hidden with Christ in God. Colossians 3:1-4

I am confident that God will complete the good work He started in me. Philippians 1:6

I am a citizen of heaven. Philippians 3:20

I have not been given a spirit of fear but of power, love, and a sound mind. 2 Timothy 1:7


I am born of God, and the evil one cannot touch me.  1 John 5:18    
I AM SIGNIFICANT…
I am a branch of Jesus Christ, the true vine, and a channel of His life.  John 15:5   

I have been chosen and appointed to bear fruit. John 15:16  

I am God's temple. 1 Corinthians 3:16 

I am a minister of reconciliation for God. 2 Corinthians 5:17-21

I am seated with Jesus Christ in the heavenly realm. Ephesians 2:6  

I am God's workmanship. Ephesians 2:10  

I can do all things through Christ, who strengthens me. Philippians 4:13

---
Who Am I, And What Is My Purpose?
---
Who Am I?
I am blessed and highly favored because Jesus Christ is my Lord! "Who am I?" depends on who you belong to. Do you belong to Jesus?
If you have accepted Jesus Christ as your personal Lord and Savior, you belong to Jesus!
He bought you with a price by his sacrificial death on the cross for your sins and mine.

Created in God's image, God has a plan for your life.
You know who you are to some degree, but take the time to think about the question, "Who am I?"
---
Who am I?
This is a question that we have all asked ourselves at some point in our lives. It's a fundamental question that touches the very core of our being. The answer lies within us, and it is rooted in the truth that God created us in His image. When we accept Jesus as our Lord and Savior, we become children of God with an eternal destiny to be with Him forever in heaven. Our worth does not depend on what others think of us or even what we think of ourselves; it hinges solely on what God thinks about us. And let me tell you, He thinks incredibly highly of you! You are fearfully and wonderfully made, cherished by your Heavenly Father who loves you exactly as you are – flaws and all! So don't let anyone else define your identity for you because when you know who you are in Christ, nothing can shake your confidence in yourself or your future.
---
Who Am I Lord?
---
Here Are Some Helpful Links:
---
Who Am I? I Need To Strive To Be A Little Less Like Me!
---
Ten Things A
m I Because Of Jesus Christ!
1. A new creature in Christ.
Therefore if anyone is in Christ, he is a new creature; the old things passed away; behold, new things have come. 2 Corinthians 5:17
2. Child of God.
But as many as received Him, to them He gave the right to become children of God, even to those who believe in His name. John 1:12
3. Been justified and redeemed.
Romans 3:23-24 For all have sinned and fall short of the glory of God, and all are justified freely by his grace through the redemption that came by Christ Jesus.
4. Formerly darkness, but now I am light in the Lord.
You were formerly darkness, but now you are light in the Lord; walk as children of light. 
Ephesians 5:8
5. God's workmanship was created to produce good works.
For we are His workmanship, created in Christ Jesus for good works, which God prepared beforehand so that we would walk in them. Ephesians 2:10
6. Been chosen by God, and I am holy and beloved.
So, as those who have been chosen of God, holy and beloved, put on a heart of compassion, kindness, humility, gentleness, and patience. Colossians 3:12
7. My old 
self was crucified with Christ, and I am no longer a slave to sin.
Knowing this, our old self was crucified with Him so that our body of sin might be done away with and that we would no longer be slaves to sin. Romans 6:6
8. Redeemed and forgiven by the grace of Christ.
In Him, we have redemption through His blood, the forgiveness of our trespasses, according to the riches of His grace. Ephesians 1:7
9. Boldness and confident access to God through faith in Christ.
In whom we have boldness and confident access through faith in Him. Ephesians 3:12
10. You have been set free from the law of sin and death.
For the law of the Spirit of life in Christ, Jesus has set you free from the law of sin and of death. Romans 8:2
---
You Are Amazing, And God Made You That Way!
---
Who am I?
This is a challenging question because it makes us come face to face with a complicated Truth. The Bible tells us that everyone alive has two things in common.
We are all created in God's image (Genesis 1:27). This means we all have intrinsic value and worth. But it also means that God has placed within each of us a soul. This soul can live forever—even after our body dies.

We are all born with sin in our lives (Romans 3:23). We all are born wanting to be our own gods, which means even from birth, we have rejected the holy, perfect God who created us. Sin makes a relationship with God impossible and condemns our souls to live forever away from God.
God had a plan in place from eternity to redeem and restore. That is who He is—He "devises ways so that a banished person does not remain banished from him" (2 Samuel 14:14). Because God's love is infinite, He could not leave us banished; He longs to have a relationship with each of us. So God ransomed us—He paid the eternal penalty of our sin—through the person and work of Jesus Christ, His Son, God in the flesh. Jesus lived a perfectly godly life and then took the just punishment for all our sins—in our place.
Information from Connect.LTW.org/questions
---
Some Specific Scriptures To Encourage You:
2 Corinthians 5:17 ESV
Therefore, if anyone is in Christ, he is a new creation. The old has passed away; behold, the new has come.
Romans 8:1 ESV

There is, therefore, now no condemnation for those who are in Christ Jesus.
John 1:12 ESV

But to all who did receive him, who believed in his name, he gave the right to become children of God,
2 Corinthians 5:21 ESV
For our sake, he made him to be sin who knew no sin so that in him we might become the righteousness of God.
John 15:5 ESV

I am the vine; you are the branches. Whoever abides in me and I in him, he it is that bears much fruit, for apart from me, you can do nothing.
Galatians 2:20 ESV
I have been crucified with Christ. It is no longer I who live, but Christ who lives in me. And the life I now live in the flesh, I live by faith in the Son of God, who loved me and gave himself for me.
1 Corinthians 6:19 ESV

Or do you not know that your body is a temple of the Holy Spirit within you, whom you have from God? You are not your own,
2 Timothy 1:7 ESV

For God gave us a spirit not of fear but of power and love and self-control.
Philippians 4:13 ESV
I can do all things through him who strengthens me.
Galatians 3:26 ESV

For in Christ Jesus, you are all sons of God through faith.
Romans 8:17 ESV
And if children, then heirs—heirs of God and fellow heirs with Christ, provided we suffer with him in order that we may also be glorified with him.
Philippians 3:20 ESV

But our citizenship is in heaven, and from it, we await a Savior, the Lord Jesus Christ,
1 John 4:4 ESV

Little children, you are from God and have overcome them, for he who is in you is greater than he who is in the world.
---
---
For Encouragement, Call 800-633-3446 or Chat
---