View Helpful Christian Ministries Here!
Please contact us if you have questions or if you need some encouragement.
Christian ministries have the incredible power to fortify both those who serve and those who are ministered to. It is a beautiful truth that each of us, as Christians, possesses our own unique ministry, regardless of the tasks we undertake for the Lord. Sometimes individuals may not even realize it, but their involvement in a Christian ministry has an impact on everyone connected to it!
Whether it's reaching out a helping hand to a neighbor in need or extending compassion towards a complete stranger, every act of kindness becomes an embodiment of Christian ministry. These 12 wonderful Christian ministries showcased below exemplify this concept by spreading love and hope with unwavering dedication and purposeful actions. ~ Bill Greguska
2 Timothy 4:5  But you, keep your head in all situations, endure hardship, do the work of an evangelist, discharge all the duties of your ministry.
There Are Many More Good Ministries.
Click Here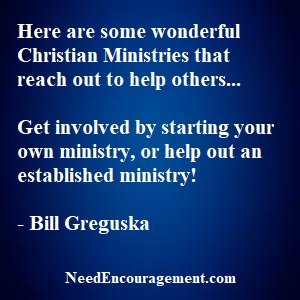 ---
Christian Ministries Are Everywhere In Each Of Us!
---
Here Are More Helpful Links:
---
More Encouraging Ministry Resources
---
Billy Graham Ministry and Billy Graham have been sharing the gospel of Jesus Christ for almost seven decades. The Ministry has pointed millions of people to the Lord. Ministries like this have helped countless people find the Lord. The Billy Graham Ministry has helped me walk with the Lord; I am very thankful for what Billy Graham's Christian Ministries has done over these years. Someday Billy Graham will hear, "Well done, my good and faithful servant." ~ Bill Greguska
---
At CRU Ministry, they learn the ten essential steps to having a relationship with Jesus Christ. An adventure they will be very thankful to have experienced!
My niece Lora Kesselhon and her husband, Ryan, have been connected with the CRU Ministry for many years. They worked together on "The Jesus Film," the most-viewed movie ever.

CRU Ministry has been a big help to thousands of college-age students by pointing them to Jesus Christ, and they can do the same for you or someone you care about. ~ Bill Greguska
---
I started my walk with God at Elmbrook Church, an independent, non-denominational, evangelical Christian Church. Elmbrook church is a megachurch.
Elmbrook church is a Protestant church with 2,000 or more people on average weekend attendance. (Elmbrook seats 3,200 people in their 3 Sunday and Saturday services). I attended Elmbrook Church between 1989 and 2006 (although I now attend Redeemer Evangelical Free church). Here is a brief explanation of an Evangelical Free church.
Elmbrook Church ministry reaches all different levels of faith, age groups, and backgrounds. They are active in the community and outreaches, like helping at Hurricane Katrina and other missionary outreaches. Stuart Briscoe was the first pastor I learned from when I was born again. I am thankful to Christian Ministries like Elmbrook for helping me when I needed help. ~ Bill Greguska
---
Here is something I would like you to consider: The best thing to do instead of going to Divorce care Christian Ministries would be to have started with proper premarital counseling and put a lot of time and effort into your marriage. Since things did not happen how you wanted them to, Divorce care ministries can help you find support for divorce and help you heal and grow strong again.
Divorce has skyrocketed over the years, not only for secular marriages but also for Christian marriages. Divorce Care can help you to heal! I got involved with some of the classes and found them helpful. I liked it enough to buy a course CD that I could listen to in my car, which was very convenient and practical. ~ Bill Greguska
---
Got questions ministry can answer those questions you, but do know where to find the answers? I have had many questions answered on Gotquestions.org, and I hope you can experience the same thing. They have tons of answers to questions that you need answers to in your life. Whatever issue you may have had that you never got an answer to, GodQuestions.org will be able to answer it or give you a better understanding. ~ Bill Greguska
---
We all need someone to talk to about demanding things occasionally. Ground wire counseling online is a great place to find encouragement and God's wisdom, which is sometimes very important in our lives! When you need someone to talk with and help you along the way, Groundwire ministry has been helping people with counseling, prayer, and support! Call 1-800-633-3446 today if you want to talk to a Christian counselor! ~ Bill Greguska
---
Skit Guy's Ministry are two Christian guys that teach about the Bible humorously to get across great messages of truth!  I enjoy their sense of humor, coupled with wisdom from the Bible. There are many different types of Christian Ministries; each has its nitch. Skit Guys use their talent to share the gospel in their way.
Tommy and Eddie have a unique way of making you laugh simultaneously, making you think about spiritual matters in life. Check out some of their videos, and you will understand what I refer to on the site! ~ Bill Greguska
---
Compelling Truth Christian Ministries helps you to clarify facts from opinions. The mission of Compelling Truths Ministry is to take the questions, issues, struggles, and disagreements within the Christian faith and shine the truth of God's Word on them. They believe the truth of God's Word is compelling.
If we would all truly and fully submit ourselves to the truth of God's Word, most of our questions, issues, struggles, and disagreements would disappear. God's Word does not directly address every situation we face but contains the truth that can apply to everything we deal with.
Whether it is theology, apologetics, or the practical Christian life – they want to present the compelling truth of God's Word. Whether it is about God, Jesus, salvation, the Bible, sin, or eternity – we want to present the compelling truth of God's Word. I want you to know that you will benefit greatly from this site.  ~ Bill Greguska
---
I would like you to consider this: Learn how Living Waters Ministry has reached people for the Lord. Living Waters Ministry has been an active beacon to light up the world with the gospel's truth. Ray Comfort and Kurk Camron have a unique way of talking respectfully to those who do not know Jesus as their Lord and Savior.
Ray Comfort asks simple questions to open the eyes and hearts of those he speaks to. You will be amazed at how Ray Comfort makes the gospel relevant and easy to understand. Christian Ministries like Living Waters are precious in sharing God's word. ~ Bill Greguska.
---
Need God Ministry gets to the heart of the problem that all men, women, and children have. The problem is the sin in our lives. I can recall when I felt I had the world in the palm of my hand while I was partying and caring. It was not until I realized that even though my life was footloose and carefree due to abusing drugs and alcohol, I did not start living fully until God got a hold of me when I hit my bottom in 1986. Then I could understand that I needed God!
Do you think that sin is a problem in your life today? Click on the image to the right to find some information that will be helpful for you to know about yourself. Christian Ministries like Need God work together to equip new believers to understand their need for God. ~ Bill Greguska
---
Some Specific Scriptures To Encourage You:
Ephesians 4:11-13 ESV 
And he gave the apostles, the prophets, the evangelists, the shepherds, and teachers, to equip the saints for the work of ministry, for building up the body of Christ, until we all attain to the unity of the faith and of the knowledge of the Son of God, to mature manhood, to the measure of the stature of the fullness of Christ,
2 Timothy 2:15 ESV 
Do your best to present yourself to God as one approved, a worker who has no need to be ashamed, rightly handling the word of truth.
1 Timothy 4:12 ESV 
Let no one despise you for your youth, but set the believers an example in speech, in conduct, in love, in faith, in purity.
Acts 20:24 ESV 
But I do not account my life of any value nor as precious to myself, if only I may finish my course and the ministry that I received from the Lord Jesus to testify to the gospel of the grace of God.
James 4:10 ESV 
Humble yourselves before the Lord, and he will exalt you.
2 Corinthians 4:1 ESV 
Therefore, having this ministry by the mercy of God, we do not lose heart.
---
---
For Encouragement, Call 800-633-3446 or Chat.
---