What About Your Faith?
What About Your Faith…
Everyone has faith, but the important question is, who or what is your faith in, is what makes the big difference?
For example, you could have faith that the ice you are walking on in a frozen lake is thick and strong enough to support your car when you are going ice fishing.
Your faith is only as good as the thing you have your faith in.
Is Your Faith In Go

d

Mature?
What about your faith, for example, you could have faith that the ice you are walking on in a frozen lake is strong enough to support your car when you are going ice fishing, your faith is only as good as the thing you have your faith in.
Just because your parents were Christian does not make you a Christian; you need to decide on your own to personally put your faith in Jesus Christ or not? ~ Bill Greguska   
Here Are Some Helpful Links:
Does Your Faith Reflect Your Life?
"I believe in Christianity as I believe that the sun has risen: not only because I see it, but because by it I see everything else." ~ C.S. Lewis
John 8:32  Then you will know the truth, and the truth will set you free."
Where Are You On This List Below?
Use this list to Encourage You!
| | | |
| --- | --- | --- |
| +8 |   | Continued growth, maturity, and service |
| +7 |   | Continued growth, maturity, and service |
| +6 |   | Discipleship and service |
| +5 |   | Exhibiting the fruits and gifts of the Spirit and service |
| +4 |   | Christian maturity and service |
| +3 |   | Christian growth and service |
| +2 |   | Fellowship in the church |
| +1 |   | Post-decision evaluation |
|   0 |   | A person's point of conversion or new birth |
| -1 |   | Repentance and faith in Christ |
| -2 |   | Decision to act |
| -3 |   | Personal problem/need recognition |
| -4 |   | Understanding of the Gospel |
| -5 |   | Increased understanding of the Gospel |
| -6 |   | Some understanding of the Gospel |
| -7 |   | Introduction to the Gospel |
| -8 |   | Sense of a Supreme Being but no understanding of the gospel |
Is Your Faith In God Strong Enough?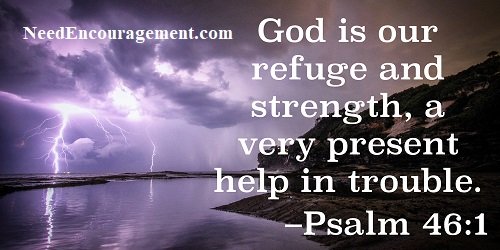 Related Pages of Encouragement:
A Special Link for a Little Extra Encouragement
Does Your Faith Need Help Like Mine Does At Times?
My name is Bill Greguska, and I can completely understand what you are going through. I remember when I was almost 20 years old, I had a superficial (go to church on Sunday) relationship with God. I felt that believing in God was the right thing to do which was great.
The only problems were that I knew if I were to follow Jesus wholeheartedly and make Him the true Lord of my life, I would have to change my life by giving up doing the things that were giving my flesh pleasure.
Fear Is Okay Only When Your Faith Is Greater!
I equated being a Christian with someone who was "so-called" perfect. It wasn't until I understood that we are all sinners, and we have come short of the mark of perfection, but to me, this meant following God would mean that I would have to stop smoking cigarettes, quit drinking, quit drugs and everything else my flesh was a custom to.
Until I Was Ready To Give Up My Way Of Life!
It was not until God started to take away my desire for alcohol and drugs out of my life that I could understand my need for Him to save me from my sin. I was taught we are to come to God as we are, and I am glad I finally did.
My mom was euphoric because she was seeing the change in me over a period, and I could notice the difference in myself too. Thank God!
Your Faith Will Make You Stronger!
Scriptures To Help Increase Your Faith!
Psalm 55:17 

Philippians 4:13

Psalm 119:28

Ephesians 6:10

Isaiah 40:31

Mark 12:30

2 Corinthians 12:9-10
Do You Have Faith That The God Of The Bible Exists?
Like making any other significant decision in life, this decision has either eternal ramifications that need looking into. The first thought that would come to my mind to ask, since you never saw God with your own eyes, does that mean He is not real?
It could be compared to someone saying that they never saw their electricity in their house, that they would not be expected to pay their electric bill. True, they might not be able to see the actual electricity, but the results of the power are very obvious such as glowing light bulbs, etc.
Something to consider since we do not see God, we see and experience His handy work since God made Himself know to the world by His creation of everything we observe such as the oceans, mountains, trees, animals plus you and me. And since He has made all these things in nature for us to see, if we deny them we are without excuse.
Your Faith Grows Stronger As Wisdom From God Increases…
You can know and understand God better through prayer and reading of the Bible. We will be unable to say when we stand before Him, something like, "But God, you never made yourself known."
I will ask you to take a second to listen to your heartbeat, look at your body and all of the incredible life around you and ask yourself is there a God?  Is it right that people deserve punishment for what they do wrong?
If there is no absolute right or wrong in the world, let me ask you a question. If someone were to kill your parents or best friend for no reason, would you want there to be some consequence for their action?  Or would you just say, that person thought it was okay to do, so it doesn't matter? 
Ten Commandments
God has given us the Ten Commandments not to make our life difficult but rather for our protection and our good. It is similar to having a law in our country, state or city; you will then have a standard of right and wrong to be governed by.
Then consider this then, have you ever accused someone who wronged you and even became upset with them? That is proof that you have a moral standard and believe people deserve punishment when they commit illegal actions against others. With the ten commandments, those laws are from God, compared to the legislation of the country, state or city that the world might be more familiar.
Many Decades One Message By Billy Graham!
---
For Encouragement Call 1

-800-633-3446 or Chat
---
Please contact us if you have any questions or comments or would just like some encouragement?
"Faith is not the belief that God will do what you want. It is the belief that God will do what is right." ~ Max Lucado
James 1:6  But when you ask, you must believe and not doubt, because the one who doubts is like a wave of the sea, blown and tossed by the wind.