Helping Yourself Set Goals!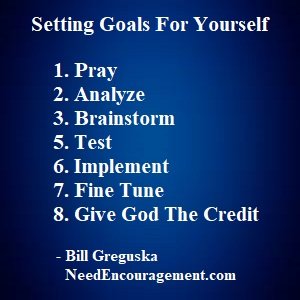 Helping Yourself Set Goals…
Once you start helping yourself set a goal, you will notice that your life will have more focus and clarity resulting in the ability to start reaching your goals with more regularity.
The first thing when you set out to set some goals in your life, you need to take your concerns to the Lord in prayer.
Getting wise counsel would be the second place to go when you are helping yourself set goals.
This principle goes for anything you set out to do in your life not only the bigger goals.
If praying is something not real common in your life, then at least to best of your knowledge, try to think what would Jesus want you to do if He were sitting right next to you?
Be sure to make SMART GOALS = Specific, Measurable, Attainable, Relevant, Time-Bound. There is almost nothing like like the feeling you get inside when you set goals and obtain them! ~ Bill Greguska
Here are some helpful links:
 Helping Yourself Set Goals Needs Instructions!
God Wants You To Thrive In Life

And Set Goals!
It is only logical that to overcome a problem in life, and you need to get your mind out of the problem and focus on the solution instead. In order to get solutions accomplished, one must set up some step by step goals.
We all go through our difficult times. What we do with our problems or difficulties is what determines your outcome.
Over the years, I have learned that God always wanted the best for me, and since I have been learning more about Him, everything seems to be making more sense.
Do you want to know more about Jesus Christ? The same result can happen for you.
Make it your main goal as of today to either start a relationship with Jesus Christ or if you already have a relationship with Him, then I encourage you to take additional steps to strengthen your relationship with Him.
Related Pages Of Encouragement
In Helping Yourself Set Goals…Be Specific!
---
For Encouragement Call 1-800-633-3446 or Chat
---
Please contact us if you have any questions or comments or would just like some encouragement?
What you get by achieving your goals is not as important as what you become by achieving your goals. ~ Zig Ziglar
Philippians 3:14 I press on toward the goal to win the prize for which God has called me heavenward in Christ Jesus.