Grace Is Simply UN-Earned Favor!

Imagine how life would be without grace? Here are some encouraging scriptures having to do with grace.
---
The Gift Of Grace!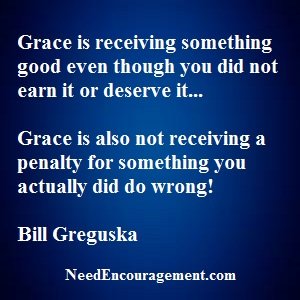 ---
Grace
We are saved by God's grace from this ultimate burden of our sins because Jesus Christ gave His life up freely to pay the penalty them. These crimes originated with Adam and Eve in the garden of Eden.
God is Holy and will not allow evil to be near Him or to enter into heaven with Him or finding peace with God here on earth. 
Without Jesus dying for us to cleanse us from all our sins, we would be unable to enter heaven, and the consequence would be separation from God for eternity. It is more than just being good or going to church.
Learn more about being saved by grace below. ~ Bill Greguska
---
Here Are Some Helpful Links:
---
Do You Really Understand What God's Grace Is?
 Sin does not stop God's grace from flowing, but God's grace will stop sin. ~ Joseph Prince
"If you declare with your mouth, "Jesus is Lord," and believe in your heart that God raised him from the dead, you will be saved. For it is with your heart that you believe and are justified, and it is with your mouth that you profess your faith and are saved. Romans 10:9-10
---
What Do Grace Looks Like In Real Life…
---
What Does Grace Look Like?
When a police officer pulls you over for speeding and the officer believes your excuse and lets you go free without a ticket.

When your doctor thinks you might have cancer, yet when the results of the tests come back, you do not have cancer.

Having the exact amount of money to pay for a fast food meal to the penny.

When we say something dumb, and the other person does not judge you or make fun of you for that.

When your boss, teacher, or parents set a rule to live by, and you break it but do not get as much penalty as you ought to have or possibly nothing at all.
---
Do You Want To Be Saved By Grace?
---
Admit You Are A Sinner?
For all have sinned and fallen short of the glory of God." Romans 3:23

"For the wages of sin is death, but the gift of God is eternal life in Christ Jesus our Lord." Romans 6:23
---
Believe In Jesus Christ As Your Lord And Savior?
"For God so loved the world that he gave his one and only Son, that whoever believes in him shall not perish but have eternal life." John 3:16

Help me, Lord my God; save me according to your unfailing love. Psalm 109:26
---
Where Do Kindness And Grace Come From?
All good things come from God, the maker of heaven and earth.  The good man brings good things out of the good treasure of his heart. The evil man brings evil things out of the evil treasure of his heart. For out of the overflow of the heart, the mouth speaks. 
Kindness is doing something and not expecting anything in return. It is also respect and helping others without waiting for someone to help one back. 
Bottom line… The Fruit of the Holy Spirit is a biblical term that sums up nine attributes of a person or community living in accord with the Holy Spirit. "But the fruit of the Spirit is love, joy, peace, patience, kindness, goodness, faithfulness, gentleness, and self-control."
---
Related Pages Of Encouragement:
A Special Link for a Little Extra Encouragement
---
Why Is God's Love So Very Essential!
---
---
For Encouragement Call 1-800-633-3446 or Chat
---
Please contact us if you have any questions or comments or would just like some encouragement?
The Gospel is about grace and we all know that grace is about us receiving from God blessings that we don't deserve. ~ Tony Campolo
Hebrews 4:16 Let us then approach God's throne of grace with confidence, so that we may receive mercy and find grace to help us in our time of need.